Onkyo Announces New HQV-Reon Receivers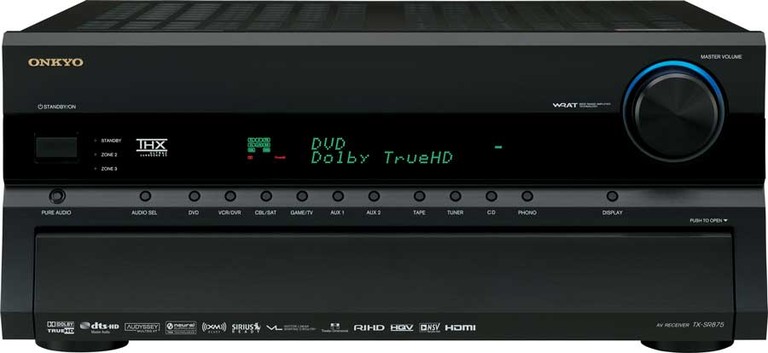 Onkyo TX-SR875 receiver
Silicon Optix announced today that Onkyo has significantly raised the bar for video performance in A/V receivers with the addition of the Reon-VX HQV video processor in two of their models. Onkyo's TX-SR875 has a MRSP of $1,699 and will ship in June, while Onkyo's TX-NR905 has a MRSP of $2,099 and will ship in August.
At a press conference held here today in advance of its Spring 2007 Rep Show, Onkyo USA has introduced a broad line-up of market-leading audio-video products, including several with advanced audio, video, and control technologies not previously available to consumers. Many other advanced features previously found only on high-end models are now available at much lower price points.
The core of the line consists of seven new A/V receivers and three packaged HTiB (home theater in a box) systems including one with HDMI switching. These will provide consumers at all price points with home theater capabilities and performance that is superior to the products of Onkyo's marketplace competitors.
Onkyo's new line includes the world's first AV receivers to employ Silicon Optix's Reon-VX HQV 1080p video-processing chip as well as the first with Neural-THX Surround processing. Other new features include HDMI version 1.3a, XM and Sirius Satellite radio capability, HD Digital Radio capability, Dolby TrueHD, Dolby Digital Plus, DTS-HD Master Audio, and Microsoft PlaysForSure compatibility. This line also includes models with improved amplifier technology, bi-wire capability, Ethernet and USB connectivity, Audyssey automatic room calibration, and RIHD (Remote Interactive over HDMI) capabilities.
"This is the strongest line from Onkyo in years," said Paul Wasek, Marketing Manger. "Our strong relationship with partners like THX, Silicon Optix, XM, Sirius and HD Radio has allowed us to create a feature rich line-up from the entry level TX-SR505 all the way through the TX-NR905. We're proud to introduce the first AVR's incorporating the Reon-VX HQV chip and THX Neural Surround processing. We've given our dealers what we feel is the strongest receiver line-up available that will not only drive sales and but also invigorate consumer excitement about these new AV technologies."
HQV Reon-VX
HQV's true 1080i-to-1080p HD deinterlacing delivers the sharpest, most detailed HD images possible by employing per-pixel motion-adaptive algorithms and a sophisticated multidirectional diagonal filter that ensures video free from jagged edges. The powerful HQV processing engine also provides per-pixel motion-adaptive noise reduction, detail enhancement, and advanced scaling, delivering premium-quality upconversion of SD material.
The company has recently begun shipping two of the entry-level AV receivers and all three new HTiB systems. In May it will deliver the mid-price TX-SR605, a standout model both in terms of features and value. The first of the higher-end THX models will also arrive in May with the final three arriving in June, July, and August respectively.
About Silicon Optix
Silicon Optix is a leader in programmable, high performance video processing and unique and proprietary geometry processing IC solutions delivering Hollywood Quality Video (HQV). Silicon Optix ICs can be found in top-tier consumer electronics products such as high resolution displays, premium DVD players, ultra-thin RPTVs and front projectors. Teranex, a division of Silicon Optix, is a leader in programmable video processing systems-level solutions for the professional broadcast and post production markets. Silicon Optix is headquartered in San Jose, California with offices around the world. For more information visit www.siliconoptix.com
About Onkyo
Onkyo, which means "'audio' or 'sound' in Japanese, has been producing precision audio components for over a half-century. The company's philosophy is to deliver products that are superbly designed and built to a consistently outstanding standard of excellence. Today, Onkyo is at the forefront of the home theater and digital revolutions. For more information about this and other fine Onkyo products, visit www.onkyousa.com.
Buckeyefan 1 posts on April 30, 2007 17:13
MDS, post: 265280
… and as is nearly always the case with Onkyo, the 7xx series is the best bang for the buck. The price nearly doubles from the 705 to the 805/875 and for that huge price increase you get minimal extras (unless you absolutely MUST have the HQV video processor).
What's also nice about Onkyo is that Ubid always has these models as refurbished at a huge discount, as does AC4L. I've got a bid on the 804 right now at Ubid. Hopefully I can grab it for under $400 (wishful thinking).
Seth=L posts on April 29, 2007 13:58
Hugo S, post: 266207
Hi,

Any idea of the cooling system built in the 905? Fan or natural convection? ie noise or noiseless?

Thks,

Hugo
Those fans don't turn on unless their is extreme heat, so it wouldn't be likely you would ever hear it. My Yamaha RCV has yet to have had the fan come on and it has gotten pretty darn warm.
Hugo S posts on April 29, 2007 12:52
NR905 cooling

Hi,

Any idea of the cooling system built in the 905? Fan or natural convection? ie noise or noiseless?

Thks,

Hugo
Seth=L posts on April 25, 2007 18:23
ericlhyman, post: 265437
What are the benefits from the toroidal transformer in the Onkyo 905 vs. the 875?


The Benifit of a toroid is less EMI, and they are lighter than core transformers. They don't dissipate as much heat, so they are more efficient.
ericlhyman posts on April 25, 2007 18:02
What are the benefits from the toroidal transformer in the Onkyo 905 vs. the 875?

Would the mosquito and block noise reduction systems of the Reon make it unnecessary to add on an Algolith Flea or Pixel Magic Eligio noise reduction unit for a 70" RPTV and 119" screen front projector with HD satellite signals?
Post Reply