Silicon Optix Announces Realta Chip
Silicon Optix Announces Realta Chip
Filed under: Technology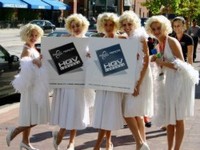 Who says you can't do serious business and still have fun at CEDIA? Silicon optix used Marilyn Monroe "impersonators" to get the word out about their new Realta with HQV technology, a powerful and fully programmable single-chip video processor. This is based on the same technology found in Teranex's (recently acquired by Silicon Optix) $60k Teranex 3RU Xantus system.

Paul Usso stated: "After three years of collaboration between Silicon Optix and Teranex, the highly anticipated end result is now unveiled. The Realta chip incorporates revolutionary technologies that will drive the next wave of digital video processing, and is targeted to set a new standard in video quality."

Silicon Optix states that Realta's HQV technology matches, and in many cases exceeds, the industry leading video processing seen in the $60k Teranex 3RU Xantus system. Obviously this is big news for the digital display consumers.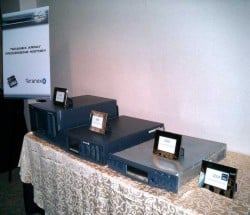 The Realta chip combines Teranex's trillion operation per second broadcast quality video processing with Silicon Optix's proprietary geometric scaling technology to create a new standard for image quality, a standard Silicon Optix is calling "Hollywood Quality Video", or HQV.
Realta's core technology includes Teranex's software algorithms that have been refined through 100,000 hours of content verification over the past six years by hundreds of the most demanding customers world-wide - the "Golden Eyes" of Hollywood post production and broadcast including NBC, CBS, ABC, FOX, WB and Turner networks.

"We distribute content for 25 network feeds, 24 hours a day, 7 days a week. Where up-conversion is involved, it is important to us that it results in the highest possible image quality. After comparing the up-conversion results of equipment from a number of manufacturers we selected the Teranex product," said Ron Tarasoff, vice president, broadcast technology and engineering, Turner Entertainment Networks.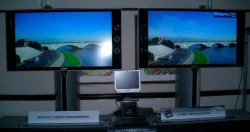 Realta's programmability allows consumer electronics (CE) manufacturers to keep pace with newly developed content and optimize image quality for different types of display technologies such as Plasma, LCD, DLP, HTPS, D-ILA and LCOS.

By adding simple networking to consumer electronics products that use Realta processors, manufacturers can upgrade their user base with new image processing software, essentially future-proofing the image quality and compatibility of their products.

Realta's Hollywood Quality Video Processing includes:

HQV True 1080i to 1080p/QXGA De-interlacing: Rather than discarding half the resolution of high-definition (HD) images as today's image processors typically do, HQV technology uses the full four-field processing window for HD video de-interlacing and cadence detection, preserving the rich details in HD imagery.
HQV SD/HD Multi-Direction Diagonal Filter (MDDF): A true 10-bit diagonal interpolator that removes any "jaggies" and/or stair-stepping artifacts from de-interlaced video sources without blurring the image.
HQV Noise Reduction: A fully automatic per-pixel adaptive software algorithm that adds a new dimension of pixel-by-pixel noise and motion measurement, detecting and reducing the analog and MPEG noise that currently plagues DVD and broadcast sources while maintaining full image fidelity.
HQV Detail Enhancement: Watching standard-definition (SD) images on HD displays often produces a blurring effect resulting in a disappointing visual experience. HQV detail enhancement improves the image detail on a pixel-by-pixel basis, delivering SD that approaches HD quality.
HQV Automatic Film Mode Cadence Processing: A quantum improvement in automatic handling of film and video sources such as 3:2 and 2:2 sequences common to broadcast and DVD. HQV processing provides industry-first support for "Vari-Speed" cadences such as 3:2:3:2:2 commonly used for movies broadcast on television, as well as 5:5, 6:4, and 8:7, cadences used for the many different styles of animation. HQV cadence processing ensures that users will always be viewing film and video sources in the original format without loss of resolution. HQV technology is first to offer 3:2 insertion at HD, an important requirement of the new HD Blu-Ray™ and HD-DVD™ formats coming soon to the consumer market.
HQV Automatic Per Pixel Video/Film Detection: Rather than making frame level decisions for video vs. film processing, typically causing severe artifacts to occur in sequences such as video titles and movie credits over film backgrounds, HQV delivers cinema-like quality by making pixel-level decisions, thus precisely processing film pixels as film and video pixels as video.
HQV 16 to 1024-Tap Adaptive Scaling: Resolution up and down-scaling requires a large set of image samples to prevent the introduction of visually unacceptable artifacts. Realta delivers unprecedented image scaling quality by providing the industry's first 16 to 1024-tap adaptive over-sampling scaling engine to maintain the highest image quality.
True 10-Bit Processing: True to its professional heritage, Realta offers complete input to output 4:4:4 color processing and a full 10-bit or better internal data path, enabling the rendering of over 1 billion colors.
Equal Quality Two Channel Processing: An industry first, the Realta's powerful image processing engines can process two full resolution channels of HD or SD, enabling equal image quality for each video window in PIP, PAP, and POP modes.
Optional eWARP-2™ Geometry Processing: For applications requiring geometric correction, Realta's proprietary pixel over-sampling eWARP-2 engine allows for AnyPlace™ flexible projector placement (90"H/60"V) while maintaining the highest quality graphics, fine text, and crisp HD video.
For more information about Silicon Optix, please visit the company's Web site at
http://www.siliconoptix.com