Silicon Optix Releases Entry Level Reon-VX Chip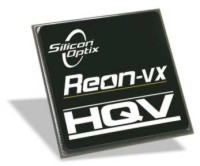 San Jose, CA - June 7, 2006 - Silicon Optix announces the Reon-VX chip, which brings high-performance video processing to the mainstream with optimized features for Hollywood movies and broadcast television. Reon-VX is targeted for high-volume applications, including plasma TV, LCD TV, RPTV, home theater and business projectors, A/V receivers, personal video recorders, set-top boxes, Mediacenter PCs, and DVD players, including Blu-ray and HD DVD.
"With the fully programmable, one-trillion-operations-per-second Realta chip, we've delivered a future-proof, no-compromise flagship video-processing engine using technologies proven on the front lines of Hollywood," said Paul Russo, Chairman and CEO of Silicon Optix.
"Reon-VX delivers many of the same Hollywood-proven HQV algorithms for mainstream markets. By focusing on typical home theater content and dynamically deciding which algorithms to apply on a per-pixel basis, Reon-VX offers mainstream markets the opportunity to experience HQV video processing," continued Russo.
Reon-VX's Hollywood Quality Processing features include:
HQV FOUR-FIELD PER-PIXEL SD/HD DEINTERLACING : Reon-VX offers true HQV four-field, motion-adaptive, per-pixel, high-definition (HD) deinterlacing, delivering the sharpest and most detailed HD images possible. With 1080i material you'll be able to see things such as strands of hair, guitar strings, and even threads in suits and ties. By looking at each individual pixel, HQV processing ensures that there is no unnecessary loss of resolution, as is the case with region-based or frame-based solutions.

HQV SD/HD FILM CADENCE PROCESSING : The wait for 1080p content is over. With HQV's content-based HD cadence detection, the Reon-VX delivers true 1080p reconstruction of HD film sources, including Hollywood films and television shows produced on film.

HQV SD/HD MULTI-DIRECTION DIAGONAL FILTER (MDDF): A true 10-bit diagonal interpolator that removes any "jaggies" and/or stair-step artifacts from deinterlaced video sources without blurring the image.

HQV SD/HD DETAIL ENHANCEMENT : Detail enhancement brings out the fine detail in scenes and is important for SD and HD material. For example, it's possible to see blades of grass, small details on jackets, and wrinkles on faces. When combined with noise reduction and advanced scaling, Reon-VX detail enhancement can make regular DVDs approach the quality of high-definition DVDs.

HQV SD RANDOM NOISE REDUCTION : Random noise or film grain is an issue with DVDs and cable broadcasts. While many competitors take the simple approach of looking at a single frame and cutting off the high-frequency information, Reon-VX uses a much more advanced temporal approach of looking at many frames over time, which preserves image quality while reducing noise.

HQV SD MOSQUITO AND BLOCK (CODEC) NOISE REDUCTION : Satellite and cable providers, as well as PVRs, compress the signal to get the maximum content into the smallest space. Reon-VX delivers high-quality codec (mosquito+block) noise reduction to remove the noise and artifacts caused by this compression.

HQV COLOR SPECTRUM CONTROL : Selective color region enhancement allows certain regions (e.g., skin tones) to be accentuated. Reon-VX also contains advanced color edge enhancement that corrects artifacts caused by restricted chroma and luma bandwidth. It also provides full detection and correction of chroma upsampling errors.

TRUE 10-BIT PROCESSING : Reon-VX offers complete input-to-output 4:4:4 color processing and a full 10-bit internal data path, thus enabling the rendering of more than one billion colors.

DUAL-CHANNEL PROCESSING : Reon-VX's powerful image-processing engines can process two full HD or SD resolution channels, thus enabling equal image quality for each video window in split-screen (PAP) mode.

eWARP VX GEOMETRY PROCESSING: For applications requiring image warping, the Reon-VX's proprietary eWARP VX engine allows for AnyPlace flexible projector placement while maintaining the highest-quality graphics, fine text, and crisp HD video.
Products that include the Reon-VX video processor will display the "HQV" logo. Products that include the fully programmable Realta processor will display the "HQV Powered by Teranex" logo.
For more information, see www.siliconoptix.com , www.hqv.com , or www.teranex.com .
About Silicon Optix
Silicon Optix Inc., a privately held fabless semiconductor company, is the leading supplier of advanced programmable video/image digital processing integrated circuits (ICs). The company's products are driving three unique technologies into a broad range of markets: a patented, powerful, array-based programmable DSP for digital video that can perform one trillion operations/second, enabling real-time pixel-by-pixel processing of HDTV; industry-leading and Hollywood-proven software algorithms from Teranex; and proprietary eWARP™ geometry processing. Silicon Optix's mission is to leverage these innovative technologies into ICs that will enable the next generation of digital video/image capture, transmission, distribution, editing, storage, and display solutions, with an initial focus on large-area digital displays, including front and rear projection. Silicon Optix is headquartered in San Jose, California, with operations in Hanover, Germany; Orlando, Florida; Taipei, Taiwan; Shanghai, China; and Toronto, Canada. For more information about Silicon Optix, please visit the company's website at www.siliconoptix.com.