Monster Cable is Back! Sues Mini-Golf Company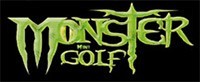 Monster Cable has already attracted the ire of hi-fi enthusiasts worldwide. If it's not putting up shady displays at big box stores to lure customers into its Monster Cable scam its doing the same at trade shows like CES.
But Monster Cable's moral ambiguity isn't limited to promotion of premium priced cables. Monster is fast becoming known as a litigious nuisance in an effort to protect the exclusivity of its name brand. Not long after Audioholics reported on the intellectual property rights dust-up Monster created with Kurt over at Blue Jeans Cable, now Monster is looking to bully a mini-golf company named Monster Mini-Golf.
Remember mini-putt? It's changed over the years and seems to have transformed into glow-in-the-dark mini-golf. Monster Mini Golf is a glow-in-the-dark mini-golf chain based out of Rhode Island. Monster Cables claims that Monster Mini-Golf confuses customers and dilutes its trademark.
Chalk this ridiculous lawsuit up there with the Monster Cable filings against the Chicago Bears for calling themselves the Monsters of the Midway or Pixar for its film Monsters Inc. Can a company really own a word like Monster?
Some companies are known for giving to charities. Others are just known for high quality products at reasonable prices. Monster Cable is well on its way to being known of squandering public resources with frivolous lawsuits. The company's public relations and marketing departments might want to rethink that strategy. It can only further hurt public perception of the Monster Cable brand.
See also:
Recent Forum Posts:
majorloser posts on April 26, 2009 15:30
The Smell is Getting to Me…
=
tattoo_Dan posts on April 26, 2009 15:09
gene, post: 550318
Welcome back my friends to the show that never ends:

http://www.audioholics.com/news/industry-news/monster-cable
"Possibly even a boycott of Monster Cable products would be appropriate. Monster Cable must be brought to justice, and we ask that you send this article to anyone and everyone you know."
yes ! lets do that ! I haven't bought a MC product in years anyway! and will continue to talk crap about them and NOT buy their overpriced garbage imports !
thanks for bringing this info here .
pmac posts on April 26, 2009 12:10
Boo Monster

This really sucks, because i am in the market for a power conditioner, and monsters looks are appealing. But because of all this thay are off the short list of units to get now its down to APC and the other one starting with P i forget the name but I have a power bar from them.

I wonder if the free publicity the lawsuits give them, make up for lost sales.

EDIT: Panamax
Nomo posts on April 09, 2009 20:53
alexwakelin, post: 535237
I find it amusing that when I clicked on this thread, there was an ad for monster.com at the top of the page
Are you looking at the Monster Golf ad?
gene posts on April 08, 2009 22:52
Post Reply