Microsoft Ends HD-DVD Sales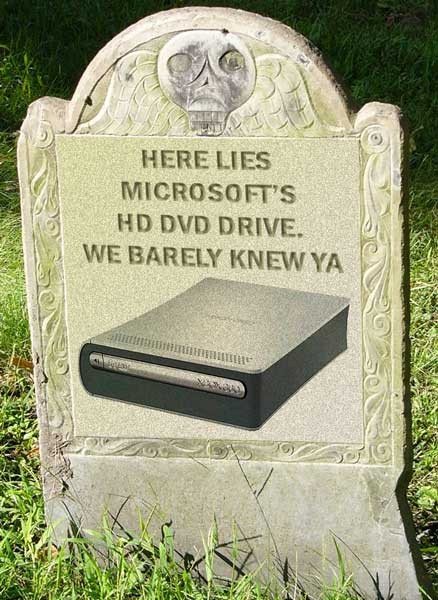 So long HD DVD drive!
From the Department of Obvious comes a report that, gasp, Microsoft is ceasing all manufacture of external HD DVD players for its Xbox 360 console. This came just days after Toshiba conceded defeat of the format to Sony's Blu-ray last week. According to Microsoft, the cessation of HD DVD drive manufacturing won't affect their video game sales or the popularity of the console.

According to one of Microsoft's Corporate VPs of Media and Entertainment, "HD DVD is one of the several ways we offer a high definition experience to consumers and we will continue to give consumers the choice to enjoy digital distribution of high definition movies and TV shows directly to their living room, along with playback of the DVD movies they already own."
The challenge now for Microsoft will be to see if it's HDi interactive features and VC-1 encoding technology will have a place in the world after the fall of the HD DVD format. They are certainly attempting to work it into other platforms and from what we've seen to far, the technology certainly has promise, and VC-1 is already an accepted (and preferred) format on Blu-ray.
All things HD DVD are slowly crumbling following Toshiba's announcement last week that it is giving up on the doomed format. Manufacturers like Onkyo are canceling plans for announced products and existing manufacturers are flooding the presses with statements of product cancellations and "enthusiasm" of working with the victorious Blu-ray format.

GlocksRock posts on February 26, 2008 09:19
Sell it and buy some more blu ray movies.
Audioholics posts on February 25, 2008 21:53
At least my HD-XA2 is a decent upconverting player… though so is my Denon DVD-3930CI… Ah crud, guess I should sell mine too…

Basically our staff needs to get PS3s…
Darins10 posts on February 25, 2008 17:49
Not a huge surprise I suppose considering the circumstances….
Dezoris posts on February 25, 2008 17:28
I would sell it all.
Jim Robbins posts on February 25, 2008 17:26
Tom Andry, post: 380495
Jim, you're going to end up on HGTV as one of those weird collector dudes with a room full of HD DVD players and discs. Denial my friend, it isn't just a river in Egypt!
Yeah! Great Idea! I could own every HD DVD ever made! All in perfect condition! Maybe even still in the shrink wrap!
J, if you ask me, I'd say keep it. I'm gonna say it's not worth it to take the time to ebay the stuff off. *shrug*
And, for reference, I own as many BDs as I do HDs. I just like High def stuff. And the cheaper it is, the better!
Post Reply