Xbox 360 HD DVD Drive Price Reduction Plus 5 Free Discs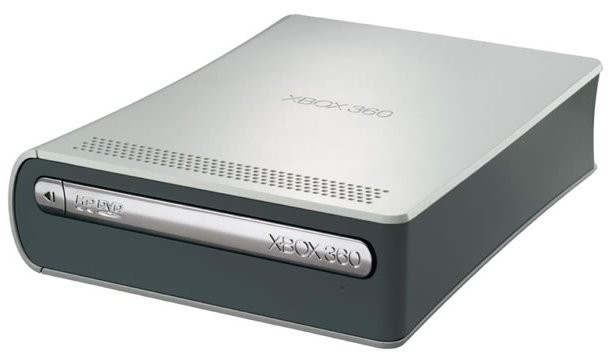 Xbox 360 HD DVD Drive
Microsoft announced an impending price cut to the add-on HD-DVD player for the Xbox 360 as well as joining Toshiba's software promotion at Comic-Con International 2007.
Xbox 360 HD DVD Player Moves to $179, Adds Five Free HD DVDs
As of August 1st, 2007, the price of the drive will be reduced from its current $199 retail to $179, and any player purchased between August 1st and September 30th, 2007 will be eligible for participation in Toshiba's 'Perfect Offer' and receive five free HD-DVD's.
Microsoft emphasized the value of the HD-DVD add-on as the most affordable way to enjoy high definition content. With the addition of over $140 dollars worth of retail HD-DVD's, it is certainly a cost effective way to enjoy actual HD content.
Microsoft also plans promotional efforts to include exclusive Xbox LIVE content to support the release of the HD-DVD versions of '300' and the Heroes: Season 1 boxed set. Available content will include various promotional material including trailers and teaser scenes, and for a limited time, Xbox LIVE members will be able to download the pilot episode of Heroes before the box set is released.
See also:
Recent Forum Posts:
NeverSeen posts on July 30, 2007 21:00
This makes me happy i waited for the drive. I will probably pick one up next month. The DVDs alone are worth it. i'm thinking i will get:

Apollo 13
Constantine
Four Brothers
The Rundown
U-571 or Perfect Storm (will have to think that one over).
corey posts on July 28, 2007 17:58
Choose 1 from each category:

Category A Apollo 13 Seabiscuit The Chronicles of Riddick
Category B Casablanca Constantine Dukes of Hazzard
Category C Four Brothers Lara Croft: Tomb Raider Sky Captain and the World of Tomorrow
Category D The Rundown Blazing Saddles U2: Rattle and Hum
Category E U-571 The Perfect Storm We Were Soldiers
DavidW posts on July 27, 2007 17:25
The Microsoft announcement says the HD-DVD offer is an extension of Toshiba's "Perfect Offer".

Look up Toshiba's offer online for terms and titles.
Vinylvision posts on July 27, 2007 11:53
Which 5 HD DVD Discs ???

Which 5 HD DVD Discs and how does one get the discs? What is the disc selection?
Post Reply