Mercedes To Add Dolby Atmos to Top-Spec Cars in 2022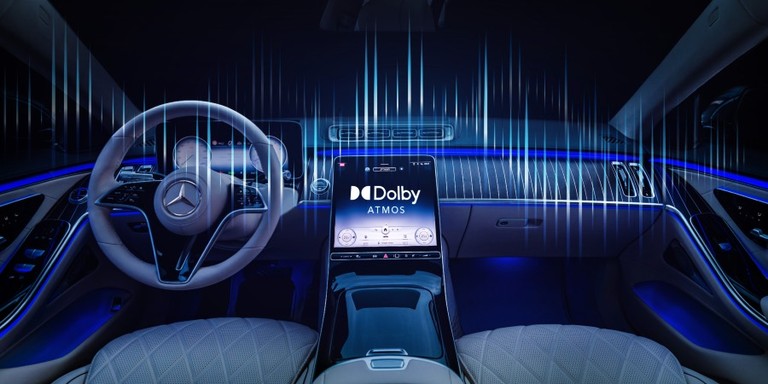 Mercedes Dolby Atmos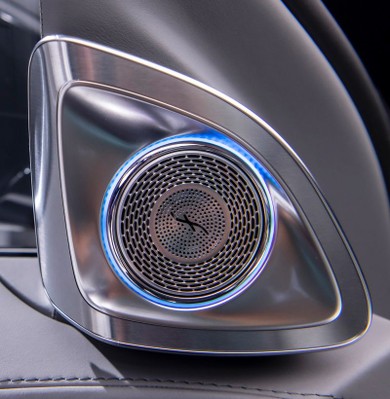 Automotive journalist and former Top Gear host James May once said, "If you want to know what technology is going to be in your car in ten years' time, look at today's S-Class." And it's certainly true that Mercedes-Benz packs its top-spec cars with innovative tech, some of which eventually makes its way into more pedestrian automobiles. From safety features to infotainment gadgets, Mercedes has a long record of setting trends. In the 1950s, Mercedes was the first manufacturer to install conical-pin safety door-locks to prevent doors from bursting open during an accident. In the 1970s, it was Mercedes that introduced the first reliable anti-lock breaking system, as well as the first turbocharged diesel engine. In the 1990s, the company's "Linguatronic" system was the first voice-activated carphone platform in a series production car. And just last year, the 2020 S-Class introduced the first 3D driver display that uses eye-tracking to allow spatial perception of the display with a real 3D effect. But Mercedes-Benz is not the first automaker to integrate Dolby Atmos into a car's sound system. The Lucid Air, a high-end electric car from the California-based startup Lucid Motors, beat Mercedes to the punch. (The Lucid Air also one-upped Tesla by being the first — and, so far, only — electric car with 500+ miles of range, and was named MotorTrend's Car of the Year.) Mercedes is in the unusual position of trying to play catch-up. In order to compete with the Californian newcomers, Mercedes has built its own high-end electric car, the new EQS. And the brand's flagship Mercedes-Maybach and S-Class cars will now be getting the Dolby Atmos treatment thanks to two new sound systems designed by the Berlin-based audio manufacturer Burmester. The  Burmester "3D" sound system uses 15 speakers (this is what you'll find in the EQS), while the upgraded "4D" system comprises a staggering 31 speakers, plus eight "exciters" (two per seat), which Burmester defines as "structure-borne sound transducers in the seats." With the addition of the exciters, Burmester says that "the music experience is expanded and amplified, becoming a completely new experience for the senses."
Our customers rightly expect the highest level of music enjoyment in a Mercedes-Benz vehicle. Therefore, Mercedes-Benz is one of the first luxury car brands in the world to rely on the ground-breaking Dolby Atmos technology. With Dolby Atmos and the Burmester sound system, we offer our customers an exciting music experience in the vehicle that is almost like a live concert. I am sure the customers will be delighted.
— Britta Seeger, Member of the Board of Management of Daimler AG and Mercedes-Benz AG Responsible for Sales
Like Mercedes, Burmester has a track record of innovation. (The company also makes some incredibly cool-looking gear). In 1980, Burmester built the world's first modular preamplifier, called the 808, which is still in production in its fifth generation. The company developed the first remote-controlled speaker adjustment, with relay circuit resistors, in 1987. In 1994, Burmester received a patent for its active-regulating 948 Power Conditioner, which frees the supply voltage from disruptive DC components. And in 2002, the company began designing automotive audio systems, first with Bugatti, and then with Porsche. (Interestingly, the system in the Porsche Panamera uses Auro-3D surround-sound processing, a competitor to Dolby Atmos.) In 2013, Burmester began working with Mercedes. According to Dolby, the Burmester system in the new Mercedes-Maybach and S-Class will arrive in summer of 2022, and provide "the ultimate in-car audio experience… allowing listeners to connect with music to its fullest creative potential… (via) a whole new immersive soundscape."
At Dolby we are passionate about extending the Dolby Atmos Music experience so that consumers can enjoy it anywhere and Mercedes-Benz shares our vision. We are excited to be collaborating with them to accelerate the adoption of this immersive auditory experience in cars. The integration of Dolby Atmos into the S-Class and the Mercedes-Maybach will offer an additional superior feature to customers whether they are in the driving seat or a passenger.
— John Couling, Senior Vice President Commercial Partnerships, Dolby Laboratories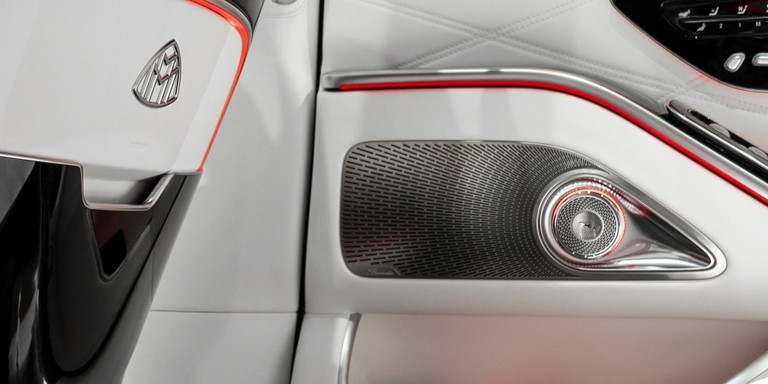 The audio hardware of the Burmester high-end 4D sound system includes two amplifiers, which drive 31 speakers with a total of 1,750 watts of system power. There are six "3D" speakers that emit their sound from above, like the height-effects speakers in a Dolby Atmos home theater. There are also 4 "near-ear" speakers in the front seats, and a dedicated subwoofer with its own 18.5-liter enclosure. The tweeters, which are installed in both the front and rear doors, rotate 360° when the system is switched on, moving slightly closer to the passengers in a corkscrew motion. According to Burmester, the tweeters are "aligned for the optimum sound impression and, at the same time, refine the luxurious feel-good ambience."
For me, as a sound developer at Mercedes-Benz, Dolby Atmos gives me the opportunity to explore the full potential of a Burmester sound system. So what we give our customers in the Mercedes-Benz with Dolby Atmos is full transparency, highest entertainment, and the best-sounding experience you can get in a Mercedes-Benz. We're bringing, now, the right things together: the best possible sound architecture (together with) Dolby Atmos, and this completely matches together as the best audio experience in a Mercedes-Benz that you can get.
 — Florian Richter, Mercedes-Benz Sound Developer
Dolby Atmos is all about an immersive experience, adding more space, more depth, and more height to the sound-field. For a traditional audio system based on a discrete number of channels, the inside of a car is about as hostile an environment as you'll come across. But Dolby says that "Atmos adapts to any playback environment, meaning fans can listen to music with unparalleled clarity that matches an artist's original vision in the studio." Music mixed (or re-mixed) to take advantage of the Dolby Atmos format is now available from popular streaming services, including Apple Music, Amazon Music Unlimited, and Tidal. But I think it's fair to wonder how much a typical (non-audiophile) Mercedes customer will really value the presence of a Dolby Atmos system in a new car.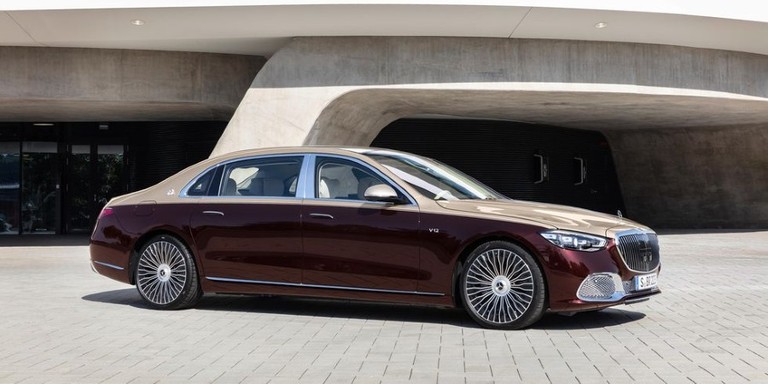 While the technology has become more accessible via scaled-down experiences on smart speakers, sound-bars, headphones, and even mobile devices, most folks who aren't home-theater enthusiasts have probably only experienced real-deal Dolby Atmos in a movie theater, if at all. Then again, most folks don't buy a Mercedes-Maybach, which starts at $185,000, and can go way up from there. (Personally, I might go for a Bentley Flying Spur, or a Rolls-Royce Ghost. Or, you know, buy a house.) Dolby is promoting the new Mercedes/Burmester Dolby Atmos system not as audiophile esoterica, but as a natural extension to the high-luxury experience sought by the kind of customer who spends hundreds of thousands of dollars on a car. Dolby says that luxury is "a timeless concept, though one that is constantly evolving." And I think there is some truth to that.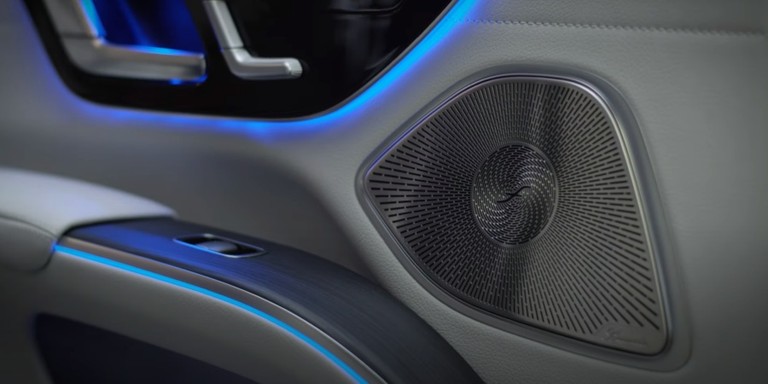 Luxury Sound - the Future is Here with Dolby Atmos Automotive
Just a few decades ago, luxury was all about polished wood, plush carpets, and champagne flutes hidden in the arm rests. Nowadays, people still expect all that, but they also expect the elegant integration of powerful, user-friendly technology. According to Mercedes, it's "the extraordinary that creates desire." Dolby Atmos will first become available in the Mercedes-Maybach starting in summer of 2022, and shortly thereafter, in the regular S-Class. Mercedes says it will also make its way into other vehicles equipped with the company's new MBUX infotainment system, including the EQS electric car, which is a direct competitor to the Lucid Air. As of right now, almost nobody has even seen a Lucid Air in person, let alone driven one. And so, there's a very good chance that the first time you experience Dolby Atmos in a car, it'll be in a Mercedes. 
For more information about the Mercedes/Burmester Dolby Atmos sound system, grab your headphones and check out this binaural video from Dolby.