Logitech Harmony PS3 Adapter: Overcome Sony's Bluetooth Fetish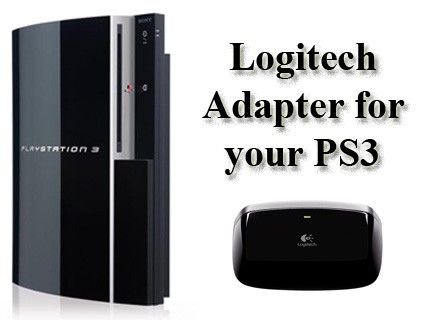 One of the coolest features of the Sony PlayStation 3 is a Bluetooth remote control. If you spring for the reasonably priced optional remote there's no need to point it at the device like any old IR remote. You can gleefully pause, play or rewind movies played back on your PS3 from the bathroom. But, that brings us to one the PS3's fattest shortcomings, its lack of an IR remote option. So, your big fancy universal remote control can't provide you a PS3 option. Suddenly Sony's big-bad convergent media device is looking rather short on convenience. 
Take heart couch potatoes - all's not lost! It seems Logitech has heard your pain and has produced the Logitech Harmony PS3 Adapter. This is no budget IR-to-USB, PS3 command center. USB is a popular low-cost method for working around Sony's IR prejudice but it suffers serious shortcomings. An IR-to-USB adaptor is laggier than a VoIP call from Mars.
But the biggest problem with an IR receiver that plugs into PS3's USB port is that it's not a complete control solution. You'll have to, Lord forbid, get up off the couch to power up the PS3. And that seems to defeat the purpose of having a universal remote control in the first place. Powering the system down requires stepping through several steps within the operating system. Sadly, this is just a shortcoming inherent in the PS3 and cannot be overcome with any fancy adapter. You'll have to setup macros that carefully navigate the PS3 system and find the shut down option. 
Logitech Harmony PS3 Bluetooth Adapter 
Any adapter that can speak to the PS3 through Bluetooth is the more powerful yet costlier option. IR-to-Bluetooth control options can receive IR commands from your universal remote and the adapter translates them to Bluetooth for the PS3: Presto, now you can instantly power up Sony's entertainment hub – and your universal remote's macros can handle powering it down. 
Logitech's adapter currently retails at $60. The price seems a bit costly for now but it's reasonable compared to similar devices – remember, this one combines both the USB and Bluetooth options.
One strike against the adapter it's only compatible with Logitech universal remotes. Sure, Logitech makes a fine universal remote: But what if you already have another brand? You'll be happy to know that you can find Harmony PS3 Adapter IR codes online so you can include non-Harmony universal remotes to your repertoire of potential PS3 controls.
"In our book, Logitech's PS3 Adapter is a success." – Stephen Kim EngadgetHD 
If a reasonably priced IR adapter for PS3, made by a respected name like Logitech, is something you've been craving there's more information online. EngadgetHD has a detailed review of the Logitech Harmony PS3 Adapter. The review is all around quite positive about the product and these guys would know. By reading the review you get the idea that the boys at EngadgetHD are the dedicated couch potatoes you can trust to kick the tires on a media universal remote control system.
See also:
Swerve posts on December 29, 2009 16:13
I bought this adapter a few days before the PS3 (I didn't get it for Christmas AGAIN!) and I love it. I can't imagine not having it! The price was a bit high at $60CAD and it was on sale! I'm not regretting the purchase though.
Matt34 posts on June 11, 2009 12:01
Seth=L, post: 580421
Does it use batteries?
No, comes with a power cable.
Seth=L posts on June 11, 2009 11:47
Does it use batteries?
Matt34 posts on June 11, 2009 01:13
I finally got mine installed today, one remote to control them all!! Works perfectly and the unit is barely noticeable.
Flag-Matic posts on June 03, 2009 13:00
sholling, post: 572724
I'll wait for the price to drop to a more reasonable $30.
I agree. I just can't do $60 since my $10 nyko solution is good enough.
Post Reply