LG, Sharp Embroiled in LCD Price Fixing Scandal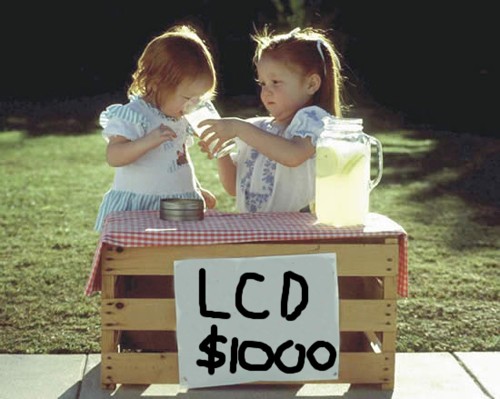 It's the second largest anti-trust fine ever imposed by the US Department of Justice: LG, Sharp and Chunghwa Picture Tubes will pay $585 million in fines after pleading guilty to a massive liquid crystal display price-fixing scam. The price-fix cost consumers and companies that build monitors, laptops and handheld devices.
According to assistant attorney general for the US Dept. of Justice antitrust division Thomas Barnett - "The price-fixing conspiracies affected millions of American consumers who use computers, cell phones and numerous other household electronics every day."
Companies affected by the inflated LCD panel pricing included Apple, Dell and Motorola and basically anyone who bought their products. Sources report that the companies involved in the scam allegedly held "Crystal" meetings. Yes, reports say these clandestine collusion meetings were actually code-named Crystal meetings.
Dramatic Interlude
We can see it now… Shadowy figures attend closed-door meetings in darkened, smoky rooms. Competing company's representatives with colorful code-names like Mr. Big, eL-Tuffy-D and Crystal Monopoly would gather after-hours. Barely visible through shadows and cigar smoke, C. Monopoly strokes a heavyset Persian cat in a diamond studded collar while orchestrating LCD profitability schemes with the tri-lateral stranglehold he and his distinguished colleagues enjoy over the LCD market.
Back to reality
LG alone agreed to pay a US $400 million fine, making it the second largest ever anti-trust payout. Sharp will pay US $120 million for its participation.
The conspiracy mainly involved TFT-LCD panels in the 15-inch range and smaller. These were used in portable devices, computer monitors and notebooks. Consumers shouldn't expect the bust to result in any immediate price-drops – at least not one that we haven't already seen. The conspiracy started way back in 2001 and involved specific deals brokered to manufacturers for LCD screens until about 2006.
It's a twist befitting only the most classic horror stories: The Justice Dept. says that despite the fines being levied today - the investigation that began in 2006 is still ongoing. [evil laugh]
Many of us have heard rumors that a glut in the LCD market occurred soon after 2000. Despite oversupply of panels through 2001 prices reportedly rose. Although the overall outlook has been a gradual reduction of LCD costs to consumers, the actual prices had inexplicably fluctuated early in the decade. This led many to believe that foul play was afoot in the form of LCD price fixing. Rumors of back-room meetings between Mr. Big and C. Monopoly with his fat Persian abounded. But rest assured dear readers that today - justice is served.
See also:
Recent Forum Posts: