Iron Maiden Tries Free Album Download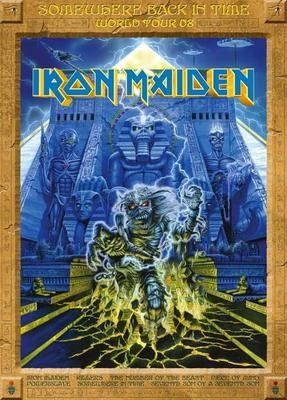 Somewhere I Can Download This
Iron Maiden have prevailed over the world of heavy metal for almost thirty years, and without a doubt, they are also one of the most contemporary and exciting bands of the 21st century. And in their defiant spirit of overturning convention - from flying their own plane around the world on a record-breaking tour to selling over 70 million albums worldwide without mainstream radio or TV support - today Iron Maiden announce a revolutionary new way of delivering music to their fans. This is the first promotion of its kind.

In an unprecedented move to let younger fans hear, understand and appreciate the quality of these recordings, on May 13, New Door Records/UMe launch the unique "Somewhere Best in Sound" campaign whereby the curious/adventurous can download the entire album Somewhere Back in Time without charge as a high quality WMA audio file, which is a typically powerful 320 kbps. Fans will then be able to listen to the entire album at their leisure -- three times before the download expires. The listener is then given a simple option to upgrade and purchase the album as a full download.

With the overwhelming success of the current "Somewhere Back In Time World Tour '08," and their recently released platinum-selling DVD Live After Death, New Door Records/UMe are proud to release Somewhere Back in Time on May 13 on CD charting the first decade of the band's extraordinary career. The album celebrates the essence of the current tour by featuring most of the essential tracks from the band's first seven studio albums and one live album, recorded between 1980 and 1989, and also is aptly titled Somewhere Back in Time (full track-listing below).

Manager Rod Smallwood explains the thinking behind this innovative move:

"Maiden have a huge catalog that is highly treasured by fans and media alike. However, we recognize that our ever-increasing fan base is very young and can't be expected to know all the earlier albums, which is why we have put this collection together for them. Many of our fans weren't even born when the original albums were first released, although amazingly they seem to know all the lyrics when they sing along with the band at our concerts! We also recognize that 'albums' as such have become unfashionable to many over recent years with TV-generated pop artists stringing a couple of 'hit' singles together with filler tracks and releasing them as a quick fill album which disappoints and quickly becomes dated. So this is both an introduction to the band's recording history and a chance for young fans to try a full-length Maiden album and realize they're getting the real deal!


"We wanted to give the kids of today a fair chance of hearing the music as we would have first heard and experienced it in our day when checking it out in a record shop - top quality sound, in their own time and in an environment of their own choosing so they are able to absorb the depth and worth of the music and lyrics that make Iron Maiden the phenomenon they are. What better way to use modern means and a very high quality download! Sadly, the WMA (Windows Media Audio) isn't compatible with Macs or iPods, but we are confident that our young fans are adept and fluent with modern technology and we will post simple instructions on our website for any that need guidance."

On the heels of their record-breaking world tour, the band's Website, http://www.ironmaiden.com/, has received over 8,000,000 hits and more than 1.5 million visitors for just last month alone.
The full track-listing for the album Somewhere Back In Time is as follows:

1. Churchill Speech (0.49)
2. Aces High (4.36)
3. 2 Minutes To Midnight (6.00)
4. The Trooper (4.11)
5. Wasted Years (5.06)
6. Children Of The Damned (4.35)
7. The Number of The Beast (4.53)
8. Run To The Hills (3.53)
9. Phantom Of The Opera -- Live (7.21)
10. The Evil That Men Do (4.34)
11. Wrathchild -- Live (3.07)
12. Can I Play With Madness (3.31)
13. Powerslave (6.47)
14. Hallowed Be Thy Name (7.12)
15. Iron Maiden -- Live (4.50)
For the latest up-to-date news go to http://www.ironmaiden.com.

Diapason posts on March 27, 2008 05:00
jonnythan posts on March 26, 2008 11:21
Diapason posts on March 26, 2008 11:03
With the caveat that I can be a bit dim when looking for stuff (much to the annoyance of my fiancée who always puts her hands on things I'm looking for straight away) I've looked at ironmaiden.com several times now and I still can't see where I go to download this album. Am I missing something?
kragnorok posts on March 25, 2008 18:47
Getting my presale tickets on Thursday for when they come to Calgary…. June 5th! So excited, I'm only 22 but have been a die hard metal, and in the same respect maiden fan since I was probably 7/8. Blood brothers, Aces High, Virus, all wicked songs. Number of the beast, The Trooper… I could go on and on lol. But ya I'm excited as I will ever be probably, honestly never thought I would get to see them here in Calgary, thought I would either have to travel, or end up just not ever seeing them because they would just stop touring. Anyway…

The whole free download thing is a decent idea. I did it with the new NiN, got the free version, didn't mind it but wanted to hear the other 20 some odd tracks and paid for the other 3 "chapters" I guess you could call of it Ghosts. I am glad I paid for it.

Did it with Radioheads new album too, not a shabby idea I guess, gets people to feel like they are choosing what they want to buy or not buy, and how much to spend on music, not like when CD's were 20 dollars no matter what.
jonnythan posts on March 25, 2008 13:47
That's a shame.

There aren't many metal bands out there on tour on their own 757
Post Reply