iPod Explodes, Japan Investigates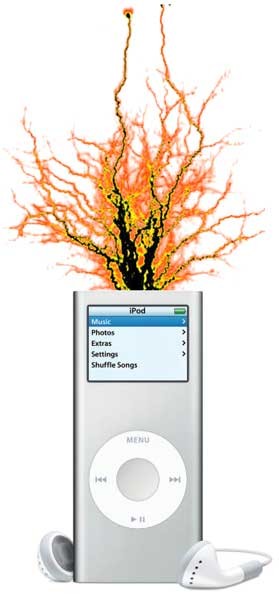 We knew the nano was HOT
Japan is investigating a potential, um, defect in the Apple iPod after one reportedly "shot out sparks" while being charged. This is according to a government official who commented to the AP today. An anonymous official in the Japanese department which oversees product problems, stated that the defect is suspected to be in the lithium-ion battery in the iPod Nano, model number MA099J/A. About half a million of these model of iPod nanos have been distributed in Japan, and it is unclear whether there will be recall or if this is an isolated incident. While the iPod was manufactured in China, the origin of the battery hasn't yet been determined.

Nobody was hurt in the episode, and to its credit, Apple reported the problem promptly. Not much else is being said at this time. According to the AP report, Apple Japan did not contest the insider statement but declined to comment any further.

Right now, Japan is allowing Apple to investigate the incident internally and has instructed the company to report back its findings.
Lithium-ion batteries and fire are no strangers, with Sony having one of the largest global battery recalls in history (over 10 million units) occur due to laptop batteries becoming unstable and catching on fire.
Apple products have had some battery issues in the past, however most of these issues dealt with premature failure, not instability. If anyone questions the overall stability of  lithium-ion, you merely have to look towards Toyota Motor Corp. who as of yet has not elected to use them in their hybrids. If these infrequent lithium-ion issues can be resolved, the technology is definitely seen as a nice micro-evolutionary step towards better energy storage.