Hulu Plus Comes to Roku Will GoogleTV Be Next?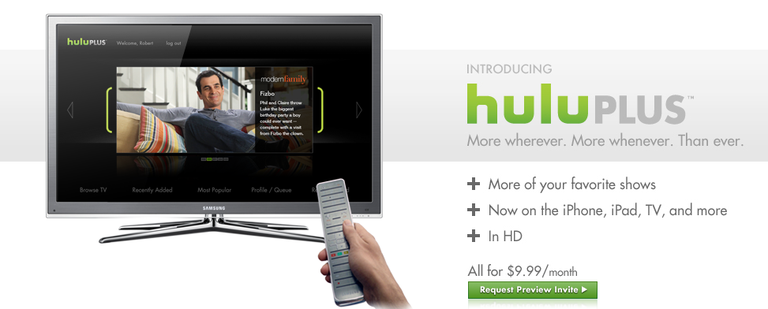 Hulu Plus comes to Roku
This isn't a huge news update, but this fall, the Roku streaming media server will be bringing Hulu Plus to the biggest screen in the house. You will be able to watch full current seasons of Hawaii Five-O, Modern Family, House, and other popular TV shows whenever you want. It's only a little ways off (we're betting on November) but this marks a huge uptake for the popular set top media streaming box. 
Roku is a little set-top box that allows you to instantly stream tons of entertainment on your TV. In addition to watching movies and TV shows from Hulu Plus (coming this Fall), users can stream Netflix HD or Amazon VOD, listen to music on Pandora, catch the latest ballgame, and more - it's all available whenever you want it. You can buy a Roku HD for just $59.99. If you want 802.11n and full 1080p capability, you can opt for the Roku XD for $79.99. For the ulimate experience, including dual-band networking and component video outputs, the XD|S can be purchased for $99.99. Roku gives the AppleTV somethign to think about, and the interface is about as easy to use as they come.
On the other hand, Hulu Plus is still a no-go on the legendary GoogleTV, but we have it on good faith from several sources that there will be some amazing announcements come the new year. Why on earth negotiations are taking Google until after the holiday rush is anyone's guess, but those are the breaks for now.
Source: Roku
westcott posts on October 28, 2010 23:51
I signed up for Hulu Plus the other day on an invite from Hulu. They took my credit card info and I proceeded to go to my TV to set up my Roku box.

Guess what? Although the service is now available, they fail to tell you that it is not yet supported by Roku, or the other way around, depending on who you are talking to.

Needless to say, I was NOT pleased.

It is not the money, it is the principle. They could have easily spelled this out in the invite but failed (or did not want to) to do so.

Thought I would pass this along before anyone else makes the same mistake.
JohnA posts on October 26, 2010 15:01
Regular Hulu does provide wide screen stuff…I know my anime is.

You can get amazon on demand through the Roku box.

I'm not 100% sure about the Dolby Digital.
westcott posts on October 26, 2010 12:20
I have been cutting back on expenses with the current economy status and the Roku box along with a NetFlix account has really been a pleasant surprise.

Starting at US$10/month, it is a no brainer.

I do have some questions. Does anyone know if it will provide Dolby Digital audio?

Is Hulu Plus going to provide widescreen viewing, when available?

Both of these issues make NetFlix look long in the tooth compared to Amazon on Demand. I hope Hulu does not make the same mistakes.

Thanks for the update.
JohnA posts on October 25, 2010 09:37
This will be a nice addition. I have been streaming Hulu for some time to my TV but having to use my computer is a little bit of a pain, to have it with my Roku box will be nice.
Post Reply