Hancock's Proprietary Download Experiment with Sony Bravia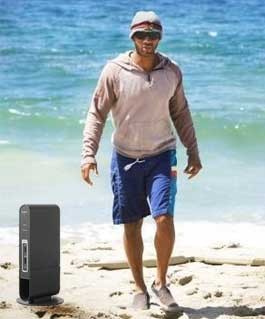 Um... Not to scale
We've been sounding the death knell of traditional disc-based media for some time, but Sony Pictures seems to truly be ushering it along - at least in an experimental trial fashion. This week's blockbuster-in-waiting, Hancock, will be hitting the silver screen... soon to be followed by downloads - at least if you own a Web-ready Sony Bravia TV. That's right, after its theater run - but before it gets releases to DVD & Blu-ray, owners of Sony Bravia TVs (with integrated Internet connections) can download the movie over the Internet.
It's somewhat of a milestone achievement and benchmark - however the details will determine whether it is successful or if Sony needs to reconsider it's business model. According to a New York Times piece, Howard Stringer, the chief executive of Sony, casually mentioned the Hancock "experiment" as he outlined the company's strategy for growth last Thursday in Tokyo. Sony's apparent aim is to bring movies to the theater/living rooms without the need for satellite or cableTV services...

Sony's gotten killed in the music department by the likes of Apple. Now, with its Internet-connected televisions, and content from its Hollywood studio, Sony isn't about to the let AppleTV dictate the future of direct-to-consumer movies. Sony was clear that the Hancock experiment is just that - an experiment designed to showcase possibilities to consumers (and provide a nice plug for the web-ready features of the new Bravia line of TVs. Sony was careful to not indicate this was a full-out plan to upset the delicate balance of theatrical release windows. Of course, if an experiment like this were massively successful (we don't think it will be just yet) "experimental" could quickly change to "full deployment".

The way this will work is that Hancock will be available to Sony Bravia owners in November of this year, well after the movie has had its run in theaters. The Bravia Internet ($299) must be owned of course and it's an add-on that simply works with any Bravia TV. It has vague similarities to the media system currently employed by some of Samsung's higher-end displays.

The problem with this, if we may be so obvious, is that instead of working on universal solutions, studios and companies are working independently and assuming that other studios and manufacturers will simply adopt their solutions. It's Blu-ray vs. HD DVD all over again - something that will be sure to force a slow adoptation by consumers if they can't get a product that is universal to all software/movie choices. CableTV and satellite companies know this and moves like this one from Sony are a tad disconcerting as they present a distinct possibility that some studios will hold out for a proprietary solution before throwing in with a more open-source product.

Earlier this year the CEO of Time Warner Cable stated that the company was close to offering equipment that would allow consumers to receive Web content on their televisions through cable boxes. Comcast and other companies are not far behind. These solutions will seek to pull content from all studios, in order to maximize the earnings potential of the new technology. For now, Sony is claiming their box is no threat.

en sabur nur posts on July 01, 2008 13:31
Which means it will only make 100 million by the end of the week.
j_garcia posts on June 30, 2008 16:18
Hancock hasn't even come out yet and it is already being called a flop. I read a review of someone who saw a sneek preview showing of it last week and they said it was pretty bad.
FatStrat85 posts on June 30, 2008 15:35
What about everyone without a Sony TV? They should make it available to a broader audience if they want to make an impact. How about starting with PS3 owners?
smurphy522 posts on June 30, 2008 13:22
Blu Ray vs. HD DVD all over again

Well I guess if it is just that (see the title) then what does Sony have to lose? Didn't they just win the BD vs. HD-DVD war?

Just my 2¢
Post Reply