Epson Ensemble HD Next-gen Home Theater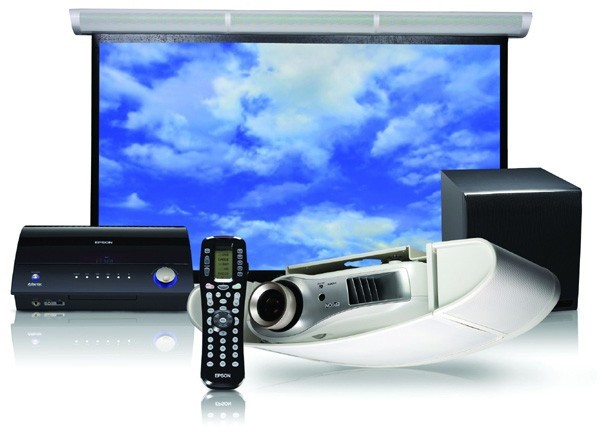 Most of us feel as good about Home Theater in a Box as we do about meals at a drive-thru. Epson's Ensemble HD system takes all the convenience of HTiB but brings the weight of its brand behind a projector that fits elegantly behind a complete home theater system. Epson has just announced that its Ensemble HD just been rebooted with its new projectors at the heart of its unique systems.
We got a look at the Epson Ensemble HD system at Audioholics State of the CE Union show last October. In short; I took a look but was skeptical – until I sat down and forgot about all my prejudices regarding an A/V system that's supposed to blend into your interior décor. Now Epson's award winning system has been upgraded to include its latest 3LCD 1080P projectors.
The two new Ensemble HD systems are based around Epson's latest projectors: The PowerLite Home Cinema 6100 and the Home Cinema 6500 UB the systems sell for $6,499 and $7,999 respectively. Yeah, you can see by the price this system isn't pitching for the same league as any old HTiB system. It only shares convenience and a lightweight design footprint in common with its low-cost brethren. In fact the Epson Ensemble's real genius is providing a complete 5.1 audio system and projector with a 100-inch motorized screen that hides neatly into any room. The screen automatically hides itself when you're finished viewing. The Audio system includes front speakers hidden inside the slim motorized screen and the rear speakers cleverly integrated into the projector mount. The system includes everything you need to literally hide a home theater system inside your livingroom.
Audio-nuts will be surprised by the sound quality. When sitting in on the demo at SOTU, I didn't even know where the five Atlantic Technology speakers were in the room. Cleverly hidden, tiny speakers usually means anemic sound. But this was a surprisingly good Home Theater grade experience. Ensemble HD is perfect for anyone wanting that custom HT interior without the serious bank required to achieve it.
"Available now with two of Epson's best performing home theater projectors, the Ensemble HD Home Cinema Systems provides arguably the greatest true home theater value in the industry," said Rajeev Mishra, director, Projector Marketing and Development, Epson America. "As a global leader in projector technology, Epson's commitment to lowering home theater cost of ownership is at the core of everything we do. Our decision to offer this impressive entertainment system online for home cinema enthusiasts who want to install it themselves was a logical step in meeting the needs of this growing market."
The Ensemble HD system is available in three models: $6,499 for the Ensemble HD Home Cinema 6100 and $7,999 for the Ensemble HD Home Cinema 6500 UB. The third option is a 720P system for $4,999 dubbed the Ensemble HD Home Cinema 720p. If you're planning to view any 1080P sources with your new HD system settling for the 720P model is a sure recipe for buyer's remorse. The 720P system is fine if you only plan on watching DVD and broadcast HDTV. But the biggest oversight to the new Ensemble HD systems is its total lack of Blu-ray. The main audio component includes a built-in DVD player but no Blu-ray. Of course you can add any Blu-ray player to one of its two HDMI inputs. But it would have been nice to see Blu-ray plus compatibility to all the new HD codecs.
See also:
Recent Forum Posts:
OCI posts on May 12, 2009 16:11
…OK, Perhaps Not THAT Awkward

One thought is that this would be perfect for apartment dwellers:

1. No in-wall cables
2. Electric screen tucks away
3. Relatively compact
4. Inexpensive

My friend (who shall remain anonymous in open forums) says they're selling them (on-line) at $1,000 off MSRP.

Send me a PM and I can tell you who…
majorloser posts on May 09, 2009 17:45
I had a chance to see this at the Audioholics SOTU last year. I thought it would be a pretty cool setup for a bedroom or for a living room with huge amounts of WAF to deal with.

Granted, the projector with rear channel speakers in the same housing isn't exactly a small easily hidden package to mount on the ceiling. But the speaker inside the screen housing is a nice touch.
Phil Taylor posts on May 09, 2009 17:33
As noted in the article it's a bit silly that they didn't include a BD player in the package. It's 1080p but then you have to add your own BD player? Either that or settle for the included SD DVD player? Nice try but - "no cigar".
Wayde Robson posts on May 07, 2009 06:18
OCI, post: 563184
This is a product that is a bit of an aardvark if you ask me.


Agreed. But Epson would prefer "innovative". Hey, at least it ain't a Platypus.
In my life I've seen hi-fi evolved into Home Theater shifting emphasis to the "home" a little more. It seems natural. Hi-fi always had 'room' treatments and considerations. But some HT mags are all about the home decor etc. It's an interesting mix. This is the first product I've heard of that combines the two.
Sorry, I know it doesn't answer your questions.
OCI posts on May 07, 2009 03:56
If this is supposed to be "DIY", why can you only buy it from a dealer?

This is a product that is a bit of an aardvark if you ask me.

It would seem that, as their website says, it can be installed in four hours, then perhaps I should be buying this at Home Depot and not "Ye High End Shoppe".

I'm fed up with paying retail AND paying for installation.

Does anyone one know if this is available on line??
Post Reply