Digital TV Goes Mobile on Raleigh Busses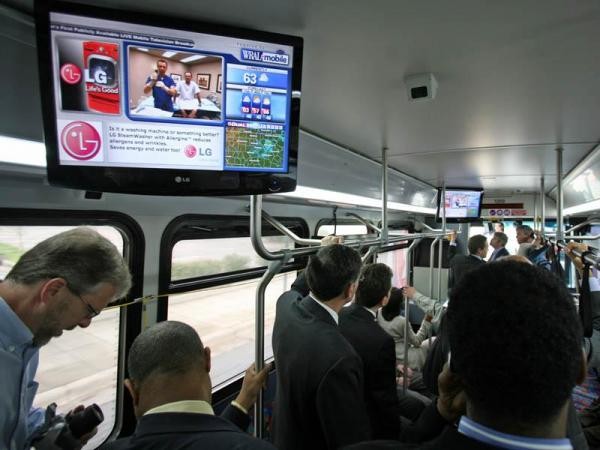 "A funny thing happened on the bus-ride to work" said the Raleigh NC commuter: "I got to watch the local news, weather and spots in HDTV." That's what Raleigh commuters can now say after the city has deployed the first ever Mobile Digital Television enabled bus. Taking the bus has never been so entertaining! 
Raleigh, North Carolina, home of Red Hat Linux, further solidifies its position as a high-tech center with America's first city bus-line equipped with Mobile Digital Television. Eat your heart out South Korea! 
Several TV toting buses are to be launched by WRAL TV station and the CBC New Media Group in conjunction with LG. So far just one bus was equipped with the DTV, Raleigh's R link that runs free service in the cities downtown core. But the city plans to have 20 busses equipped with the technology by next year. 
When it comes to Mobile TV enabled busses LG couldn't have picked a more positive public relations outlet. The company could use some good press after a recent run-in with the law for its LCD price fixing scandal. 
The South Korean company has supplied the DTV technology as well as the HDTV sets for the busses. Lately, LG has been aggressively promoting its new Mobile DTV system. We got our first look at an early version of Mobile TV technology back at the 2008 Consumer Electronics Show where LG demoed a single prototype mobile handheld TV. 
Mired in format-war gridlock with a competing system by Samsung, the momentum of mobile digital television was delayed in the US. But only a year ago Samsung and LG buried the hatchet and have collaborated on the new Mobile DTV standard for the US. Similar standards in Europe (DVB-H) and Asia (T-DMB) have proved extremely popular. 
Only last month at the 2009 CTIA Wireless show LG arrived with three different handsets using the newly ATSC approved Mobile DTV standard. At the christening for the new video enabled busses Capitol Broadcasting Co. Chief Executive and President Jim Goodmon said: 
"In a few years most cell phones will include a receiver so people can obtain a mobile DTV signal on hand-held devices. Computer manufacturers already have started building laptop and desktop computers with such receivers." 
Bringing this application to large-screen HDTV on buses shows that Mobile DTV isn't just for tiny handheld screens. Depending on the size of your transportation you'll be able to watch digital network television on a full sized HDTV while speeding down the highway. 
The Raleigh station, WRAL hopes the move will shore up slumping advertising dollars by drawing in new customers via next-gen mobile devices. Experts predict Mobile DTV receiving devices will hit store shelves as early as this fall. 
But the unveiling of more DTV enabled stations is reliant on the nationwide conversion to digital television. One of the advantages to Mobile DTV is that networks don't need to buy up additional bandwidth to serve mobile customers. The signals can transmitted alongside the station's regular digital HDTV signals. 
Mobile DTV is just one more way networks hope to cash in on the television's shift to digital.
Recent Forum Posts:
Wayde Robson posts on April 16, 2009 19:59
yettitheman, post: 554093
Great… nice to know where the bailout money is going….
File this under infrastructure improvements
yettitheman posts on April 16, 2009 19:51
Great… nice to know where the bailout money is going….
Post Reply