Countdown to CES - Gadgets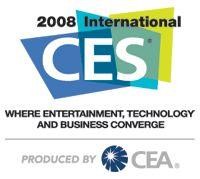 Countdown to CES 2008! Don't miss our coverage of the show!
Today's Countdown to CES podcast discusses some of the upcoming gadgets we expect to see at the 2008 Show including a little gadget called the Ionicube, a six-sided "cube" that plays four Internet radio stations (or padcasts such as AVRant). Controls? We don't need any controls, simply flip the "die" to one side or another to switch channels... The two remaining sides take care of 'Off' and the speaker.
We reminisce back to last year's show when we geeked out over the R2-D2 DLP projector with Millenium Falcon remote control and the Lucasfilm-authorized Darth Vader and Stormtrooper actors (models?) who noiselessly adorned the booth.
And we promote a new tip to manufacturers hosting booths at CES: Sharp deadly weapons do not make good giveaways for 98% of your attendees who happen to be traveling through airport security on the way back to their places of origin... More to come!
The countdown has begun - are you ready?