Countdown to CES - LCD Technology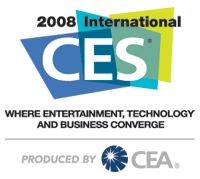 Countdown to CES 2008! Don't miss our coverage of the show!
We countdown to CES (the Consumer Electronics Show) 2008 with a series of podcasts which discuss the products, technologies and gadgets we're looking forward to seeing at this year's Expo in Las Vegas. How do we get access to this insider info? Well, we can't divulge our sources or we'd have to kill each and every one of you (and that would simply take too much time.) This first topic covers some info about LCD technology including Toshiba's move to begin manufacturing new LCD displays using Sharp panels.
We also discuss some of the finer points of staying at the Hilton which forces you to cross the North Hall which showcases the automative electronics products... and the booth babes. Which brings us back to the main reason for staying at the Las Vegas Hilton. In any case, CES is sure to be an exciting event for displays this year as LCD (in particular) begins to refine itself with advances such as LED backlighting, higher-speed displays and better pixel response. It seems the world is CES' oyster and consumers will surely benefit from the new technologies making their way to market this year.
Audioholics will once again send its team to CES this year to provide the most extensive New Product coverage in the industry. If it's new and interesting, we'll be reporting on it. We look forward to bringing you First Looks of the latest and greatest products as well as live podcasts from the show and other special event Editorial coverage.
The countdown has begun - are you ready?