Circuit City Testing New 'The City' Concept Stores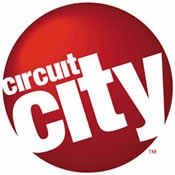 Circuit City launches new store concept
RICHMOND, Va. - Electronics retailer Circuit City Stores Inc. said Tuesday it is testing new concept stores dubbed "The City," with a new look and interactive layout in an attempt to give customers a new shopping experience.
The stores include different fixtures and lighting, a refined product selection and a more interactive experience, said Jackie Foreman, a spokeswoman for the No. 2 North American consumer electronics retailer behind Best Buy Co. Inc.
"We're excited about the remodelling and think consumers will enjoy shopping at the new store," Foreman said.
In June, Circuit City opened a relocated store in Norfolk, which bears the new name on the company's signature red and silver circular logo. The remodel of a store in the company's headquarters of Richmond will open in time for the holidays.
The new stores are part of the 60 to 65 domestic stores the company plans to open during the fiscal year, Foreman said, with a mixture of both traditional-size and smaller-scale stores. The company has said half of the additions will replace current stores. It also plans to open 75 to 100 new stores in fiscal 2009.
It is unclear whether the name change and store layout will take place throughout the company's 658 stores and planned additions and relocations, Foreman said.
Circuit City also operates 510 retail stores and 296 dealer outlets in Canada through its InterTAN subsidiary, The Source by Circuit City. The company also sells its products and services online.
In September, Circuit City said it lost $62.8 million in its second fiscal quarter, on lower overall sales and continued restructuring activity, compared with a $10 million profit a year earlier. Sales slipped during the period, weighed down by softer sales of videos, camcorders and DVD hardware, among other items.
vtxed posts on October 25, 2007 19:21
I agree with JIGESH. If they are looking to attract new customers , better customer service would be a good start. Why is it that companies think that if they are flashier or more trendy people will want to spend their money with them instead of taking care of business. I think its the "can see the forest for the trees" syndrome. I can't remember the last time I had what I could call a good experience at circuit city.
sholling posts on October 25, 2007 14:13
chrisw1, post: 322833
Sounds similar to what Kmart did right around the time they were emerging from bankruptcy - new lime green store logo, new store layout, etc… That didn't end up going so well for Kmart.
Kmart remains their own worst enemy. 30 years of poor layouts and extreme filth are hard to overcome. It looks like what CC is trying to do is copy the BB/Magnolia concept but with targeted stores instead of the store within a store concept.
jigesh posts on October 25, 2007 09:01
Based on my experience with a number of Circuit City stores in Westchester, NY area, I feel if they want customers, the only thing they need is better customer service training to their staff and managers. Everytime I went to a CC store, I always came back with a feeling that their staff is very good at how to ignore customers and avoid attending to them or running away to other departments…I am talking about general human interface type customer service, not any issues with returns or knowledge about any product or technology. New look or hardware changes won't fix this.
zhimbo posts on October 24, 2007 17:55
I'm all for them trying something different, but when "different fixtures and lighting" leads the list of changes I can't say I'm too excited. Well, better lighting is fine, but lighting is not the fundamental problem with the existing Circuit City experience.

It sounds like they may simply trying a new "look and feel" rather than actually providing, say, an informed and well-trained staff. I'll be very glad to be proven wrong.
Thaedium posts on October 24, 2007 16:09
Well living in Canada I can speak more easily on The Source, and I have to say the store is utter crud. You usually find them in malls, cramped into a tiny little room with random gidgets and gadgets. Some are useful, some not so useful. Poor selection is the mainstay regarding A/V eq, it seems to be more of a knick knack store then anything else, and a cheaped out version of the older Radio Shacks.

I agree with Chrisw1 though, hopefully this venture is successful. Competition for the other big box stores would be nice. I suppose only time will tell, but from my standpoint here in Canada, if they want to compete with Future Shop, or BB, they're going to need to increase the size of their stores, increase the variety and selection of products, and include a higher end area/section. Knowledgable staff would be a boon, as much as I like discussing a product to a goon fresh outta high school whos just repeating a bunch of crapola written down on a pamphlet and trying to get a sale, I'd rather speak to an informed salesman.

I had a recent experience at Signature Audio / Video in Stittsville, just outside Ottawa and I have to say I'm totally impressed. The guy I spoke with had been in the audio industry for years working for recording labels / etc, and he knew what he was talking about. He wasn't trying to force anything down my throat, he knew the products would sell themselves. He just offered advice based on what I already had, and where I wanted to go.

Last time I walked into a Futureshop and looked at a few TV's the sales rep was trying to dazzle me with how cool 1080i was, and how if the TV can display it all picture quality would be better… (sigh).

Well, one can only hope.
Post Reply