Christmas Shopping? Consumer Electronics are Red Hot this Holiday Season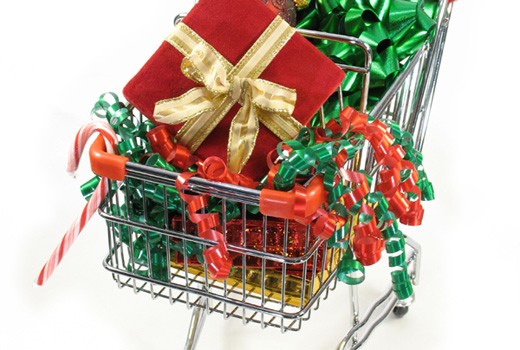 Prices on the hottest consumer electronics are shrinking faster than Tony Soprano's second helping of pasta fazul. WOA! Economics experts are saying electronics are in - women's handbags, jewelry and other luxury items are out.
Merry Christmas guys!
Sure, there's plenty of economic bad news out there. According to Merrill Lynch economist David Rosenberg: "In our view, the consumer is on the precipice of experiencing its first recessionary phase since 1991."
We're besieged with rising fuel costs, a floundering housing sector and even the once mighty US greenback is struggling to keep pace with foreign currencies."
"There aren't a lot of segments in the retail sector that are poised to have a good holiday season," says Ken Perkins, president of research firm Retail Metrics.
But it's the Perfect Storm for HDTV
Fears of recession alongside advances in HDTV mass production have created a sort of perfect storm this Christmas season. It's a storm that'll see a lot more big-screen plasmas under the tree this year - and a lot fewer Gucci purses.
According to Consumer Reports, you'll get that flat panel HDTV at an average savings of 30% over what it would have cost last holiday season.
Savings on many HDTV types are far greater than 30%. A 1080p plasma panel at 50" this time last year would have cost about $6,700. Only the affluent need apply. But this year you should be able to find a set with those specifications for about $2,400.
The cost savings is even greater when you compromise on both size and resolution. For instance, a 42" flat panel HDTV at 720p will be commonplace at well south of a grand. For this year's Black Friday, Wal-Mart has advertised a 42" Polaroid 1080p LCD TV for a very affordable $798.
As an economy brand, Polaroid has a dubious overall quality rating, even from Consumer Reports. It's probably a good idea to pony up a little extra cash for a trusted brand name - even if you have to step down from 1080p to 720p, the electronics behind a name brand screen will provide you with better overall image quality than a higher resolution cheapie. Still, there are many out there who are likely to dive into off brands just to stick a big screen under the tree this holiday season.
Even budget HDTV sales are good for the market overall. A bigger HD market means more media will be available in the coming year.
Happy Shopping!
Recent Forum Posts:
Davemcc posts on November 28, 2007 08:57
darien87, post: 334528
How on Earth did you swing that?!?! I tried using the DeBeer's argument on my wife and it didn't work.
Oh, that was easy. We were poor and living together when I asked her to get married, so I just got her a plain gold band as an engagement/wedding ring. She has some diamonds, mostly gifts from her mom. I haven't bought her any nor will I, but she has bought some for herself . It helps that she know all about DeBoer's business practices, but the girl can't help it.
The other argument I used is that I got a nice diamond engagement ring for my first wife and look how that turned out.
darien87 posts on November 27, 2007 12:51
Davemcc, post: 333679
Pre-emptive denial, like I couldn't see the direction that could go.



Blue Nile seems pretty focussed on diamonds. I've been married for sixteen years and I've never bought my wife a diamond. I can't bring myself to pay for DeBoer's diamond monopoly. At least competition in the AV industry keeps prices reasonable, per the article that started this thread.

I've been looking at watches, preferably in Rose Gold but I can't seem to find much besides one at Burberry.
How on Earth did you swing that?!?! I tried using the DeBeer's argument on my wife and it didn't work. Women can't even tell you why they want diamonds, they just know that society has brainwashed them to think they have to have one.
I personally like Tanzanite. At least that stones expense makes a bit of sense to me, as it can only be found in one place on earth. But it's all a scam.
Wayde Robson posts on November 27, 2007 09:19
What a thread… from diamonds to DLP.

Great discussion and good points Clint… I never knew. I sort of assumed that all the rear projection technologies are fading out as panels get cheaper.

I live in Ontario, Canada where the economy is as good as it's been in well over a decade…. arguably since post WWII. People are flocking to the US to buy electronics and clothes in particular. Warning signs loom that the party won't last long up here… the Canadian dollar should not be valued higher than the US greenback, it's just not good for our overall economy up here.

But for the time being, expect border town malls and stores to remain jammed with Canadians through Christmas… just make sure they pick up after themselves. A lot of them are buying new clothes and dumping their old. Nobody likes a polluter!
Clint DeBoer posts on November 27, 2007 08:18
Or they aren't buying the more bulky rear projection sets? I believe DLP is losing ground quickly for various reasons:

- They are protecting their 3-chip market artificially. What I mean by this is that I can buy three single-chip DLP projectors for a grand total of $3000. But I cannot purchase a single 3-chip DLP projector for under $15,000.

- DLP cannot really get any smaller or more compact in size since it is not a silicon-based technology like LCD panels. This reduces its usability in portable products

- DLP is gradually leveling off in its capabilities (the last revision for example didn't do much to improve upon its former version) while LCD technology continues to advance in leaps and bounds, all but catching up in terms of black levels and interpixel spacing.

I don't want to appear biased, but DLP needs to take advantage of some of the opportunities it has instead of positioning itself as high-end. They are apparently running the Sony play book and it's finally hurting them.

A 3-chip DLP projector with lens shift under $5000 would rule the market right now as would an LED-driven model that provided a way to lower the cost of replacement bulbs.

In addition, rear projection is simply going to all but die off eventually as flat panel prices continue to fall. In rear projection DLP absolutely dominates, but the form factor is becoming less relevant as 50-inch prices plummet.
palmharbor posts on November 26, 2007 20:03
Not in Tampa Bay

I have two jobs. one for Garmin GPS and one for Texas Instruments to promote DLP projection hd tv's.
I was in 9 stores for Garmin on Friday….lots of people not lots of purchases.
Many people walking out of BB and CC without purchasing anything.
This Saturday and Sunday worked 14 hours in BB to promote DLP and sold
a total of 4 sets in two days. On Samsung 720P 50" was only $795
Jeb Bush ruined the Florida economy.
Most working people cannot afford HD TV, 75% of customers were
wealthy retired people
Post Reply