Even China Cannot Escape Music Download Lawsuits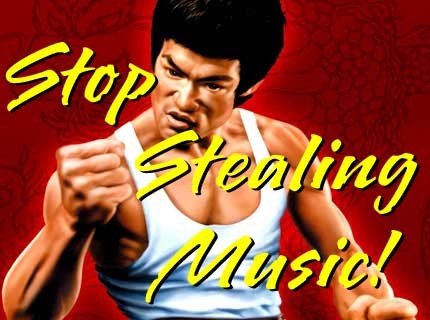 Bruce Lee Says NO to Piracy!
The Music Copyright Society of China launched a lawsuit against China's top search engine Baidu.com for copyright violation, for the second time. According to a Hong Kong-based report on the Associated Press site, the group issued a statement on its Web site Friday accusing Baidu of "providing music listening, broadcasting and downloading services in various forms on its Web site without approval, and through unfettered piracy, earning huge advertising revenue on its huge number of hits."
The industry group, which includes Universal Music Ltd., Sony BMG Music Entertainment Ltd., Warner Music Hong Kong Ltd., and Hong Kong-based Gold Label Entertainment Ltd. said Baidu's piracy forced legitimate online music providers to shut down.
In January of this year, the group filed a lawsuit against Baidu in a Beijing court, alleging it illegally used 50 songs and demanding compensation. According to the IFPI (International Federation of Phonographic Industries) stated that this is not the first group of music publishers to have filed suit against Baidu regarding illegal use and distribution of music online.
That lawsuit basically demanded Baidu remove links to thousands of sites that carry unlicensed copies of music.

It seems that even China is no safe haven for music piracy.