Belkin FlyWire HDMI Transmitter

Finally an HD-ready wireless video transmitter solution for that picture perfect home theater installation. Belkin has officially announced FlyWire (AV69003) and FlyWire R1 (AV69000) audio/video transmitters that are capable of video resolutions up to 1080p.
Tricky custom home theater installations can be a nightmare with the limitations of HDMI. That flat panel hung perfectly on the wall can lose its hyper-modern interior style when it's accompanied by a stack of components and a plethora of cables and wires.
FlyWire will let you place that stack of gear in another room, its powerful transmitter can even send signals through walls. FlyWire R1 is the less powerful flavor of Belkin's wireless A/V transmitter at a slightly lower cost and is designed for in-room transmissions.
Operating on the open 5GHz band FlyWire will transmit up to six A/V devices throughout the house. FlyWire transmits audio and video uncompressed so the quality that goes into the transmitter is coming out of the small receiver you can easily hide on the back of your flat panel HDTV.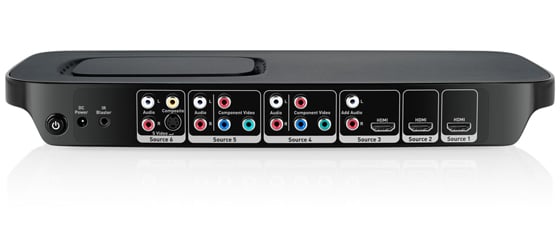 Judging by rear image of the transmitter, only the first five sources look like they'll be capable of high-def video and only the first three (HDMI) capable of 5.1 audio. But the first three inputs will transmit anything you can connect via HDMI including Blu-ray players, game consoles and high-def Cable or Satellite TV. What we don't know yet is whether it will be future ready to support eventual Deep Color (12-bit) applications - which have yet to come to market.

The Belkin FlyWire will cost a whopping $999.99 (yikes!) and is set to hit stores in October. Its single-room little brother, FlyWire R1 will cost $699.99 and will be available in early 2009.
See also:
Recent Forum Posts:
Warpdrv posts on March 19, 2009 21:27
How long of a run does one need to make, to consider a long HDMI cable completely out of the picture here… at that price….

I would think one could rip out drywall, run conduit and refinish the mess for the same price…
Hipnotic4 posts on March 19, 2009 16:21
These are going to pop up everywhere soon and its going to be wayy cheaper..Wont be surprised when the tech is intergrated into the tv set it self..
Drag0nFly posts on March 19, 2009 14:43
News on availability?

Anyone got information on when (if?) this product will be released? Belkin's webpage still states 'January 2009' under availability–which we all know didn't happen. The price has also shot up quite a bit since the original announcement…
majorloser posts on August 12, 2008 13:30
This still look very cool! Has anybody had a chance to see one of these at any of the shows? I don't think $1K is a lot of money when you think about now wires and yet still getting full 1080p to anywhere in the house. You can spend many times that with long runs of fiber HDMI cables or even just labor costs alone.
Wayde Robson posts on July 11, 2008 16:30
jaydog67, post: 432358
Did you see the mfg's suggested price? Or is it too early to tell?
They have announced $999 for the FlyWire this Oct and $699 for the less powerful version available early next year. It's in the article.
Street prices could be a different story we can only hope. Those are some top bills for the toys.
Post Reply