Belkin N1 802.11n Wireless Networking in June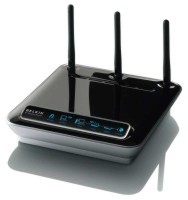 Compton, CA - May 01, 2006 - You can now share your Internet connection wirelessly while running several applications simultaneously with the Belkin N1 Wireless networking line. Because of the increased speed of up to 300Mbps*, N1 Wireless lets you run multiple applications off one router without any connection drops. The N1 Wireless networking line will ship in North America on June 1, with launches in Asia, Europe, and Australia to follow shortly.
With the N1 Wireless Router, you can now run the following applications at the same time:
Stream HD video
Listen to digital music
Play online games
Transfer photos and home videos
Shop online and surf the Web
Email and chat
Handle multiple VoIP phone calls
Based on the 802.11n draft**, N1 Wireless enables multiple receivers and transmitters to send and receive data through the air, using Intelligent MIMO (Multiple Input Multiple Output) spatial multiplexing techniques. This smart-antenna technology builds upon the widely deployed 802.11g standard by increasing speed, coverage, and reliability of wireless systems. N1 Wireless offers a link rate of up to 300Mbps in 40MHz Channel Mode and up to 150Mbps in 20MHz Channel Mode*. Providing greater range and faster speeds, N1 Wireless offers a quick and efficient way for people to distribute video, music, photos, and files among the networked computers in their homes.
The N1 Wireless Router is based on Atheros' XSPAN™ technology that delivers a superior Wireless LAN user experience with up to six times the throughput of legacy 802.11g and 802.11a/g products, enabling a wider array of new consumer wireless applications such as multi-media streaming.
The N1 Wireless Router features a Network Status Display that shows the status of your network. The icons represent each component of your network, indicating whether or not each device is working properly to help you easily troubleshoot. When the icons are blue, this indicates that your network devices are working properly. And, when a device is not working properly, the icon representing that device will turn amber. Guidance for correcting the problem is included in the installation guide that is provided with the Router.
The Belkin N1 Wireless line includes:
Router (F5D8231-4) - $149.99
Notebook Card (F5D8011) - $99.99
Desktop Card (F5D8001) - $119.99
USB Adapter Card (F5D8051) - Available Q3 2006
Additional Features
Security: WPA2-Personal, 64-bit, 128-bit WEP encryption, enhanced firewall
Backward-compatibility with 802.11b and 802.11g networks
*The standard transmission rate-150Mbps and 300Mbps-is the physical data rate. Actual data throughput will be lower.
**Belkin N1 Products: N1 Wireless Router (F5D8231-4), N1 Wireless Notebook Card (F5D8011), N1 Wireless Desktop Card (F5D8001) are compliant to the IEEE 802.11n draft specification. Although Belkin incorporates all mandatory elements of the IEEE 802.11n draft specification and designs the software to be upgradeable once the standard is finalized, Belkin cannot guarantee upgradeability.
About Belkin Corporation
Belkin offers a diverse product mix that provides people with seamless electronics integration in their homes, cars, and on the go. Founded in California in 1983, Belkin is a privately held company and the recognized leader in connectivity solutions, in addition to accessories for iPod® devices, computers, and more. We provide extensive solutions for networking, home theater-with our PureAV® line of cables, power, and digital wireless accessories-and many more categories. You can view and purchase them at www.belkin.com , as well as through a network of major distributors, resellers, and superstores.