Apple Bumps iPod Touch, iPhone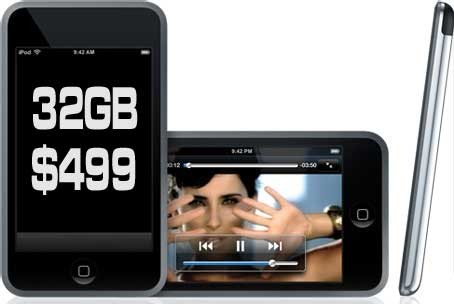 You can get more... for a price
Apple doubled the memory capacity of both the iPhone and iPod Touch models Tuesday. Rather than take advantage of dropping memory prices, to lower the cost of entry for the new phones, Apple simply added a new premium model which carries a higher price tag.

The new 16GB iPhone has an MSRP of $499. The previously released 8GB version retains it's former retail price of $399. 16GB is a reasonable amount of storage for an MP3 player and Apple is finally entering a good place where the iPhone becomes a realistic storage medium that approaches that of standalone MP3 players such as it's original iPod.

The newest iPod Touch comes with a healthy 32GB of memory and retails for $499, $100 more than the 16GB model. The older 8GB version costs $299.
The new devices are available through Apple's online and retail stores. The updated iPhone is also available through AT&T's online and retail stores.
According to Apple, the new iPhone and iPod Touch models come with updated firmware that includes, among other things, a new maps application and the ability to download movies from the iTunes movie rental service.