No More Analogue Cell Phones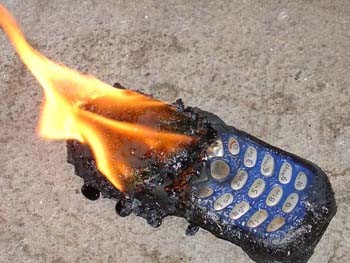 Burn that analogue cell phone
In all the talk about how analogue television is being phased out, it's easy to miss a milestone in the history of cellular phone service which is passing this week. As of today, analogue phone service is no more. Kaput. Vamooshed. Fageddaboudit. This cutoff affects (according to reports) more than 1 million analogue cellular subscribers nationwide as all cellular companies have no switched over to fully digital signals.
Now, we know that almost ANY cell plan offers at least a couple of free phone options and we're sure they'll provide upgrades to people who are left in the dark, but this is a big step towards evaluating the impact of the digital signal progression and how it may affect consumers nationwide. I'd like to think of it as a miniature test of what will happen when analogue TV shuts its doors on February 17, 2009.

Analogue cell phones have been out of production for around 5 years, much longer than TVs carrying the sole capability for NTSC tuners. Some companies, like AT&T, have been notifying their analog wireless customers about the digital transition via direct mail, phone and text message for over a year. Communication for analogue television will need to ramp up via network broadcasts since there is no direct-mail list available for free TV viewers using analogue.
US Cellular is one of the only companies continuing analogue cell phone service until late this year, giving its customers some additional time to transition out to digital service.
Like it's digital television counterpart, digital cellular service allows for advanced features such as the use of SIM cards, digital text messaging, Internet access and the transmission of photos. The analog-to-digital transition is equally important to the television industry since it offers improved picture quality and interactivity options as well. It also floods the market with new bandwidth the government can reclaim to offer wireless broadband and to make available for public safety use.

chadnliz posts on February 21, 2008 01:05
Dont laugh, this is affecting many Home Security systems that home owners sort of dont think about muxh and all GM cars prior that are over a few years old have to upgrade so "OnStar" works……close to a million right there GM claims……….owners only need pay shipping on the part needed.
Halon451 posts on February 20, 2008 19:43
Mort Corey, post: 378697
Mort (cell free)
Wow, so
you're
the one.
westcott posts on February 20, 2008 19:42
The big difference between an analog TV and a cell phone is that most people do not haul a TV around with them when they travel or try to keep a signal.

I have always insisted on buying cell phones with both analog and digital support. I travel a lot and there are times when analog is the only way to get or keep a signal, long after digital has lost its.

I will be sad to see support for analog go!!!
Mort Corey posts on February 20, 2008 18:53
OnStar upgraded my 2005 car late last year to a digital system. I had the choice of doing that or going without. It was free as long as I signed up for another year…which I wanted to do anyway. Some 2004 and earlier years were SOL….no upgrade available. Pretty cool service overall. It's the only cell phone I've ever had….don't use it much since there's usually nobody I really need to talk to in the car.

Mort (cell free)
pzaur posts on February 20, 2008 18:50
BTT917, post: 378683
IMO, the bigger story is how many vehicle assistance programs (e.g., OnStar) used analog cell service and now will be dead with no way to upgrade. With OnStar at least, some cars sold up until 2004 models had analog service.
Don't forget all the home-alarm systems that have an analog only back-up phone! It's probably a good idea to check to see what type of phone your own home-alarm has if it has a wireless phone in it.
-pat
Post Reply