Michael Marquart's New Album 'Lifelike' Comes to Life in Dolby Atmos
Michael Marquart's New Album 'Lifelike' Comes to Life in Dolby Atmos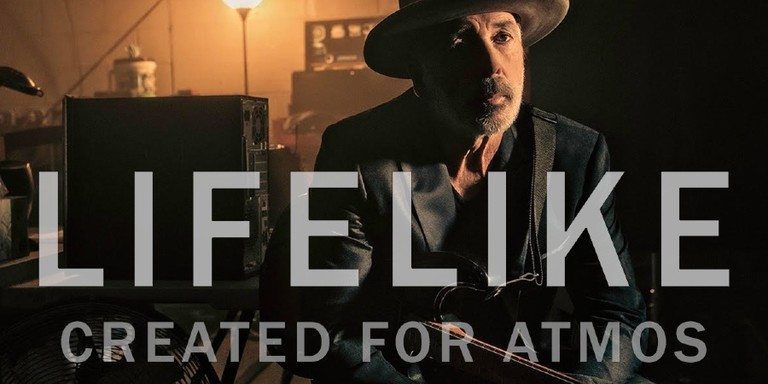 Michael Marquart
We didn't have a CD player in our house until 1989. In that year, when I was 7 years old, my older sister Rebecca used her Bat Mitzvah money to buy a new stereo, which I could only use when she was out of the house. I would slink down the hall into her room, where I'd find her CD soundtrack from the Tom Cruise movie Cocktail, and skip straight to "Kokomo" by the Beach Boys, and "Don't Worry Be Happy" by Bobby McFerrin. These songs quickly joined my growing list of all-time favorites, along with "Eight Days a Week" by the Beatles, "Glory of Love" by Peter Cetera, and "Please Don't Go Girl" by New Kids On The Block. (I had eclectic tastes as a kid; don't judge me.) These songs helped spark my lifelong love of music. At the same time, the technology built into the compact disc played just as big a role in my musical journey, as it allowed me to experience my favorite songs in a new and more immediate way. Also in 1989, around the time that I was swiping my sister's brand-new Tom Petty and Madonna CDs, pro musician Michael Marquart was playing drums with the English new wave band A Flock of Seagulls. His own musical journey would ultimately have close ties to music technology as well; Marquart would go on to become the founder and owner of Windmark Recording, a world-class recording studio with an impressive client list; Coldplay, Kendrick Lamar, Justin Timberlake, Kanye West, and Pharrell Williams have all recorded there. Now based in Santa Monica, California, Windmark Recording got its start in Virginia Beach, Virginia.
Download a FREE test track from "Lifelike" using the promo code "audioholics" so you can get a preview of this album.
My first studio was a little 4-track reel-to-reel Tascam, and you know, recording in the basement. So there I am, you know, stuck in Virginia Beach with a world-class recording studio. I started working with The Neptunes. (A duo composed of music producers Pharrell Williams and Chad Hugo, the Neptunes have produced hit songs for a multitude of artists, including Jay Z, NSYNC, Usher, Beyoncé, Nelly, Gwen Stefani, and Snoop Dogg.) They're local Virginia Beach guys. Serban Ghenea, who was the top mixing guy, was in my studio B, so he was doing a lot of mixes for these guys — Britney Spears, all that kind of stuff. So they started coming in and next thing you know, they're kind of there all the time. So, I wound up selling (that) studio to The Neptunes.
— Michael Marquart
Live with Michael Marquart - New Album 'Lifelike' Comes to Life in Dolby Atmos
Download a FREE test track from "Lifelike" using the promo code "audioholics"
Windmark Recording's Santa Monica facility is now run mostly by Marquart's daughter Samantha, who serves as manager, and his son Mikey, who helps out with day-to-day operations. Michael himself is focused on his current musical project, a mostly-one-man band called A Bad Think, which he founded in the mid-2000s. Marquart writes, records, and produces the music himself, though he enjoys collaborating with other pro musicians and engineers when the project demands it. A Bad Think's 2019 album, The Savior, earned a Grammy nomination in the category of Best Immersive Audio Album, thanks in large part to an excellent surround-sound mix by Bob Clearmountain, the renowned recording engineer, mixer, and record producer. Shortly thereafter, Marquart was inspired to write and record what he hoped would be a game-changing album, to be "recorded in the best studios in the world, with the best musicians." At the time, Marquart was determined to "keep writing music until I have 30 songs, and we will pick the best 13 to have it be the best that it could be." One of his goals was simply to create an album that made people smile. That album would become Lifelike, the ninth studio release from A Bad Think. The album debuted on April 2, 2021, along with a 20-minute documentary following the album's development and its innovative use of Dolby Atmos.
I'm starting to think Atmos is really coming down the road in a big way. It is coming, and you can't stop a freight train… when I heard the potential of all this stuff, I knew I wanted to be on the front end.
— Michael Marquart
Lifelike got off the ground in Marquart's personal studio, called The Barn, in Malibu, California. Given that the Covid-19 pandemic was taking off at around the same time, it's lucky that Marquart tends to work solo, and that he has what he describes as "a really special place" to make music. What makes it so special? The Barn was designed by Peter Grueneisen, who won a NAMM TEC Award (National Association of Music Merchants Technical Excellence & Creativity) for the studio design. The wood used in the space was salvaged material from the famed Hollywood Bowl amphitheater. The salvaged wood came from the Bowl's acoustical shell, which defined the look of the legendary venue, and reinforced the sound of every performer from 1929 until 2003, when it was replaced by an even larger shell. The studio is also equipped with a 16-channel Neve 8014 console and 1073 microphone preamp.
My recording process works like this — if I'm working, sitting outside with my guitar, my lyric book, and if I get an idea, I kind of work the idea. I come down here, start laying it down. It starts with a simple guitar track, and it just slowly starts to build. I don't try to run it down a certain road. I just do what kind of happens, and when the album is done, then it gets released.
— Michael Marquart
After recording his own guitar, keyboards, and vocals, Marquart turned to bassist Sean Hurley and drummer Jeremy Stacey (one of 3 drummers from the latest lineup of King Crimson)  to contribute to the project. Their tracks were recorded at Henson Studios. Like the Grammy-nominated The Savior album, the new record Lifelike would be given the 5.1-channel treatment by Bob Clearmountain. But this time, Marquart wanted to take things even further into the world of immersive music, commissioning a Dolby Atmos mix by recording engineer and mixer Dave Way, along with Atmos specialist Steve Genewick, who has worked on Atmos remixes for Aerosmith, Norah Jones, LL Cool J, Carrie Underwood, and Maroon 5, just to name a few. After the sessions at Henson Studios, further recording was done at Dave Way's Waystation studio, which is outfitted with a 7.1.4-channel monitoring rig, along with speakers from ProAc, Tannoy, Genelec, and Yamaha.
You normally think about left and right, in stereo. Now you think about the emotion that can be created by immersing the listener. We're still at the front end of this stuff; it's like the Wild West. When I first heard (Dolby Atmos music) at the NAMM show at the PMC booth, I thought, 'This is going to change everything,' because I have been doing this my whole life and it made me excited about listening to music. When you think about how, when you were young, and how a song could change your life and how that could all be powered up again with a new technology, it's so exciting.
— Michael Marquart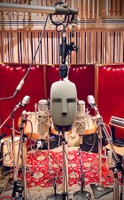 There is no one way to record for Dolby Atmos. You could use ordinary mics and record one track at a time, creating the spacious and immersive effect during the mixing process, as you make decisions about where to pan things, how and where to apply reverb, and so on. But the Lifelike team wanted to explore a variety of recording techniques leveraging some cutting-edge microphones, hoping to extract every possible benefit of having all those extra speakers on the playback end.
Now instead of having two speakers or even in 5.1 where you have five speakers, now you have way more than that. You have speakers directly on your side and speakers directly above you. And it's not a set number of speakers. We had a lot of these ambisonic mics, including Sennheiser Ambeo, which is like one microphone with multiple capsules in it, and it records sounds in 360. We also had a Calrec Soundfield microphone, and a Neumann Head KU 100 Binaural microphone (called "Fritz"). I ended up using Fritz on a lot of the overdubs. I think the binaural works pretty well in a Dolby Atmos situation. For the most part, binaural is most effective when played back in headphones because basically it's putting microphones where your ears are with the dummy head to simulate the way your brain actually perceives sound, which is around your head. When you put microphones where your ears are, it's very much capturing the sound the way we hear it.
— Dave Way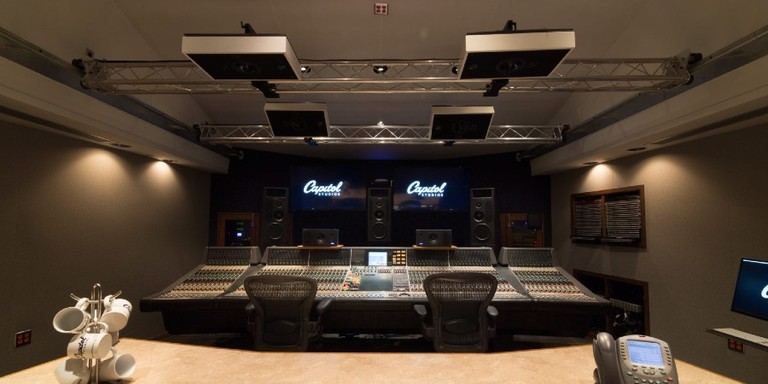 With the recording process complete, it was time to tackle mixing. For Way, this presented some unusual challenges, given his limited experience with Dolby Atmos. When working in stereo, it is common for a producer/mixer to swap over to a second set of speakers, to focus on certain frequencies, or to get an idea of how well the mix "translates" from one system to another. Want to know how it will sound on a car stereo? Go listen in your car. But when you're mixing in Atmos, there is no swapping out of speakers, no listening in another space. "Until I got a Dolby Atmos receiver, which happened a little bit later, I couldn't even reference other people's Dolby Atmos mixes," Way said. "It was like mixing on a desert island." After putting together rough mixes for the first five or six songs, Way took them to Steve Genewick at Capitol Studios. (Capitol's Studio C was converted to accommodate Dolby Atmos mixing in 2017, when it received new PMC monitors and a number of other updates.) After hearing the mixes at Capitol, Way realized that the front speakers sounded too distant, and the side speakers were too prominent in the mix. With his ears recalibrated, Way went back to his own studio (which was now outfitted with an Atmos receiver) and continued mixing.
When I first started to mix, I didn't realize how much longer it would take because you have so many more options, as far as where you want to put something. When you're mixing something in stereo, you either can put something on the right or the left or in the middle. But now I have so many choices that I sit there for a while. It's so creative and so inspiring. There are no rules. You're in the middle of the room and the music is all around you. We're still in the early stages of this format, and people are still playing around with it. I'm excited by it.
— Dave Way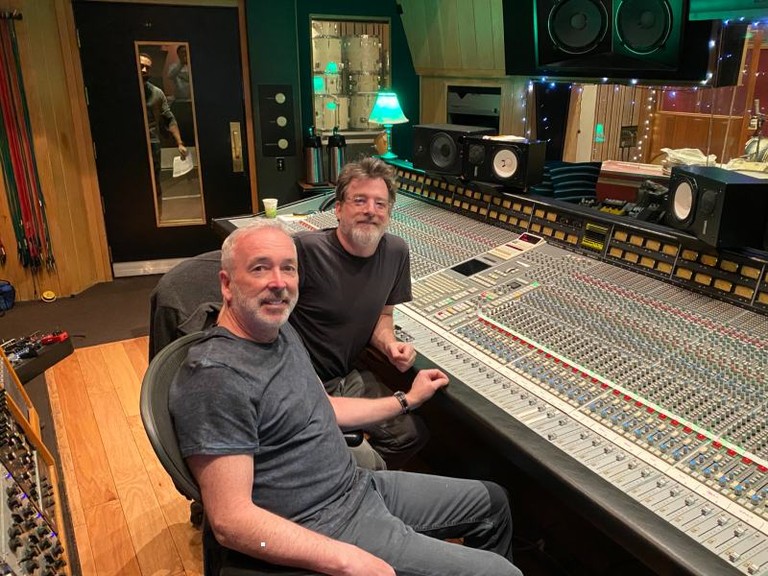 Lifelike is Available Via Stereo, 5.1 and Atmos Mixes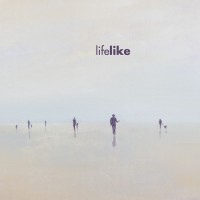 I think it's fascinating, and more than a little encouraging, that a guy like Michael Marquart, who has decades of experience as a musician and producer, could be so excited by an emerging audio technology that he was inspired to create something new. For Marquart and his collaborators, the technological side of Dolby Atmos opened up new creative doors, and that's exactly what music tech is supposed to be all about. In the end, A Bad Think's Lifelike came to life in three different mixes: the regular stereo mix, Bob Clearmountain's 5.1-channel mix (which can be found at immersiveaudioalbum.com, as well as on the Blu-ray), and the Dolby Atmos version by Dave Way and Steve Genewick, which is also on the Blu-ray. For more information, or to order the album on your format of choice, visit www.abadthink.com. You can also download "Lifelike" and stream to your AVR in Dolby Atmos.
Download a FREE test track from "Lifelike" using the promo code "audioholics" so you can get a preview of this album.
>Enter to Win<  'Lifelike' on Blu-ray.
Confused about what AV Gear to buy or how to set it up? Join our Exclusive Audioholics E-Book Membership Program!