OPPO PM-3 Headphone Design & Fit and Finish
OPPO PM-3 Headphone Design & Fit and Finish
After unboxing the PM-3 one can only marvel at its build quality. Anyone who hefts these finely-balanced brushed aluminum phones in their hands can tell they're built to be instruments of rare quality. Extending the headband yields a series of precise-clicks that exude a build-quality luxury as it secures the headband to the desired position.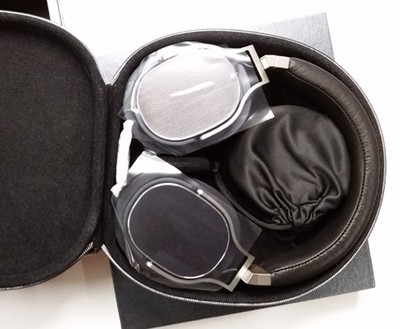 The earpads and padding around the headband are made with high quality faux leather. The material feels soft and breathable enough for extended listening sessions. The brushed aluminum earcups, available in black or white are sturdy and really drive home the high quality look-and-feel.  When I first donned these cans the fit was overly tight. But that's not surprising as I have a kind of big head, I'm used to it with headphones.  Thankfully, the headband is flexible and should eventually break in. Over time, with a little working into place, the headphones will fit the larger-headed among us although they remain a snug fit. The tightness pressing on the ear cushions augments the can's passive acoustic isolation, so it's really just part of the design of these cans.
Design Considerations

Although I had no doubt the Oppo PM-3 would be a very solid-sounding rendition of its design, my reviewer's HUD display kicked in and provided me with certain expectations, or should I call them prejudices.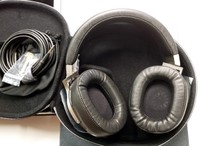 The PM-3 is, after all, a closed-back design at a lower price-point than its predecessors. I expected the PM-3 would target the younger audience… you know, the Beats crowd. I expected overly-augmented bass at the expense of upper-midrange detail and, of course, a claustrophobic soundstage for anyone accustomed to an open design. I assumed the PM-3 would be Oppo's rendition of nearly every headphone you see at the local big box store. And that's not necessarily a bad thing.

We're in the midst of a headphone golden age. A tsunami of mobile devices has created the demand as manufacturers compete with higher quality headphones for lower prices that we've ever thought possible. But to serve mobile devices these are mostly portable, lightweight, efficient designs.  They're almost always closed-back and provide acoustic isolation so the kids can look like a wanna-be DJ.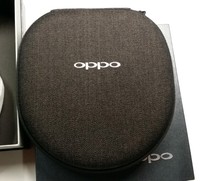 Oppo would be remiss if it didn't take a stab at that market.  Over the last couple of months I have listened to every detailed nuance of the PM-3 and I believe I understand what Oppo is really bringing to the table.  Yes, they're a portable, closed-back design and as a consequence they have a narrower soundstage than you'd expect from their open-back counterparts, the PM-1 and PM-2.

But the frequency response from the PM-3 is much flatter than expected. Oppo seems to have built a headphone that plays to this mainstream headphone market while simultaneously elevating it through its distinctive planar magnetic acoustic signature.  These headphones could be the perfect gateway-cans to introduce a headphone-audiophile neophyte to the world of acoustic possibilities of high-end headphones.  Oh yes, these could be the cans that start a serious headphone addiction.

Entry-Level Audiophile
These headphones have been referred to as entry-level audiophile and that's a perfect description. In the PM-3 you'll get all the detail you'd expect from a PM driver. The soundstage is narrower, but that's the price you pay for a headphone that you can use at work without sharing your music with everyone in your office.

But the acoustic isolation goes the other way too. You can use it on the streets without losing too much fidelity to background noise. Of course, these are not isolating headphones so you'll be safe enough crossing the road to hear a car.

I was surprised that the bass response didn't seem exaggerated at all. I streamed one of my favorite online radio stations, Groove Salad by Soma FM for its …nicely chilled plate of ambient/down tempo beats and grooves. A little extra volume down low lends this station's music an added hypnotic effect.
HA-2 Portable DAC/Amp
While testing the Oppo PM-3 I was also testing its portable headphone DAC/amp, the HA-2, which includes a bass boost switch that adds just the little kick you sometimes need.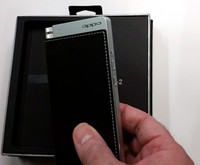 I've used other headphone DAC/Amps in the past and they usually include a bass switch. Mostly they will bump up the mid-bass that is likely to translate across most headphones. But the HA-2's bass boost goes much deeper than most. It sounds a bit like the frequency the HA-2 boosts is just below the audible range so you can practically feel an extra bit of "thump" in your head.

Boosting bass on a set of headphones when listening to certain music puts the lower frequencies under a microscope. There is no way for the headphones to fake it and that's why most bass boosters only boost the mid-bass and not the deep bass.  The HA-2's bass boost will be an unforgiving mistress to any truly economy headphones.  The HA-2 and its boost feature seems made for the PM-3. Oppo's planar magnetic drivers lend all the detail and subtlety to the lower frequencies for a feeling of raw power.  Of course most music isn't well-served with the bass boost on.  The majority of music sounds best when all of the midrange and middle-high detail is present and this is what the planar magnetic design is known for… and Oppo has done a masterful job.
Confused about what AV Gear to buy or how to set it up? Join our Exclusive Audioholics E-Book Membership Program!
See also:
Recent Forum Posts:
Bjens posts on November 05, 2015 16:26
They look nice.
gene posts on July 06, 2015 21:44
The PM-3 is Oppo's third time around designing a planar-magnetic, closed back headphone after its highly acclaimed PM-1 and PM-2. But the PM-3 stands apart from its higher-end forefathers in a few key ways. The PM-1 and PM-2 are essentially the same design, both high-end luxury open-backed headphones for those willing to pay a premium for uncompromising performance. The PM-3 is designed with portability and more mainstream audience (and price) in mind.

Let's see how the company fared.



Read: OPPO PM-3 Closed Back Headphone Review
Post Reply