Everest Elite 700 Headphones: Sound Quality & Conclusions
Everest Elite 700 Headphones: Sound Quality & Conclusions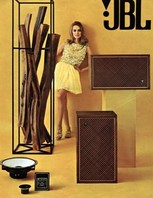 Growing up in the 80s, I'm no stranger to the sound of JBL. The brand's moderately priced car audio equipment was as common as bondo in many of my friend's classic, recklessly driven automobiles. I didn't drive in those days so I spent a lot of time in the back seat of friend's cars being tossed around alongside speakers with bold JBL logos affixed over paper cones with duct tape. JBL built a niche for itself as a somewhat attainable mark of quality in world of audio that was priced just out of range for younger consumers. JBL provided value and the pounding rock-and-roll soundtrack for many an irresponsible night out when I was in high school.
Before testing the Everest Elite 700, I assumed these headphones would be a bass monster because of my previous experience with JBL - solid, powerful and in-your-face. When I powered up the headphones for the first time with the EQ turned off, I was pleasantly surprised by a conspicuously balanced acoustic profile. No doubt this is likely attributable to the recent research at Harman on consumer listener preferences. These headphones seemed just as capable of providing upper-midrange detail as it was at projecting rumble and bounce. This makes them a veritable canvas onto which one can project their personal audio preferences through the EQ. I found a nice V-shaped custom setting that suits my natural appreciation for a bit of boom that doesn't overpower crash from the noise of the screaming rock gods and goddesses stored on my cell phone.

My judgement of these headphones is reserved to wireless only. These can be hard-wired to a headphone amplifier and you'll be treated to heightened detail and slightly broader frequency range. But, unless you've just drained the battery, why would you listen to these hard-wired? There are plenty of non-wireless headphones that will offer similar if not better sound quality for this price range. The market for the Everest Elite 700 is those looking for a premium wireless, noise-cancelling headphone experience with great sound. The same budget is better spent elsewhere if you're planning to be attached to a cable most of the time.
Conclusion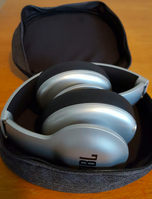 At the newer reduced price of $250, these headphones are a really good buy and they do a great job at wireless Bluetooth. JBL has created a nice balance of practical features you'll actually want to use. The sound quality is relatively flat and nicely balanced for a variety of listening situations. The digital EQ is a nice feature that lets you contour sound profile more to your liking. The sound profile is kind to those who want to listen to a wide assortment of music, just as likely to turn on rock, jazz, classical as they are to turn to electronica, hip-hop or any of the more bass-needy styles of music.

However, the Everest Elite is far from a bass-monster, so if you're looking for head shaking bass because 90% of your listening is EDM and its closest relatives… look elsewhere. The similarly priced Sony MDR XB950BT is on the opposite end of the spectrum with massive extra bass that will cost you in midrange detail.

If you're looking for a quality pair of wireless, noise cancelling headphones that are fun to listen to and have a sound signature that offers pop, moderate boom and superb midrange detail through the wireless freedom of Bluetooth 4 - you've found them here!
Confused about what AV Gear to buy or how to set it up? Join our Exclusive Audioholics E-Book Membership Program!
Recent Forum Posts:
gene posts on February 08, 2017 20:50
To celebrate its 70th anniversary, JBL has launched a new "platinum" variation of one of their finest wireless headphones made, the JBL Everest Elite 700. Platinum may be nothing more than a fresh coat of paint on a great pair of headphones that has been JBL's flagship in the wireless category for two years. But, what Platinum really gives us is a chance to reflect on the company's storied history, a history that is still being written with the sale of JBL's parent company, Harman to Samsung.

Does the Everest Elite 700 still hold its place among the best of the full-sized wireless headphones? We shall see.



Read: JBL Everest Elite 700 Headphones Platinum Review
Post Reply