Everest Elite 700 Headphones Features & Sound
Everest Elite 700 Headphones Features & Sound
The Everest Elite 700 headphones comes with a lean set of features that hits all the important notes without bogging you down with inscrutable, useless features. The buttons on the earcups provide easy access to the most important features and the JBL headphone app for Android and iOS is lean and useful asset to your day-to-day use of these headphones. The control buttons are pleasantly large and simple controls on the back of each earcup. The right side has a top switch that turns the headphones on or off. The right-lower switch is a "Programmable Smart Button" that can be programmed in JBL's headphone app to turn on or off active noise cancellation or control the headphones Ambient Aware feature. The Everest Elite app for Android or iOS is a valuable asset to these headphones that should be explored right away to get the most out of your investment.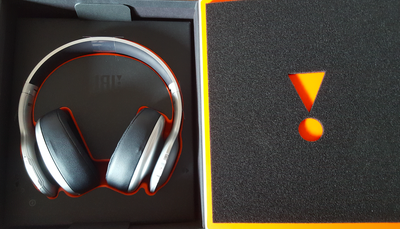 Everest Elite 700 Key Features:
TruNote Audo Sound Calibration 
Active Noise Cancelation
Ambient Awareness
Custom and Preset EQ
The left switch is a three-button rocker-style switch. The top and bottom of the switch controls volume up and down while the center of the switch can be pressed once to pause or double tap to skip track. Load the JBL headphone app to access to your headphone's key features including:
TruNote
TruNote calibration alleges to customize the sound to your personal headspace, an audible frequency sweep can be heard to prove that it's actually doing something. The result is supposed to be a cleaner sound experience uniquely suited to your head and ear cavity. To be honest, I have no doubt that TruNote calibration is doing something… but back-to-back comparisons didn't yield any noticeable advantages. But, it could be that the shape of my inner ear and cranium are just so average that I personally don't benefit from customization. Your results may vary.
Active Noise Cancelling - ANC
JBL's active noise cancelling feature is superb. I can't rave enough about this feature, it's as cool as AC/DC songs being played by a kilted highlander on flaming bagpipes - but without all the noise. These aren't the first noise cancelling headphones I've heard, but they are by far the best rendition of the noise cancelling effect I have ever heard. This doesn't make them the best sounding ANC or wireless headphones, but the ANC effect, where it shuts out ambient noise, is a truly impressive feature of these headphones. In my experience with most noise cancelling headphones I've heard an audible hiss in the midrange that seemed to block most of the noise in the most popular spectrum of sound. The resulting audio quality from most noise cancelling headphones is overly compressed and thin, while the noise cancelling effect itself was negligible.

Activate Noise Cancelling on the JBL Everest Elite headphones and it's as if an oppressive hush falls over your head. It's almost disconcerting to realize that how much background noise you're actually experiencing in the seconds before your headphone's noise cancelling is activated. Rather than turning on an audible hiss… an audible hiss you didn't even know was there is instantly removed from your hearing. I can't understate the significance of the effect. Toggling on/off the ANC on the headphones reveals a surprising amount of ambient noise even in a relatively quiet coffee shop where I tested the feature while writing this review.

The resulting sound quality once you turn on music with noise cancelling on is a bit thinner than you'd get without, but not by much. You can easily set the headphones smart button (lower-right) to toggle noise-cancelling on/off for a side-by-side comparison and the difference in musical sound quality is definitely there, but not horrible. But when no music is playing and you switch on ANC, much of the ambient sound in the room is wiped from your sensory input as if you'd stepped into a cone of silence from Get Smart, while the sound quality of your music only a little degenerated as a result.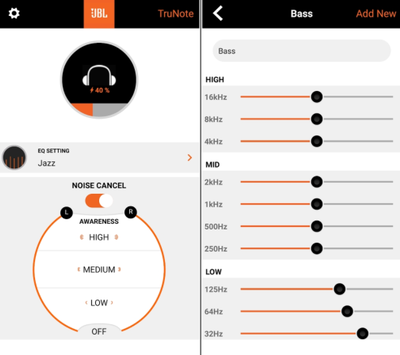 Ambient Awareness
This feature activates little microphones on the outside of the headphones and passes some of the sound picked up by these mics into your headphone's drivers for you to hear. You can toggle this setting from off to low, med or high. High being the maximum volume of the outside sound that will filter into your hearing from outside your headphones… it's a way to closely mimic something like… oh, I don't know, simply TURNING OFF ACTIVE NOISE CANCELLING!

Sure, ambient awareness is a convenient safety feature if you happen to be living in a constant state situational unawareness. Turning Ambient Awareness to high while using Active Noise Cancelling is an inexplicable contradiction, like engaging in text message conversations over your cell phone.
Custom and Preset EQ
The EQ settings in the app includes a few basic presets: Jazz, Vocal, Bass and Off. Fortunately there's a Custom EQ setting that lets you play with a 10-band EQ ranging from 16kHz down to 32Hz and save your favorite setting. Sure, audio purists don't like EQs, DSPs or presets, that's true. But most audio purists aren't interested in wireless headphones anyway. Ultimately, Bluetooth 4.0 playing back compressed audio files most likely from online streaming sources will benefit greatly from a tweak in the EQ. The JBL Every Elite 700 EQ lets you play to your heart's and your ear's content and have a little fun with your sound.
Confused about what AV Gear to buy or how to set it up? Join our Exclusive Audioholics E-Book Membership Program!
Recent Forum Posts:
gene posts on February 08, 2017 20:50
To celebrate its 70th anniversary, JBL has launched a new "platinum" variation of one of their finest wireless headphones made, the JBL Everest Elite 700. Platinum may be nothing more than a fresh coat of paint on a great pair of headphones that has been JBL's flagship in the wireless category for two years. But, what Platinum really gives us is a chance to reflect on the company's storied history, a history that is still being written with the sale of JBL's parent company, Harman to Samsung.

Does the Everest Elite 700 still hold its place among the best of the full-sized wireless headphones? We shall see.



Read: JBL Everest Elite 700 Headphones Platinum Review
Post Reply