Helm Bolt + DB12: Wins the Portable DAC-Amp Combo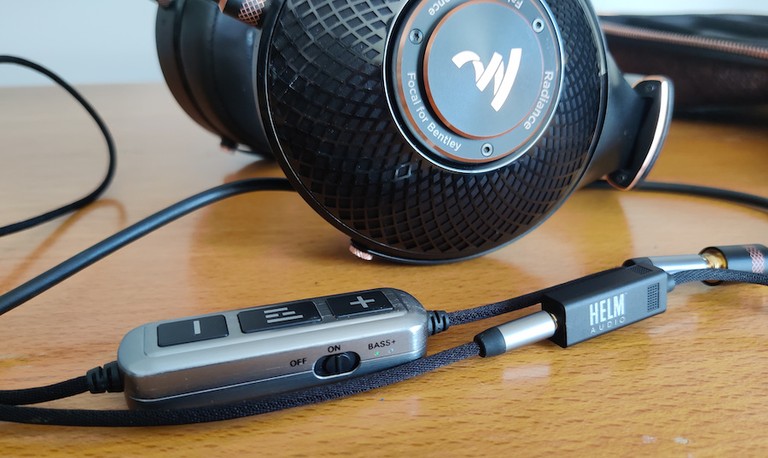 HELM Bolt DAC, DB12 Amp w/ Focal Radiance
Summary
HELM Bolt DAC
Output Level - 1.1 Vrms at <150 Ohms, 2 Vrms at >150 Ohms

Compatible Formats - PCM, MQA, DSD DoP

Connectivity - USB-C INPUT, 3.5MM OUTPUT

SNR - 120 dB

THD+N - %0.0008 at <150 Ohms, 0.0013 at >150 Ohms

Frequency Response - 20Hz-20kHz+/- 0.06 dB

Physical - USB Type-C Interface

Connection - USB 2.0 High Speed

PCM Sample Rates - 44.1 kHz, 48 kHz, 88.2 kHz, 96 kHz, 176.4 kHz, 192 kHz, 352.8 kHz, 384 kHz
HELM DB12 AAA AMP
THX Certified Amplifier: THX AAA™ amplifier
Input: Stereo TRRS 3.5 mm male connector

Output: Stereo TRRS 3.5 mm female connector

Frequency response: +0.01 / -0.2 dB 20 Hz – 20 kHz with 32 ohm load

Output impedance: <0.4 ohms

Output power: 109 mW at 16 ohms with <0.1% THD (watts per channel,) 111 mW at 32 ohms with <0.1% THD (watts per channel)

Output impedance: < 0.4 ohms

THD: -102 dB, 16 ohms, 10 mW: 0.0008%

THD: -102 dB, 32 ohms, 5 mW: 0.0008%

THD: -109 dB, 10 Kohms, 0.049 mW: 0.00035%

IMD: -70 dB, SMPTE 70 Hz + 70 kHz, 16 ohms: 0.03%

IMD: -80 dB, SMPTE 70 Hz + 70 kHz, 32 ohms: 0.01%

IMD: -80 dB, SMPTE 70 Hz + 70 kHz, 10K ohms: 0.01%

Crosstalk: – 91 dB, 10K ohms: 0.0028184 %

Noise (A-wt): 10 uV, potentiometer at nil

SNR: 114 dB, 300 ohms, <1% THD

Gain: +12 dB (full range), +12 dB and +6 dB on 60–100 Hz frequencies (Bass Boost)

Power supply: Internal USB rechargeable battery

Battery life: 6+ hours in use

Weight: 1.08 oz (30.55 g)
Executive Overview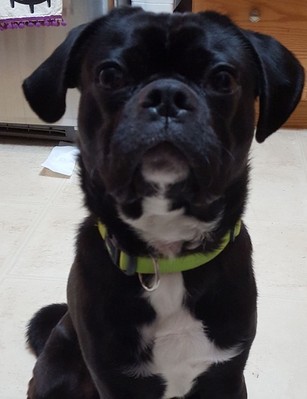 These are great times for portable audio, new lighter and ever-smaller devices are giving us better sound quality while on-the-go to help us escape into personal hi-fi wherever and whenever the need hits us. The pandemic has caused companies everywhere to rethink crowded offices as the day-to-day work environment as a new remote-work reality takes hold in many professions. If your job happens to involve a staring into a computer screen, you may be ready for portable music solutions that take sound quality way beyond your phone's stock earbuds. Whether you're getting down to business on a laptop at a coffee shop, or your office has implemented a desk-sharing scheme, the ability to put a proper hi-fi system in your pocket is a real boon. Personally, my outdoor use of portable DAC/Amps to power my favorite closed-back headphones has spiralled in these years. Getting lost in a soundtrack while sometimes literally getting lost on the streets or a local park is a great way to keep my step-count high, and nobody loves extended walks more than my dog. Shadow, our bug (Boston Terrier/Pug mix) gets riled up Pavlov-style for long-walk-time as soon as he sees me connecting a portable amp to my belt with a pair of headphones resting on the back of my neck.

The USB dongle (DAC/Amp) is perhaps the silliest-named product category in all of consumer electronics. But crude implications aside, the sound quality offered by today's USB dongle DAC/amps is no laughing matter. Whether you're using a DAP or cell phone as your source, the USB dongle has grown into an economical way to really let you hear what your premium headphones can do. Bluetooth still dominates the portable audio market, but despite vast improvements in recent years, a sound quality chasm remains between the best Bluetooth codec and hard-wired headphones, thanks in large part to the USB dongle.

Bolt by HELM Audio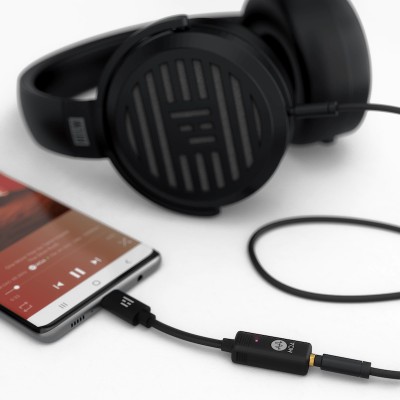 HELM Audio, headquartered in Los Angeles California is a small British-American enterprise that's carved its niche in portable and wireless audio equipment since its founding in 2017. The company's stated goal is to produce products that reflect the passion for music of its founders that includes musicians and producers as well as engineers and product developers. From what I've seen so far, its products seem to hit a sweet-spot between solid build quality and affordability. These attributes have helped HELM Audio stand out among some of today's most competitive audio technologies, and the brand isn't shy about meeting THX certification standards where applicable.

HELM Bolt has grown into a sort-of gold standard for portable external DAC/Amps among iPhone-users who upgraded from Apple's own ultra-affordable external DAC/headphone amp. Since HELM Bolt's price dropped to just $99, it's grown into one of the most recommended USB dongle DACs for it's sturdy build, excellent sound quality and surprising amplifier power for such a small device. Bolt's power output even has a clever voltage matching feature that cranks it up to 2-Vrms if your headphones exceed 150-Ohms, but remains at 1.1-Vrms for less-than 150-Ohms.

HELM Bolt is tiny even compared to other dongle DACs, at only 4.75-inches total length if you include the USB-C cord, and its main processor/control box is no wider than a fingernail so it can easily slide into a pocket alongside your phone. Bolt features an isolated USB-C port on one end and a 4-pin TRRS 3.5-mm headphone jack on the other, so you won't have to do without the use of a microphone if your headphones are so equipped.

Bolt DAC

Bolt is built around the ESS Sabre ES9281APRO DAC/Amp, a chip-series that's gained steam across the industry, finding its way into many popular DACs, including THX Onyx. The ESS Sabre-powered brain lets Bolt decode two channels, up to 32-bits, at sample rates up to 384kHz. The DAC will decode every major codec, lossy or lossless that you can throw at it, and includes MQA rendering.

Bolt DAC Decode-Status LED:

Blue=<48kHz
Red=>48kHz (hi-res) and
Magenta=MQA Rendering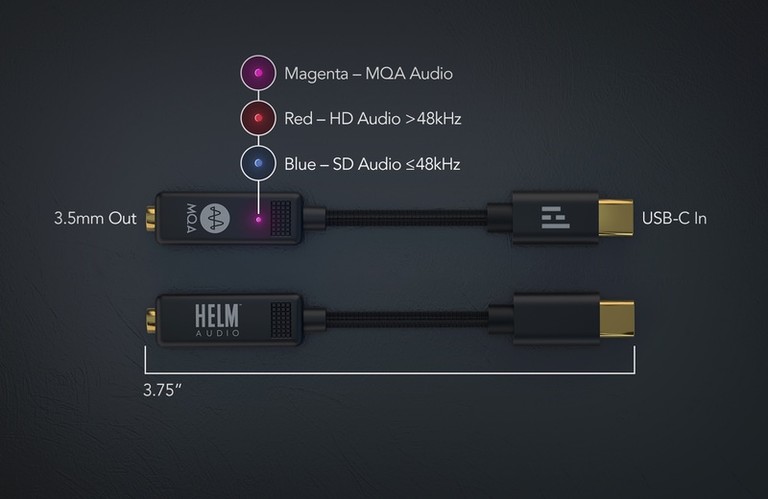 Unlike THX Onyx however, the amplifier portion of Bolt is not a THX AAA (Achromatic Audio Amplifier. Although HELM Bolt is THX certified for meeting the standard's low noise and crosstalk requirements (THD+N%: 0.0008 at <150 Ohms, 0.0013 at >150 Ohms).

Onyx vs Bolt
Comparisons between the two dongle DACs are inevitable. Both are very capable DAC/Amps that assure excellent sound quality from their respective implementations of the same DAC chip (ESS ES9281PRO). Both employ isolation from the USB circuitry and meet THX standards. Onyx has one important advantage, it's just a little more powerful with a few additional mW into a given headphone's load and the efficiency of the AAA architecture makes it punch well above its rating. But that little bit of extra power also means it will use just a little more of your phone or other portable source device's battery's life. But overall sound quality differences are negligible at a given volume.

Both DACs are well-made and will be built to last for the long haul. The main body of Onyx is larger and heavier, with its brushed aluminum finish and rubberized cable it has a more premium look-and-feel over Bolt's smaller plastic body. Bolt is also well-constructed with its fabric-wrapped USB cable that includes rubberized ends to reduce wire fatigue. At $199, Onyx retails for double the price of Bolt's $99.

Adapting Bolt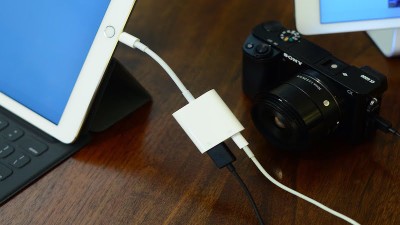 Included with Helm Bolt is a small USB-C-to-A adapter to easily Bolt-up to any laptop, Mac or PC without the need for drivers whether you're using iOS, Mac OS, Windows10 or Android. For headphones with a quarter-inch connector you'll need to furnish your own adaptor to step it down to 3.5-mm. Of course, for use with iPhone you'll need to convert its Lightning port to USB-C. The Apple faithful are familiar with the "camera adaptor" that provides USB-A from the iPhone's Lightning port. But the Apple camera adaptor practically negates Bolt's slim portability, it's a bulky, overpriced product and there are smaller, cheaper adaptors on the market that will convert iPhone's Lightning port to USB-C without paying the Apple premium.

Fortunately, newer model iPads include USB-C ports, but it may be some time before the iPhone goes directly USB-C. However, if an EU proposal gets its way, Apple may be forced to include USB-C on European iPhones.

The Trans Controversy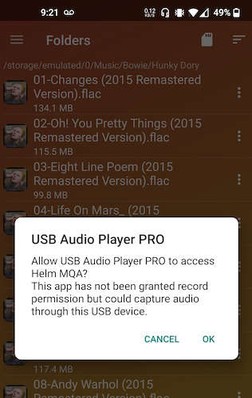 The notoriously divisive trans issue just doesn't come up often enough in digital audio media. It's true that most people probably don't care, while it may illicit highly-charged emotional responses in others. But when talking about a DAC intended to receive a raw digital audio stream from today's smartphones, we have to bring up the issue of transcoding.

With the recent popularity of lossless and hi-res digital music, it may come as a surprise to some that the audio bit/sample-rates played back on your phone may not match the bit/sample-rate of the source file. Whether or not this makes any difference to you is a largely subjective, personal matter. But in a perfect world, a 16-bit/44.1-kHz digital music file would be decoded at exactly 16-bit/44.1-kHz to playback over your headphones, and not be upsampled to 24-bit/48-kHz. What's worse, Studio Master or hi-res libraries offered by streaming services like Apple Music and Tidal Hi-Fi serve up to 24-bit/192-kHz files, but depending on your setup, the stream may be downsampled to 24-bit/48-kHz before even reaching your external DAC. If you're subscribed to a hi-res audio stream, this is literally bits and kHzs you're paying for that's just gets disappeared, gone like so many socks in the dryer.

All things considered, the 24/48 bit/sample rate that's become a standard on most of today's phones is fine. It's well within lossless territory and technically reaches the lower-end of hi-res. But it's also an artifact of DVD technology intended to match the sample rates used in video and film. Unfortunately, it's evolved into a one-size fits all for digital audio streams in many Android and iOS phones. When using an external DAC like HELM Bolt, we should demand the use of its full capabilities and not just one sample-rate for everything you hear. If it's even remotely important, the next two sections will outline how the trans-issue is tackled between Android and iPhone, and one is clearly better than the other.

iOS + External DAC
Fortunately for iPhone users, iOS gets a big green check-mark for streaming unadulterated digital audio stream out of its Lightning port to your external DAC. I wish other phones expressed this level of sensitivity to those of us who are concerned about trans-coding. To receive every kHz of Apple Music's hi-res stream on an iPhone, Apple recommends using an external DAC.

According to Apple:

"To listen to songs at sample rates higher than 48 kHz, you need an external digital-to-analog converter."
What Apple's support page doesn't mention is that Apple's own budget Lightning-to-3.5-mm external DAC maxes-out at 48-kHz. Apple released its own tiny DAC around the time it dropped the 3.5-mm headphone output from its iPhone. But when using a 3rd party DAC such as HELM Bolt, you'll enjoy a bit-perfect stream every time.

Android + External DAC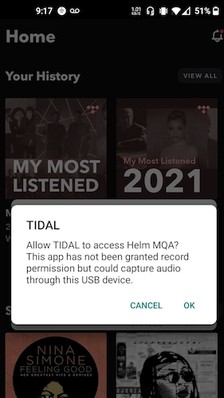 Unlike iPhone's digital-output, Android's USB-output is problematic, it's the J.K. Rolling of USB digital-out transcoding issue. The audio stream from today's Android phone's USB-C port will automatically convert the stream to its respective one-size-fits-all bitrate, usually 24/48 but it may vary by the model. But, like most things - there are apps for that!

A growing variety of audio apps are adopting an Android version of "exclusive mode" that bypasses Android's USB controller to let the app take direct control of your DAC. The king of Android audio apps is unquestionably: USB Audio Player Pro.

But word might be getting out that there's demand for Android "exclusive mode". Last year, Tidal Hi-Fi rolled out a new (allegedly) "bit-perfect" feature for its Android app. When using HELM Bolt with Android, Tidal's app app will give you a new option:

"Allow Tidal access Helm MQA."

Selecting "Allow" overcomes Android's USB sample-rate limitation, but because it's Tidal Hi-Fi the new feature will act as a Trojan Horse for MQA. HELM Bolt is an MQA compatible DAC, so it will automatically detect and perform the final MQA unfolding on the Tidal Master library, which is great for fans of MQA. Although, I don't think I'd agree that MQA's lossy encoding is a "bit-perfect" stream, but presumably Tidal Hi-Fi subscribers know what they're in for.

More Portable Power!
One common problem with tiny dongle DAC/Amps can sometimes be the power to your headphones. On my own long-walk listening sessions my go-to headphone is the relatively low-impedance, highly efficient Focal Radiance headphones. They're excellent closed-back headphones with great passive noise cancelling from the inner-earcup's dampening construction. Designed to be mobile friendly, Radiance has an impedance of only 35-ohms with sensitivity of 101-dB SPL/[email protected] The Bolt/Radiance pairing is just enough to reach decent volume levels, and the pairing excels at a fine detailed listening experience even at lower volumes. But sometimes when I go to turn it up I'll discover that I'm already listening at full volume. Bolt is usually loud enough depending on the file, but in practice there are times I want to listen… maybe just a little too loud.

Additional amplifier power is always welcome and it just so happens that HELM has another portable listening solution that works well with Bolt, it's the HELM DB12 AAA Amplifier. The two together have significantly changed how I listen to music on long walks with the dog.

HELM DB12, AAA Amplifier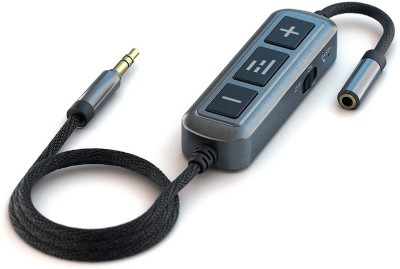 HELM DB12 is a self-powered, portable inline THX AAA amplifier that promises a boost of 12dB from its 110mW of power to its 3.5-mm connector. The cleverly-named device increases the power output of anything with a headphone jack, lending a boost to a phone, laptop or tablet for just a little extra volume. I found it to be the perfect accessory for the HELM Bolt, giving it more than enough extra punch.

DB12 is both THX certified and employs a THX AAA (Achromatic Audio Amplifier). But it does not have a built-in DAC it's strictly for amplification. Claims you may see online that DB12 "improves sound quality" may be overstated. Unless you're using an under-powered source, it may only tangentially improve the sound quality with the extra volume, but don't expect significant changes in sound quality or tonality. DB12 is intended to provide a linear 12-decibel gain, and linearity happens to be the wheelhouse of THX's AAA technology.

Convenient Controls
The form-factor design of DB12 is unique for portable audio. Rather than being built as a micro-device that unobtrusively hides-away into a pocket, it leans into being more of a wearable with convenient benefits.

The main body of the DB12 consists of a 3-inch long aluminum control box with three large buttons on its face. Along either edge of the box is a 3-position on/off/bass boost switch and a USB-C port for charging on the other. Two fabric-wrapped cables extend from either end of the control box fitted with short rubberized stress protectors. The short side has a 3.5-inch cable terminated to a female 3.5-mm headphone jack. The longer side is a rather generous 4-foot long cable terminated to a male TRRS 3.5-mm connector that plugs into your source. The extra length is intended to reach your source device while tucked into a pocket, letting you maintain access to DB12's controls. The three tactile buttons on DB12 include volume up and down flanking a center multi-function button that interacts with your phone.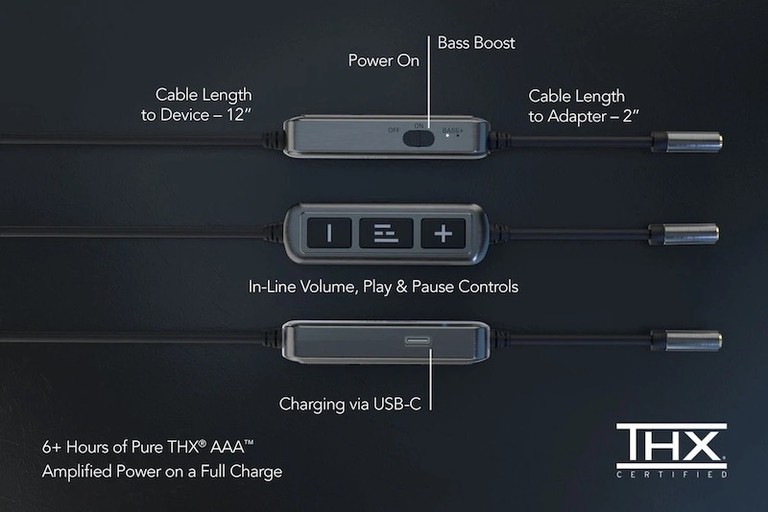 Multi-function Button Control:
Single press: Play/pause

Double-press: Skip forward track

Long press: Activate phone assistant



Thanks to DB12's 4-pin TRRS connectors you can talk to your phone if your headphones or IEMs are equipped with a mic, even when DB12 is powered off. The amp has a passive bypass mode that provides continuity from your source to your headphones. So, even if DB12's battery is drained or shutdown, you still have use of your headphones, including mic, albeit at lower volume.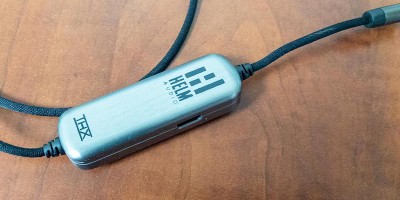 When I first opened DB12, my gut reaction was that the device was overly large with clunky, oversized buttons that will inevitably lead to accidental presses in my pocket and the source-side cable seemed comically over-long. Needless to say, my first impression was not good. Then I just succumbed to using it as a wearable device—and I'm glad I did! I honestly didn't realize how much I'd appreciate the convenience of off-boarding some of my phone's controls. The biggest, underrated convenience is no longer needing to pull my phone out of my pocket to adjust volume or skip a track.

The three-way, on/off switch features a third position for "Bass Boost" that does exactly what you imagine. It adds a +6dB bump from 60-100-Hz. This might be a fun feature to play around with depending on your style of music and your age. Personally, I'm too old for a bass boost but hey, I realize that feature wasn't designed for me. Although, I must admit I will occasionally select a playlist that reaches back into the 90s Big Beat-era and try out some bass boosted Prodigy & Basement Jaxx, nostalgia for the long-gone days when I was in the "Bass Boost" demographic.

One minor quibble about the three-position slide switch that includes: Off/On/Bass Boost(On). My aversion to "bass boost" aside, it can be tricky to get it into the center or ON position without over-sliding to Bass Boost. I can imagine after years of wear it could grow more difficult to get the switch set into the "On" midpoint. If I were consulted during design I'd be inclined to make Bass Boost the center position, but that's just me.

Wearable Design
In portable equipment - size matters! Unlike Bolt, DB12 is surely not intended to disappear into a pocket. The control buttons look and feel Tonka toy-durable with large buttons that could pass for Universal Design, an electronics design intended to assist the disabled. The tactile controls make it easy to operate without looking, just a swipe of a finger finds the right button. The source-side cable length that goes out to your DAC/phone lends itself to being easily anchored around a belt-loop while your phone/DAC is tucked away in a pocket. This leaves the control buttons front-facing on your hip for easy access on the move. The short, 3-inch cord-side is well within reach of a modest-length headphone cable. Now, you're wired for sound while wearing a complete headphone hi-fi system and you don't need to fish for your phone for basic sound controls. Wearing the setup has honestly helped improve my daily step-count, and the external controls give me James Bond/Tony Stark-level delusions of grandeur.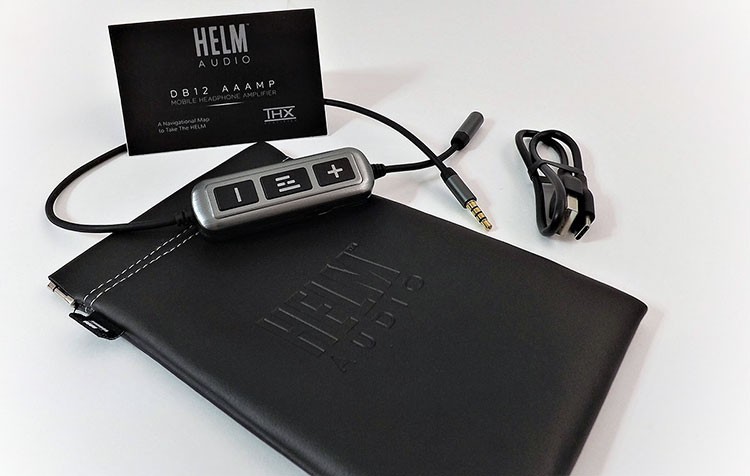 DB12 Battery
DB12 is self-powered, charged with its USB-C port. HELM says it provides 6+ hours of battery life and in my own testing it's given me just over 8-hours. Although, I tend to listen at lower volumes and rarely use bass boost which will drain the battery faster. The additional power of DB12 is perfect for higher-impedance headphones or weaker audio sources, such as any small portable DAC that could use a boost. Unlike using a lone USB dongle DAC, you can push the volume without worrying that you're chugging down your phone's battery any faster.

The DB12 Experience
In practice, the power DB12 provides is probably overkill for most headphones. But a little power-overhead is always nice to have when driving any headphones, especially the less efficient variety. The extra power isn't necessarily all about making your music louder, but rather about ensuring the amp is comfortably driving your headphones, even at low volume. As with any headphone amplifier, be careful with the volume, turn it all the way down before putting on your headphones, then turn it up to comfort. When DB12 is connected to your phone's USB-port through the Bolt DAC, the phone's volume controls are taken over by DB12, and just hitting play after setup could give you a high-decibel shock. We should try keep our hearing for the long haul!

Conclusion
I've grown to really appreciate the HELM Bolt + DB12 combo, they're the perfect companion for long walks, remote work at a coffee shop, an office-setting or anytime you're away from your main stationary headphone stack. The DB12/Bolt combo easily transfers between a phone's USB-C to USB-A on a laptop using Bolt's adaptor to keep the music going. The TRRS 3.5-mm connector (through both Bolt and DB12) also makes the combo a gamer-friendly device because it lets you use any headphone's microphone.

According to HELM's website, you can get both Bolt and DB12 for $179, a $20 savings over buying both separately at $200, which also happens to be the price of THX Onyx. Onyx is easily the most powerful and loudest dongle dac/amp I've ever used and remains a thoroughly portable audio device with sound quality comparable to any portable system I've heard. But for me, the HELM combo has an edge in usability over any standalone dongle DAC/Amp. The DB12 introduces a form-factor that is sure to garner divided opinions and at first, I assumed its size would be a liability when I began testing DB12. But the DB12's unique form-factor provides a clear advantage and has changed the way I use portable sound. I'm surprised how quickly I came to rely on keeping DB12's off-phone controls on my belt, reminiscent of the early 2000s belt-clip Blackberry era. The necessary controls are intuitive and the combo always brings out the finer details in my headphone's sound, even at low volume. So, if you're ready to lean into making portable music more wearable in 2022, DB12 + Bolt is a sound solution. The combination adds up to an experience that's more than the sum of two gadgets.

Unless otherwise indicated, this is a preview article for the featured product. A formal review may or may not follow in the future.
Confused about what AV Gear to buy or how to set it up? Join our Exclusive Audioholics E-Book Membership Program!
Recent Forum Posts:
bradleypariah posts on April 22, 2022 18:23
I've got a kind of unrelated question about that DAC.
Does Android see the HELM as a headphone jack, or a line output?
If you turn up the volume past nominal, do you get pestered by the "Listening at high volume for a long time may damage your hearing" warning?

My reason for asking is because I strictly use my phone's 1/8" jack to plug into the Aux input in my car.
Bluetooth isn't available, and I despise how BT sounds anyway.

My phone randomly drops to nominal level while I'm driving.
More randomly than that, when I try to turn the volume back up to full blast (to get the best signal:noise ratio), I get the warning, which demands I look at my phone screen while I'm trying to drive.

If you still get the warning, perhaps I might need the HELM and the dB12 like you suggest, then leave the phone's volume at nominal? I don't want to buy two pieces of kit when one will do. Any input you have would be appreciated. Thanks for your review.
Wayde Robson posts on April 21, 2022 09:49
I recently got a chance to test out not one but two different portable audio accessories for headphones that turn out to make each other better. The first is the tiny portable DAC/Amp unit called HELM Bolt, this one has been making waves over the last year among headphone enthusiasts as a popular way to circumvent your phone's DAC with respectable power levels, adequate power but not the overkill potential you really want to drive your headphones. I was ready to give it a moderate rating as a portable DAC/Amp inside about 1K words and call it day. I honestly didn't think much of the DB12 amp, but it was a THX AAA amp so I thought I'd give it a try.

It turns out the addition of the DB12 in-line amplifier really updated the experience in tangible ways outside of its 12dB volume boost. Operating in tandem, they give you a nice offboard DAC upgrade (Bolt), then grants basic off-phone music app controls and more clean portable power than you'd expect without an AC outlet. Overkill potential achieved!

Now that warmer weather is finally here (outside this week of MORE snow), I've been indulging my hobby of long headphone walks with the dog. The combo has granted these little details added to a user-experience I wouldn't have thought were a big deal until I actually started taking them granted. I'm using the combo with a pair of closed-back Focal Radiance headphones for which I'd recently ordered a balanced XLR cable for use with my home headphone components, an XLR connected DAC-to-Amp stack and a Cambridge Audio media player. I realize XLR is unnecessary, but I wanted to try full XLR. It turns out, my Radiance headphones almost never see the new XLR cable because the Bolt/DB12 are now (practically) permanently attached. They do such a great job of bringing out that warm midrange in the Radiance without making the sound over-boomy, which I've come to expect from popular budget consumer headphone accessories. The DB12 amp strapped to a belt loop keeps basic app controls in reach, like pause/plan, skip forward/back. It seems like a small thing, but I never realized how much I'd appreciate not having to dig my phone out of my pocket to execute those simple commands. Together I give them a "Gotta Have It!"

Helm Bolt + DB12: Wins the Portable DAC-Amp Combo
55548

Wayde
Post Reply