Over The Ear Wang Features
Over The Ear Wang Features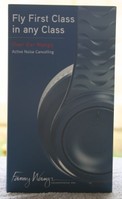 If you are a frequent traveler, noise canceling headphones are either a thing you own, or a thing you covet. You see other travelers with them. Their little lights glowing telling the rest of the plane, "Hey, can't talk, my headphones are blocking you out. Sorry. Tell your fascinating story to that other person over there without the noise canceling headphones." Yes, you are envious. Yes, you wish you could close your eyes and let the little light tell the rest of the people around you that you can't hear them no matter how much they yell.
Of course, that's not how noise canceling headphones work, but that IS how people that have never owned noise canceling headphones THINK they work. If it keeps them from regaling you with stories from their trip to the Catskills... well, that's just a bonus.
Fanny Wang Headphone Co. has recently come on the scene with high end headphones that are targeted at the discerning consumer. Not for those with thin wallets, their offerings are high end and sport prices to match. On top of that, if you are willing to shell out $50 more, you can get a set of headphones where you can pick the specific colors (from a set of options) to match your tastes, outfit, or labradoodle. 
First Impressions and Features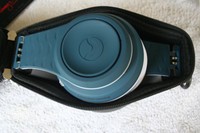 The Fanny Wangs (they call them "Over-the-ear Wangs") came in a very protective box with a front that was held closed magnetically and a sleeve to keep it all together in transit. The 3000 Series is one of Wang's most expensive offerings and are their largest. They are surrounded by a case that resembles an old style camera case (at least it reminded me of the one my father used to have). It is flexible and has a small pouch in the top covered loosely with a mesh. Interestingly, the mesh is actually two different pieces sandwiched together and held closed by a piece of velcro. This is perfect for holding some of the smaller pieces securely and was a feature that I really liked.
The Series 3000 Wangs came with a number of accessories. First, they sport a removable 1.2 meter, tangle-resistant cord. There is a 1/4" adapter for use with full-sized headphone jacks (like on your receiver). The smaller 3.5mm jack has a diminutive surround so you won't have problems attaching it to your phone or portable MP3 player even if you have one of the more restrictive cases.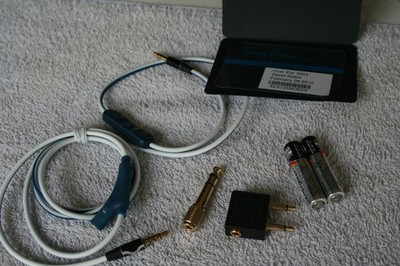 Also included with the Series 3000 Wangs was a two-prong adapter for use on a plane. If you weren't sure what Fanny Wang had in mind with these headphones (as if the box didn't give it away), you should now. They are for your commuter and they have all the bells and whistles they might want. Like all noise canceling headphones, the Series 3000 are active. They require two AAA batteries. Unlike every toy my kids have received over the last five years, Fanny Wang actually includes the batteries.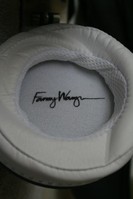 Taking a closer look at the headphones, there are Fanny Wang logos everywhere. They are on the sides of the sound chambers, inside the ear muffs, on the hinge, and even on the extendable metal pole. You aren't going to forget who made these headphones. The ear muffs are exceptionally soft and comfortable. There isn't any significant padding on the top band but, after you put them on, you'll likely not notice. They don't squeeze to your head too tightly and are easy to wear for long periods. These are easily the most comfortable headphones I've ever tried.
The cord has two notable features. Like nearly all headphones these days, they have a control that works with your iDevice. The buttons are clearly marked with the center button placed in a depression. The center button is large and raised so, at first blush, I thought it would be easy to operate. Overall, it wasn't bad but, because the button is recessed, I often found myself changing the volume at the same time. This may be because I generally use my thumb on that button.
The second, and probably the coolest, feature on the cord was the integrated "DuoJack" - a built in, in-line headphone splitter. While I'm sure there are many out there that look at this feature and think they'll never use it, I am absolutely in love with it. On long flights (or even just around the house), I'm often wanting to share what I'm listening to/watching with someone else. This relieves me of the hassle of trying to find a splitter or having to listen to something in series rather than at the same time. When you add in the conversion plug for airplanes and you've got the sort of convenience that makes travel much less irksome.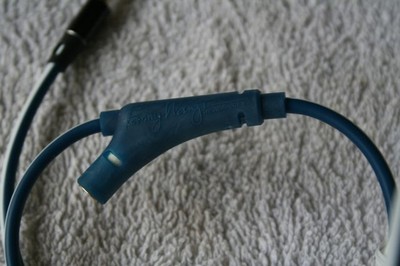 Confused about what AV Gear to buy or how to set it up? Join our Exclusive Audioholics E-Book Membership Program!
See also:
Recent Forum Posts: