Dyson's Bizarre Noise Cancelling Air-Purifying Headphones!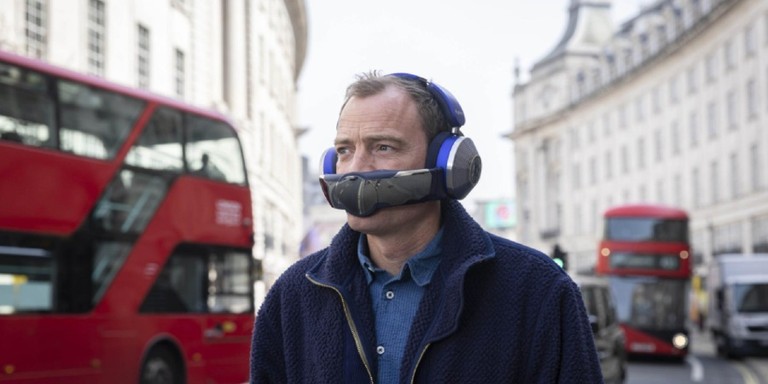 Dyson Zone 3
Summary
Executive Overview
In February of 2020, I heard that the British vacuum cleaner company Dyson had applied for a patent for headphones with a built-in air purifier. It seemed too bizarre to be true, but a quick Google search confirmed what I had heard, and revealed diagrams depicting what looked a bit like a virtual reality headset covering the wearer's nose and mouth instead of the eyes. At the time, I couldn't decide if this story would make a good article for Audioholics. Was it too weird? Or was it so weird that I absolutely had to write about it? A dearth of details made the decision for me; there just wasn't enough information available. Besides, I thought, Dyson probably wouldn't actually manufacture these things, right? Tech companies like Apple file for patents all the time, sometimes for pretty far-fetched concepts. (In January of 2022, for example, Apple filed for an ear-canal biometrics patent that would enable AirPods to identify a user's ear canal geometry in order to prevent an unauthorized person from using someone else's AirPods to eavesdrop. Just a few days ago, the company filed a patent that would allow an iPhone to be used as a breathalyzer.)  Many of these patents never materialize into real-world products, and I guessed that the Dyson headphones were destined for the graveyard of long-lost patents. (Spoiler alert: I was wrong.) But even back in early 2020, part of me wondered if there might be a market for such a seemingly strange device. Although the Covid-19 pandemic had only just begun to make its way to the United States — with Audioholics founder Gene DellaSala being among the first unlucky Americans to be infected — concerns over the potential devastation that it might leave in its wake were growing rapidly all over the world. Had Dyson scrambled together a portable air purifier design in order to cash in on people's fear of an airborne virus? Apparently not. It turned out that the patent was originally filed with the UK's Intellectual Property Office in July of 2019; it just wasn't published until over six months later.
Dyson launches new air-purifying headphones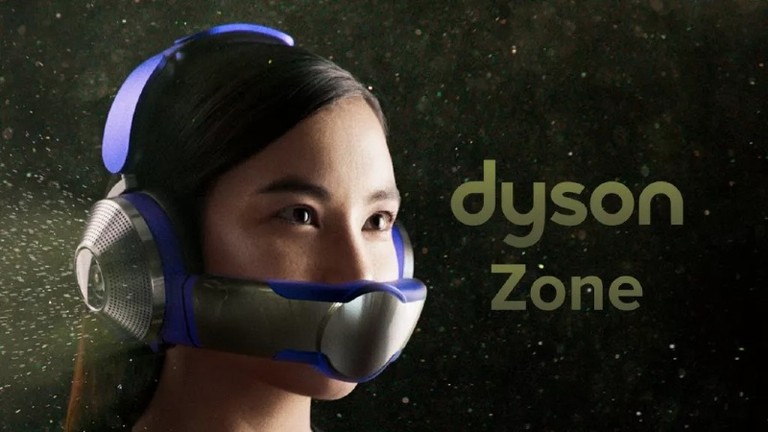 In fact, Dyson had actually been working on this unexpected product for years. The initial concept for a wearable purifier combined a backpack motor and filtration system with a snorkel-like mouthpiece. Compared to that unwieldy design, the final product — called the Dyson Zone air-purifying headphones — is relatively discreet and non-invasive. Getting from that initial concept to a market-ready product required over six years of research and development, including the construction and testing of over 500 prototypes. The company says that its "30 years of expertise in airflow, filtration, and motor technologies, and deep understanding of indoor and outdoor air quality" informed the design, which uses a compressor in each ear cup to suck air through dual-layer filters. The purified air is then channeled through what Dyson describes as a "non-contact visor," which delivers two streams of clean air to the wearer's nose and mouth. Dyson says that the visor air-delivery mechanism is a new and unique design that employs specially sculpted components to keep the purified airflow near the nose and mouth, without dilution or contamination from external crosswinds. If wearing a miniaturized dust-buster motor on your ears sounds as if it might be less than soothing, you'll be glad to know that Dyson has also included advanced noise cancellation to mitigate both the sound of the mechanism itself and the din of everyday life. It's this two-pronged approach — air purification plus noise cancellation — that sums up the pitch for this product. Dyson says that its filtration system will address air quality issues by capturing city pollution, "including gases, allergens, and particulate matter," while the headphones simultaneously deliver noise cancellation and high-fidelity audio to reduce the stress caused by noise pollution.
Not convinced yet? Dyson would point out that, according to the World Health Organization (WHO), the continuing growth of urban populations has led to an all-time high in the percentage of people worldwide who breathe air that exceeds WHO guideline pollutant limits — the number now sits at around 90%. And while the reduction in road traffic resulting from the Covid 19 pandemic temporarily led to a decrease in air pollution, the levels of pollutants like nitrogen dioxide (NO2) have now returned to, or even exceeded, pre-pandemic levels in many cities.
Air pollution is a global problem — it affects us everywhere we go. In our homes, at school, at work, and as we travel, whether on foot, on a bike, or by public or private transport. The Dyson Zone purifies the air you breathe on the move. And unlike face masks, it delivers a plume of fresh air without touching your face, using high-performance filters and two miniaturized air pumps. After six years in development, we're excited to deliver pure air and pure audio, anywhere.
 — Jake Dyson, Chief Engineer
How the Purification System Works
So far, Dyson has not stated whether the Zone headphones' purification system can protect the wearer from viruses, but the headphone is designed to work with a "community face covering attachment" for FFP2 face-mask filtration (FFP2 is a European filtration standard similar to N95 here in the US). Dyson also says that the Zone can be worn in conjunction with other face masks. That said, the company went to great lengths to make the Zone's air filtration system contact-free, so as to avoid the discomfort and annoyance that many people associate with masks and existing supplied-air breathing devices, such as those worn by firefighters. For Dyson, there was nothing especially new about designing a system to draw in air and filter it, though it was being done on a smaller scale inside the Zone's ear-cups. But the visor design was new territory. In order to ensure that the filtered air was effectively delivered to the wearer's nose and mouth, Dyson's engineers focused on the intricate geometries of the visor and the visor returns, along with the central mesh that diffuses the two jets of purified air. These airflow pathways were critical elements in combating the potential problems caused by crosswinds, or by variations in face shapes. Controlling for these factors required the development of new testing methods. Dyson's engineers devised a system in which a "breathing (mannequin), fitted with medical-grade mechanical lungs and sensing equipment… 'inhales' pollution replicating human breathing patterns in a controlled chamber. They then measure the pollution level within the nose and throat to determine the filtration efficacy of those particles which would otherwise end up in (the) artificial lung." These lab tests informed the lengthy, iterative design process. The company says that the final design for the filtration system uses "precision-engineered compressors within the ear-cups to draw air through the dual-layer filters, intelligently designed to fit within the considerable space constraints of a headphone. The negatively charged electrostatic filter media captures ultra-fine particles such as allergens, and particles from sources such as brake dust, industry combustion, and construction, whilst a potassium-enriched carbon layer captures city gas pollutants like nitrogen dioxide and sulphur dioxide."
What About Audio?
You might think that, within the context of such an unusual device, sound quality was something of an afterthought. But Dyson claims that its engineers took an equally scientific approach to ensuring audio quality as they did for air quality. According to the company, an in-house "team of audio engineers and acousticians" worked by the book, designing first to reach certain measured performance metrics, and then performing extensive listening trials to confirm that the objective performance was in line with subjective sound quality. All headphone designers have to work within the space and weight constraints inherent in the form factor, but Dyson's team had to fit its "high-performing neodymium electroacoustic system" inside an ear-cup that also happened to be accommodating a powered air filtration system. And of course, the built-in motors contribute to the noise that would need to be addressed by the passive attenuation provided by the ear-cups and the active noise-cancellation system, with its unique array of microphones. According to Dyson, the density of the foam within the Zone's angled ear cushions, and the clamping force with which the headphones press against the side of the wearer's face, were engineered to maximize noise reduction without compromising comfort. In addition to working to achieve a wide frequency response and low distortion, the Dyson team reportedly placed a high value on the performance of the noise-cancellation system. It will be interesting to see what these newcomers were able to achieve in comparison to the industry leaders at Bose and Sony. Dyson says that more than 100 million people (around 1/5 of the European population) are exposed to long-term noise pollution that exceeds levels considered safe by the WHO. 
Comfort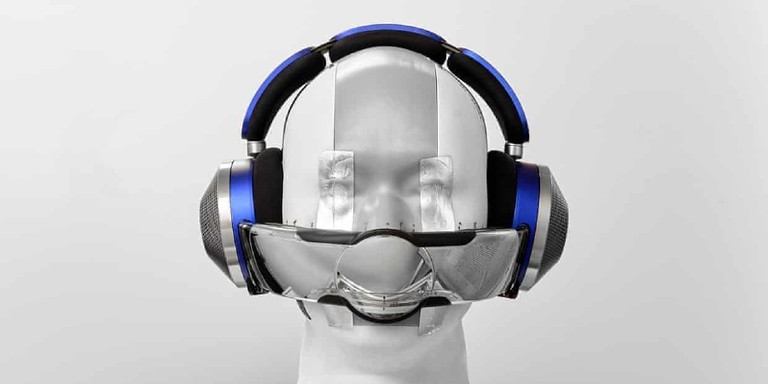 For any kind of wearable, from headphones to sunglasses, designers must pay tribute to the gods of comfort. If it's uncomfortable, people just won't wear it. Even established headphone manufacturers sometimes struggle with comfort, for any of several reasons. First, there's weight to consider, and the relationship between weight and build quality. Focal's Utopia headphones have a solid build, but they weigh a considerable 490 grams. That weight must be distributed well, and the headphone has to clamp securely so it won't fall off. Sennheiser's HD800S is much lighter at 330 grams, but some people won't be impressed by its plastic construction. These are all decisions that require expertise and experience. Probably the most difficult aspect of comfort to get right is universality. How do you make a design that works with varying head sizes and different face shapes, so it's comfortable for everyone? Dyson's approach was somewhat unusual, taking inspiration from the shape and design of a horse's saddle. The company says that the Zone is designed to "distribute weight over the sides of the head, rather than on the top." The central cushion on the headband curves over the top of the wearer's head and distributes the load through contact with the sides of the head. According to Dyson, this mimics the way that a saddle curves over the horse's spine distributing the load through contact with the areas left and right of the backbone. This arrangement should help avoid "hot spots" — places on the top of the head where the weight of the headphone becomes bothersome over time. The clamping force of the headband was tweaked in conjunction with the ear-pad design, which reportedly involved extensive testing of different types of foam, "to choose the most suitable material based on density, rate of compression, and spring-back rate – all of which change the way pressure translates onto the head. When choosing the optimal foam for the ear and headband cushions, it was important to balance the comfort it provides, its stability when molded to the ear, but critically the acoustic benefit it provides." Interestingly, Dyson says that the ear cushions are flatter than conventional ear cushions, and that this was a deliberate choice that provides better passive noise attenuation and superior comfort.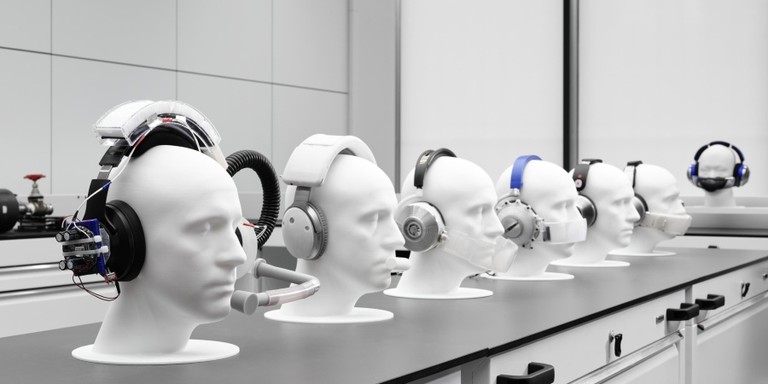 Pricing details have not yet been revealed, though some news outlets have speculated that the Zone will be priced between £500 and £1,000 (about $612 to $1224). According to the UK newspaper The Guardian, it will have a battery life of up to 4.5 hours at its lowest purification setting, but that number will drop to just 1.5 hours at the maximum purification setting. When used just for audio, the Zone will reportedly have up to 40 hours of battery life, and the battery can be charged from dead to 60% in 20 minutes via USB-C fast charge. The Dyson Zone is slated to ship in Fall 2022. Will these unique air-purifying headphones find an audience in the post-Covid world, or are they just too weird for real people to wear out in the real world? Could this be the ultimate audiophile headphone solution that will allow Bane to take off his mask?
Share your thoughts in the related forum thread below.

Unless otherwise indicated, this is a preview article for the featured product. A formal review may or may not follow in the future.
Confused about what AV Gear to buy or how to set it up? Join our Exclusive Audioholics E-Book Membership Program!
CharlesFields posts on November 29, 2022 02:45
Nice.
The Writer posts on November 27, 2022 08:00
I think people are thinking about this product the wrong way. I never thought about using it as a high end headphone with the added advantage of clean air. No. I thought immediately of people with asthma or those working in labs or construction. So while this may not appeal to high end audiophiles, it may well have more 'industrial' uses. Just my $0.02.
j_garcia posts on November 14, 2022 16:38
Is it April already? lmfao. I think they missed the peak Covid era by a mile. MAN, I was just at the mall this weekend and they have a storefront there. I wish I had seen this because I would have gone in just to laugh at it.
fmw posts on November 14, 2022 16:07
Just think of how much better sound waves will sound with clean, purified air. They may be dandy headqphones. I won't find out because air purification claims turn me off. I graduated from high end audio many years ago.
Trebdp83 posts on November 09, 2022 23:10
If they add amber vision goggles and a urinary leg bag, I'm all over it.
Post Reply