Bang and Olufsen Cisco Release Security Enhanced 950 Wireless Earbuds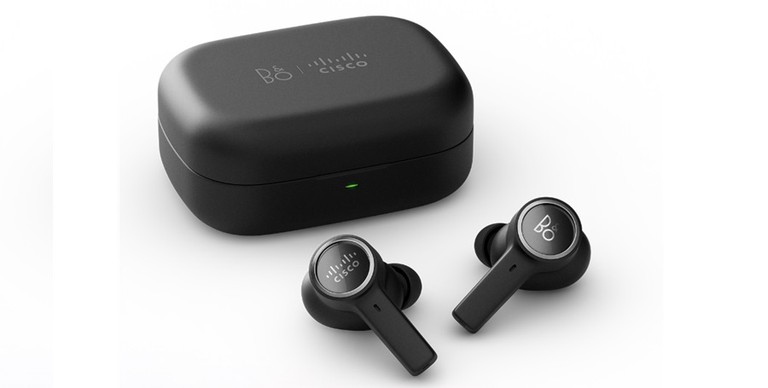 Bang and Olufsen/Cisco 950 Earbuds
Summary
Product Name:

950 Wireless Earbuds

Manufacturer:

Bang and Olufsen and Cisco

Review Date:

November 10, 2023 00:00

MSRP: $395
First Impression:

Pretty Cool
An unlikely pairing of Danish audio company Bang & Olufsen and network/digital communications company Cisco just happened with the birth of new wireless earbuds we will discuss in this article.
Earbuds have come a long way since Onkyo released the world's first true wireless earbuds back in 2015. Apple's Airpods came out a year later and STILL dominate the market with 35% sales of all wireless earbuds. Other audio companies want a piece of the popular wireless headphone market but have to find a way to set themselves apart. Some of these, like Dyson's bizarre Zone 3 Air purifying headphones, are indeed unique, but definitely comprise a niche market. Others, like Denon's PerL Pro, figures out the optimal sound for each individual, to cater to your unique ears.
I got a chance to demo the PerL Pro at the 2023 Audio Advice Live Show and the experience was transformative. After running the hearing test, the Denon's customized the sound to my hearing profile and provided the BEST IEM experience I've ever had regardless of price!
- Gene DellaSala, Audioholics
Now, Bang & Olufsen and Cisco have partnered up to create the B&O/Cisco 950 wireless earbuds. B&O and Cisco have joined forces in the past. In 2021, with the growing need for virtual conferencing, they released their 980 over the ear headphones designed for corporate customers to be worn all day. The 980 over ear headphones featured easy deployment by IT administrators and tools for managing and viewing real-time analytics from a single platform and provided enterprise-grade hardware and software protection so business calls and conversations could be kept secure.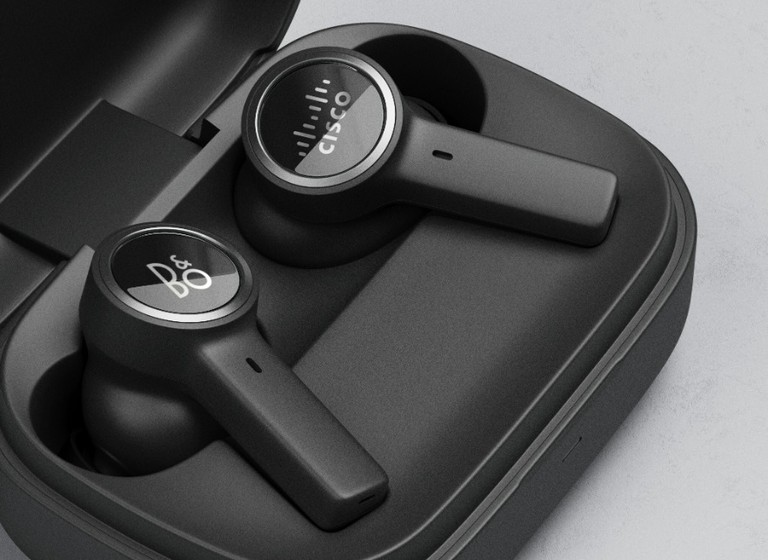 The new 950 earbuds take the enhanced security of the 980 over the ear headphones and put them in a smaller package. According to B&O, the earbuds can "seamlessly inter-operate and are optimized for Webex Meetings and Calling." addressing an ever-growing need for multifunctional devices that fit their lifestyles in and out of work. As hybrid work continues, electronic manufacturers need to enable flexibility in how and where people work. B&O have designed the 950 for "crystal-clear audio for seamless collaboration" from many settings. The earbuds are fully manageable in Cisco's Control Hub platform, giving IT greater visibility and control over their entire fleet of collaboration devices and peripherals.
As businesses continue to embrace the flexibility of hybrid work, employees need professional-grade tech solutions that enable work from any setting. We're excited to expand our partnership with B&O to deliver exceptional audio experiences with extensive functionality and timeless design and craftsmanship.
--Snorre Kjesbu, Senior Vice President & General Manager of Webex Devices at Cisco
Key Features of B&O 950 Earbuds

B&O. estimate at 5 hours talk time for the 950. By comparison, the Apple Airpods Pro (3rd gen) provide a 4 hour talk time. Pretty much all Bluetooth earbuds in this price range come with some sort of noise cancellation. We've found with most earbuds, the noise cancellation does get better as the price increases. The software and hardware does a better job at reading the environment and almost instantaneously relates that information to the earbuds to compensate for what is going on around you. We won't know the extent of the noise cancellation until we get a set in for trial though, but from what we've seen of their 980 headphones, we expect the adaptive active noise cancellation from the earbuds to be exceptional. The earbuds come with Bluetooth 5.2 which is expected, but the ability to pair with two active connections simultaneously and the addition of an app for the earbuds is an unexpected bonus.
We're excited to expand our partnership with Cisco to deliver the Bang & Olufsen Cisco 950. Equipped with Cisco's advanced features for secure collaboration and Bang & Olufsen's unparalleled capabilities in sound innovation and design, these earbuds are perfect for hybrid workers who want immersive audio experiences.
--Duncan McCue, Vice President Business Development & Strategic Partnerships, Bang & Olufsen
The 950 comes with "Enterprise-grade security and management features." Which allows IT admins to easily maintain and securely update the device in Webex's Control Hub, the central dashboard for Cisco Collaboration Devices and Webex services. They can also get insights on device inventory and utilization, to help maximize their return on investment. The new earbuds are optimized for Webex and pairs with other Cisco collaboration devices, with call controls and prioritization for calling and meetings.
I talked at length with a friend about the new cyber security features of the 950 earbuds. She was excited at the new technology and the prospect of using a device such as this for meetings either at the office or at home. If anything else, it's the security features of the B&O 950s that sets them apart from other earbuds in the $300-$400 range.
While my office is utilizing Microsoft Teams and a work-from-home structure for a majority of operational meetings, anything with Bluetooth capabilities cannot be used with a government device. The government laptops we use for these meetings, both in the office and working from home, do not allow for Bluetooth connectivity due to security issues. Although the enhanced security of the Bang & Olufsen / Cisco 950 is a step in the right direction. Independent contractors have more leeway with Bluetooth devices and could have a greater use for a technologically innovative product such as this.
--Allison Archer, Systems Engineering Specialist
I like that the earbuds come with four sets of silicon tips and one pair of foam tips to help find your unique fit and that they are IP54 rated, which means that they are not only waterproof but also dust and sand resistant.

I also personally like stemmed earbuds over round ones, so I like the look of the new B&O 950s. The addition of tempered glass, aluminum and silicon in the black finish adds to the overall appearance as well. Right now they look to only come in black, but we'll see if they add a white finish in the future.
The Bang & Olufsen Cisco 950 will be available for order starting this November with an estimated retail price of $395.
Unless otherwise indicated, this is a preview article for the featured product. A formal review may or may not follow in the future.