Vizio SV470XVT 47-inch LCD
Vizio SV470XVT 47-inch LCD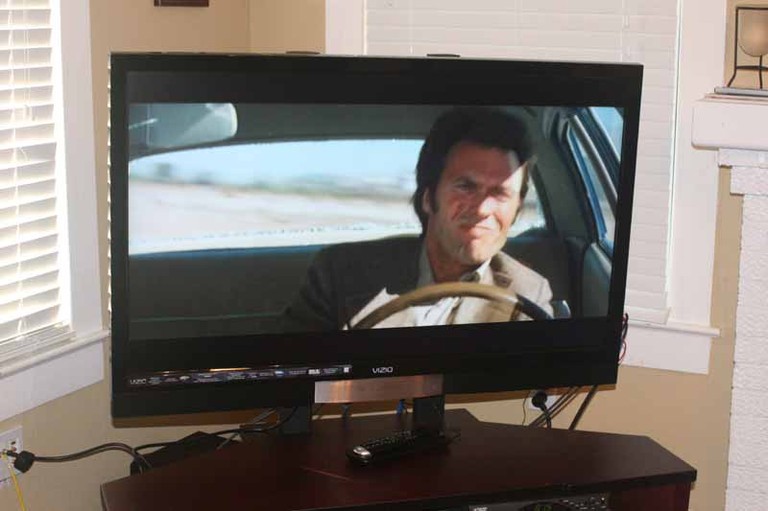 Vizio SV470XVT LCD TV
Integrated NTSC/ATSC/QAM HDTV Tuner
Native Panel Resolution: 1920 x 1080
Supported PC Resolutions: 1920 x 1080, 1366 x 768, 1024 x 768, 800 x 600
Supported resolutions: 480i, 480p, 720p, 1080i, 1080p

Panel Type: 47" Diagonal, Color TFT Active Matrix LCD
Anti-Static and hard coated surface
Response Time: 5 ms (typical)
Colors: 1.06 Billion
Brightness: 500 cd/m2 (typical)
Contrast Ratio: 6500:1 (w/DCR)
Viewable Angle: <178 degrees (horizontal and vertical)

Inputs
RF: 1
HDMI with HDCP: 4 (includes 2 side)
Analog Stereo Audio for HDMI Inputs: 1
Component YPbPr plus Stereo Audio: 2 (includes 1 side)
Composite Video: 2
S-Video plus Stereo Audio: 1
Computer RGB (HD15) plus Stereo Audio: 1

Outputs
Analog Audio out (RCA): 1
5.1 SPDIF Digital Optical Audio: 1
Additional Information
Picture-in-Picture (PIP); Picture-outside-Picture (POP)
Closed Caption (CC)
V-Chip
3D Comb Filter
Zoom
Freeze
3:2 or 2:2 Reverse Pull-down
ATSC with 8VSB & QAM demodulation & MPEG-2 decoding
SRS TruSurround XT
Color Temperature: 6500K (standard), 5400K and 9300K
Color Fine Tuning: Independent Red, Green and Blue
Audio: Built-in 10W x 3
Panel Life: 50,000 hours
Power: Removable IEC Connector
Voltage Range100 ~ 240 Vac at 50/60 Hz
Power Consumption: 400W average
Removable Base

Vizio One Year Parts & Labor Warranty
Free Lifetime Technical Support
Free On-Site Repair on VIZIO Televisions 30" and above
Zero Bright Pixel Defects Guaranteed

Weight
Gross: 77.8 lbs
Net: 62.4 lbs (56.9 lbs without stand)

Dimensions
43.9" W x 29.7" H x 10" D (with stand)
43.9" W x 28.1" H x 4" D (without stand)
Pros
Good color reproduction
Good value for picture quality
Cons
120Hz mode is unpolished
Unusually cluttered side inputs
Remote lacks discrete inputs, has insufficient backlighting
Only 1 component video input on rear of set
Introduction
Vizio has always intrigued me. And their top of the line SV470XVT 47-inch LCD TV is no exception. It's the brand I get asked about the most - probably because it's available in a majority of big box stores like SAMs, Costco and Sears. Heck, even Dell sells them online. So it's almost a monthly (sometimes weekly) event where I'll get a call from somebody asking me about the latest Vizio deal they found while they were shopping for lawn gnomes and 5 pound bags of white rice. Vizio has quickly made its mark on consumers. My job, as I see it, was to see if that mark should extend to those readers who grace the pages of our magazine.

See also:
Confused about what AV Gear to buy or how to set it up? Join our Exclusive Audioholics E-Book Membership Program!
Recent Forum Posts:
gobats posts on February 14, 2009 08:58
Sorry, I placed my response at the wrong place. It should have gone to bandphan. I agree with your review. I also think that if Vizio endures; recognition will come. It does appear that they have a corner on the entry level market. No one knows what the shelf life of Plasma and/or LCD is ,unlike CRT, Time will be the measure.
gobats posts on February 14, 2009 08:43
I totally agree. They shave on after sale customer support. To me that is part of the sale. The majors, specifically Panasonic do just that with their products. Five years off existance is hardly a bench mark of endurance. If Vizio abandons the entry level market, someone else will seize that opportunity.
tmankiller72 posts on February 12, 2009 13:57
Hello, I just wanted to say that I own this TV ,picked it up for $999 at you guessed it Costco. It delivers a good picture with very good contrast ratio and color . Black levels aren't up to par with Sony XBR's or Samsungs . For the price it is a very good buy ….with that said it is no where near my calibrated Panasonic 58px 600u plasma …mind you this is a larger screen that is "only" 768p being compared to a smaller 1080p screen and the Panny plasma still looks much cleaner and more natural.
allargon posts on November 13, 2008 17:39
I can't believe people on an audioholics forum are even mentioning TV speakers as an option. Vizio's are good for the price, but a calibrated Vizio is no match for a calibrated Sony XBR, Panny plasma or Pioneer plasma. I doubt if a Vizio will even beat a Toshiba. However, Vizio's are good for the price. Plus, they beat those overrated Philips on features.
LukeR posts on November 13, 2008 11:24
I'm interested to see about the 50" plasma too. The have it on vizio.com and with the HQV and SRS TruSurround HD it could be really amazing especially at the prices they are posting. Lemme know if you go for it.
Post Reply