TCL Goes Big With Affordable 8K TVs and New 85-Inch 'XL Collection'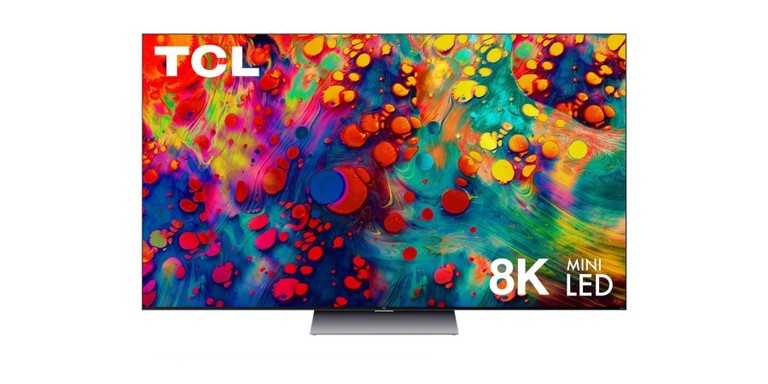 TCL 6-Series
Summary
Executive Overview
When TCL first launched its 6-Series televisions in 2018, the company threw down a metaphorical gauntlet in the face of more established competitors who were vying for the title of Best Affordable TV. In the US, Vizio had been the unofficial champion of the cheap TV, but TCL made a strong case for itself thanks to solidly "good-enough" picture quality and Roku's user-friendly interface. And like Vizio, TCL was not content to stick to entry-level products. In 2019, the company's 8-Series TVs became the first in the world to use mini-LED backlighting. As the name suggests, mini-LEDs are much smaller than the ordinary LEDs used in most LCD TVs, so a larger number of them can be crammed onto the back of the panel. This leads to blacker blacks, more precise backlighting, and improved brightness. In 2020, TCL brought this technology — along with a true 120Hz refresh rate — to its midrange 6-Series 4K TVs, pushing the performance-per-dollar ratio of those sets through the roof. (A 65-incher retails for about $950.) As a result, the 2020 6-Series TVs garnered praise from both customers and reviewers, while the competition tried to play catch-up. Only at CES 2021 did the bigwigs at LG and Samsung announce their first mini-LED TVs. So, how could TCL continue this trend of bringing next-gen technology to its midrange 6-Series TVs?
Introducing the world's first Mini-LED TV and innovating faster than the industry is made possible by our expanding vertical integration where all core components are designed, integrated and manufactured in-house by TCL.
— TCL
The answer is simple, on paper at least. Just make them all 8K. And so, just as Prometheus stole fire from the gods and delivered it to humankind down on Earth, TCL has snatched 8K resolution from the greedy grasp of the big, expensive flagships, and is making it accessible to the everyday TV buyer in 2021. The 2020 6-Series, with its 4K resolution and impressively low prices, will remain available alongside the new 2021 6-Series, which will be 8K across the whole range. TCL has not yet revealed the pricing for the new TVs, but I think it's safe to assume that they will be the most affordable 8K TVs on the market when they land on store shelves later this year. They will continue to use mini-LED backlighting, and will "intelligently upscale" 4K and 1080p content to 8K. Ay, there's the rub, as Hamlet would say. There is essentially zero 8K content to enjoy on your new 8K TV. It's clear that 8K resolution will be the next quantitative jump for the TV industry (though I am more interested in new display technologies, such as the scalable, self-emissive micro-LED displays that are just beginning to enter the extreme high-end of the consumer market). Most of the big players, including Samsung, Sony, and LG, now have 8K models in their lineups, and they'll happily tell you that these TVs offer 4 times as many pixels as a 4K TV. But right now, there's virtually zero native 8K content, aside from a small selection of videos on YouTube. The new Xbox Series X and Sony PlayStation 5 consoles are capable of delivering 8K gaming, so that's one potential source of future high-resolution entertainment to feed to your 8K TV. And Samsung's Galaxy S21 smartphone can record video in 8K, so you can always roll your own 8K movies, if you're into that. But most of us will have to wait quite a while for the 8K revolution. Those who want to future-proof their purchases might choose to buy an 8K TV now, just so they won't feel the urge to upgrade a few years down the line. But early adoption can be a risky move too. By the time a large amount of 8K content becomes available from Netflix or Amazon, your 2021 TV might no longer have the latest version of HDMI, or the newest buzz-worthy feature from Dolby. In order to entice today's customers to buy into 8K, manufacturers like TCL emphasize how well their TVs use a combination of computing power and clever software to upscale all content to 8K. In the case of TCL's new 6-Series TVs, that's the responsibility of the company's flagship AiPQ video engine, complete with machine-learning artificial intelligence.
The big news this year is that 8K is coming to the 6-Series for the first time! All of the new 2021 6-Series TCL Roku TVs that will be introduced on the market will be 8K, which has incredible resolution, and incredible performance.
— Aaron Dew, Director of North American Product Development, TCL
The XL Collection of 85-inch TVs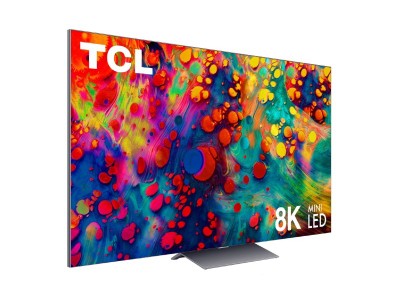 In 2020, TCL launched two 8K TVs in other parts of the world, and planned to bring 8K models to North America before the end of the year. As we all know, 2020 didn't go according to plan for anyone. But TCL is still ahead of the game, and according to the company's Director of North American Product Development, Aaron Dew, there will be several new 8K models in 2021, including an 85-inch flagship that will be separate from the 6-Series offerings. This flagship will be part of a three-model XL Collection, which promises to deliver big screen sizes across a range of price and performance levels. As exciting as 8K resolution may be to some enthusiasts, when it comes to sizing up a TV, the average buyer cares more about inches than pixels. According to Dew, "Screen size is the most important consideration for TV buyers." Until now, TCL's biggest TV was a 75-incher. That's plenty big for most folks, but for some, bigger is always better. And it's true that bigger screens can deliver a more immersive field of view that better replicates the experience of going to the cinema — something that many of us are still unable to do because of Covid-19. We've seen the trend of bigger screen sizes sweep across the industry — Sony and LG both introduced new 83-inch OLED TVs this year, for example. So it makes sense that TCL has announced a three-strong XL Collection of 85-inch TVs, starting with an entry-level 4-Series model called the 85S435, which is available now for $1,600. This is a basic 4K LED TV, so it lacks the quantum dots, mini-LEDs, and higher refresh rates of TCL's costlier options. If you're willing to wait, you can step up to the 85R745, which will launch later this year (price TBD). The 85R745 will feature a 4K QLED panel with full-array local dimming, Dolby Vision, support for VRR (Variable Refresh Rate), and a 120Hz HDMI input. TCL did not specify whether the 85R745's local dimming would be powered by mini-LED. But there will also be a flagship 8K TV rounding out the 85-inch XL Collection, and it will feature TCL's third-generation mini-LED technology, called OD Zero (more on that in a moment). The price and model number of the 85-inch flagship have not yet been revealed, but TCL promises a new super-thin design that should allow it to compete with OLED TVs in the style department. And while it might go without saying, the larger screen size of the 85-inch flagship will allow the higher resolution provided by the 8K panel to really shine. On a smaller screen, the difference between 4K and 8K might be difficult to see from a typical viewing distance. On an 85-inch screen, those extra pixels may come in handy.
Mini-LED and OD Zero
As I mentioned at the start, TCL was way ahead of the curve when the company introduced its high-end 8-Series TVs in 2019, which were the world's first to use mini-LED backlighting. When the midrange 6-Series adopted mini-LED tech in 2020, TCL was still the only game in town. But now, LG and Samsung have finally caught up and are releasing their first mini-LED TVs. So what makes mini-LED so desirable? The tech offers a number of advantages over the (significantly) larger LEDs used to backlight a typical LCD TV. Because mini-LED lights are so small, a TV panel can employ tens of thousands of them, tightly packed behind the display. This configuration allows the TV to distribute light more evenly across the screen, resulting in more uniform colors. Mini-LED TVs also enjoy very high peak brightness, and deeper, more even black backgrounds during dark scenes. The high number of mini-LED lights allows for a much higher number of individually-controlled local-dimming zones. (For example, Vizio's top-of-the-line 75-inch P-Series Quantum X TV has an unusually high number of local dimming zones for an ordinary LED TV, at 480. But the 75-inch TCL 8-Series mini-LED TV has about 1000 zones, thanks to those tiny mini-LEDs.) More zones equal more precise control over smaller sections of the screen, and that comes with a whole host of meaningful improvements to picture quality. For example, it reduces the number and severity of unwanted artifacts, such as the "halos" of light that can appear around small, bright objects in front of a black background. Stars shining in an otherwise dark night sky would be the classic example. (OLED TVs are still the gold standard for reproducing this kind of image. Since each OLED pixel emits its own light, each pixel can be turned completely off.) The increased precision provided by a greater number of local-dimming zones also produces an image with more perceived depth. This increase in depth perception is a result of deeper blacks, which contribute to an overall boost in contrast, and increased shadow detail. In fact, a mini-LED TV should deliver better detail in both the darkest and the brightest sections of any given image, compared to a conventional LED TV. To put it another way, mini-LED TVs offer higher peak brightness than OLED TVs, while offering black level performance that gets closer to the benchmark set by OLED.
In 2021, as competitors LG and Samsung launch their first-ever mini-LED TVs, TCL is introducing its third generation of Mini-LED technology, called OD Zero. The name refers to the "optical depth" (the space between the backlight and the LCD layer), which has been reduced to zero for the first time in any LED/LCD TV. By eliminating this space, TCL's new mini-LED design allows for a new ultra-thin panel, without compromising on performance. In fact, the first confirmed product to feature OD Zero promises to deliver improved performance (thanks to another increase in the number of local dimming zones) despite the reduction in the panel's thickness. According to the company, the OD Zero panel boasts "tens of thousands of Mini-LEDs and thousands of Contrast Control Zones for striking brightness, precision contrast, and smooth uniformity." TCL's new 85-inch 8K flagship TV will definitely be sporting the new OD Zero mini-LED design, but TCL has not revealed whether OD Zero will trickle down to the 8K 6-Series TVs arriving sometime this year. (My guess would be no.)
OD Zero is our next innovation in Mini-LED technology. OD Zero, or Optical Depth Zero, refers to the distance between the backlight and LCD display layer in TVs featuring this technology. In another industry first for TCL, that distance is now zero. The result? Same precision contrast and brilliant luminance, but in a revolutionary new design for our thinnest QLED TVs yet.
— TCL
Editorial Note about OD Zero:

According to CNET's David Katzmaier, TCL did make a point earlier this year to clarify that OD Zero is not the same as the "Vidrian" mini-LED system that the company showed off as a prototype at CES 2020. TCL describes Vidrian as "the world's first TV backlight with the driving semi-conductor circuitry and tens of thousands of micro-meter class mini-LEDs directly infused in a crystal-clear glass substrate. Vidrian Mini-LED technology is the next stage in pushing LCD LED TV picture performance to unrivaled levels of sharp contrast, brilliant luminance, and highly stable long-life performance." This is a change not only to the design of the LED system, but also to the traditional printed-circuit-board manufacturing techniques that are used to produce existing LED-backlit LCD TVs. The Vidrian production process involves melding the "semi-conductor circuitry together with a crystal substrate (to) deliver greater efficiency, greater light precision, and greater luminance output." For now, TCL hasn't announced any Vidrian TVs for the US market. But in March of 2021, the company did announce a product for the Asian market called the TCL X12 Vidrian Mini-LED Smart Screen. This 85-inch display combines the Vidrian manufacturing system with the third-gen OD Zero mini-LED technology described above. But its price (the equivalent of about $15,000) was perhaps unrealistic for a launch in the US, where TCL is still considered more of a value brand than a prestige brand. To put that price into perspective, Sony's 83-inch Master Series A90J OLED TV is expected to sell for about $8,000 when it becomes available later this year.
Conclusion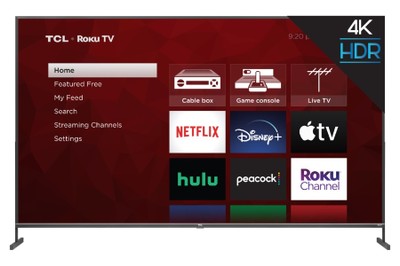 TCL should release more details on its new 2021 TVs fairly soon, including pricing, availability, and detailed specs for each individual series. For now, we have a good idea of what to expect. At $1,600, the 85-inch 4-Series 85S435 is one of the most affordable TVs in its size class. Though we don't yet know the pricing of the 8K 6-Series TVs, we can safely assume that they will be priced extremely competitively (even aggressively) compared to other 8K mini-LED TVs, such as the LG QNED MiniLED 99 Series and the Samsung QN900A Neo QLED. And it will be interesting to see if these "high-end" mini-LED TVs from the big Korean brands will outperform TCL's 85-inch 8K flagship, with its OD Zero mini-LED backlighting system. As we've seen in the last few years, TCL can definitely make an excellent affordable TV. The 2020 6-Series with mini-LED backlighting, a 4K QLED panel, and Dolby Vision starts at just $699 for the 55-inch model. But can the company take on the likes of Sony, Samsung, and LG when it comes to big, high-end TVs? Or perhaps this will all turn out to be a moot point. Why wrestle over who makes the best LED/LCD TVs when OLED still reigns supreme when it comes to black-level performance, off-angle viewing, and several other picture-quality parameters? Will LED/LCD TVs continue to improve, or are we witnessing the stubborn death rattle of a platform that simply can't compete with the best technology of today (OLED) and tomorrow (micro-LED)? Share your thoughts in the related forum thread below.

Confused about what AV Gear to buy or how to set it up? Join our Exclusive Audioholics E-Book Membership Program!
Recent Forum Posts:
BMXTRIX posts on August 23, 2021 08:30
Replicant 7, post: 1500378, member: 96226
Instead of starting another thread, anyone has the Sony 65" X90J? Asking cause from the reviews seems to be about the best mid-tier TV for the money plus it's on sale. Anyone who may have this model thoughts would be appreciated. It is ony list to get in a month.

I would start another thread completely since this thread isn't a discussion of 65" OLED displays for your specific room.
That said, the Sony is likely the best out there. The only real question is if it is worth the premium over the LG C1. If your room and viewing habits support OLED, then the Sony is what I would consider the best. But since LG is only a hair worse, I would likely just get the LG instead.
little wing posts on August 21, 2021 18:44
Replicant 7, post: 1500378, member: 96226
Instead of starting another thread, anyone has the Sony 65" X90J? Asking cause from the reviews seems to be about the best mid-tier TV for the money plus it's on sale. Anyone who may have this model thoughts would be appreciated. It is ony list to get in a month.

I would go check it out, at maybe BB. Ask the folks there what they think of it. Usually, somebody there can offer some decent advice. Read the customer reviews and any expert reviews. And use the sum of all that information to make your decision. That's how I came to choose the 950H. Normally a Sony is a pretty safe bet for a quality picture. No TV is perfect though..
little wing posts on August 21, 2021 18:40
Hetfield, post: 1500344, member: 80792
Wow 8 grand! I bet it's incredible though.

Sent from my Pixel 4 XL using Tapatalk

That's boatload of cash for a TV. But I'm sure it is incredible. I got the 75 950H and I'm real happy with it for I spent. Really good picture. I'm not a gamer at all, just movies shows and sports. And at an 11' viewing distance, it's good…..for now
Replicant 7 posts on August 21, 2021 16:00
Hetfield posts on August 21, 2021 12:11
Post Reply