The Samsung 8K UHD 2020 TV Lineup: Gen Z Innovator or Too Far Ahead of Their Time?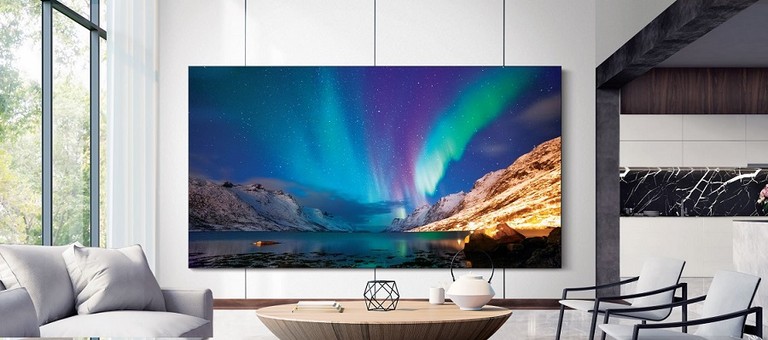 Samsung 2020 QLED Displays
Summary
Executive Overview
With CES and the Super Bowl well behind us and CEDIA still 6 months away, TV purchases may not be at the forefront of everyone's mind.  This also means that most of the displays released at the beginning of the year are now shipping and are available for purchase, including some of the most spectacular displays we've seen this year from electronics giant Samsung.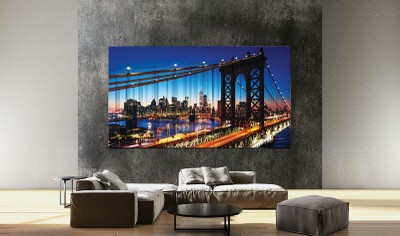 The 2020 Samsung TVs include MicroLED, QLED 8K, new display sizes, 8K AI upscaling capabilities, innovative display orientation technology, and more. 
"Consumers use screens every day to work from home, exercise from home, and even shop from home. As our lifestyles continue to evolve, the TV screen is evolving with them to provide consumers access to their favorite content and real-time information whenever and wherever they want it.  As part of our vision of 'Screens Everywhere,' we're thrilled to deliver a more vivid and connected at-home viewing experience by incorporating AI-enabled features and 8K technology into our displays."
-- Jong-hee Han, President of Visual Displays at Samsung Electronics
Samsung is doubling down on its MicroLED technology releasing a whole series of modular MicroLEDs TVs.  The MicroLED displays offer an amazing picture quality and deliver greater depth, better resolution, and higher clarity as well as a peak brightness of 5,000 nits. The MicroLED TVs use millions of tiny LEDs to improve on the advantages of OLED TVs to give you blacker blacks and higher contrast levels without OLED's limitations like the tendency for burn-in.
With 75, 88, 93, 110, and 150-inch models, the Samsung MicroLED TVs have the larger display sizes covered. In particular, the new 88- and 150-inch MicroLED models introduce ultra-slim infinity designs, virtually removing all four sides of the bezels for a finish that blends right into any wall. Here's the cool part…you can connect multiple MicroLED panels to create new combinations and adapt your TV for your specific space.
Samsung 2020 8K QLED TVs
Samsung's flagship Q950TS QLED 8K TV is the industry's first 8K TV to combine a striking, ultra-thin form factor, premium 8K picture quality, and impressive surround-sound audio. Plus, the Q950TS introduces the 'Infinity Screen,' which produces a screen-to-body ratio of 99 percent to create an unprecedented viewing experience.
The Q95OTS has stunning 8K resolution and is equipped with the AI Quantum Processor 8K. It has built-in 8K AI upscaling and deep-learning capabilities that can automatically upscale non-8K content to near 8K resolution. With a feature called Adaptive Picture, it can also optimize the screen to both ambient conditions and individual images. The AI Quantum Processor – the powerhouse behind the flagship display – is also helping to power Samsung's open smart home platform, Tizen, enabling users to experience everything from enhanced picture quality to heightened usability to other connected home functions.
Besides 8K picture quality, the new QLED TVs from Samsung come with premium sound features: Q-Symphony, Object Tracking Sound (OTS), and Active Voice Amplifier. These features maximize immersive sound by delivering dimensional and dynamic audio that corresponds with large-screen viewing experiences.
The Sero
Samsung is also growing its portfolio of Lifestyle TVs with an expanded rollout of The Sero. The Sero, which means "vertical" in Korean, can pivot between horizontal and vertical orientations, just like a smartphone or tablet.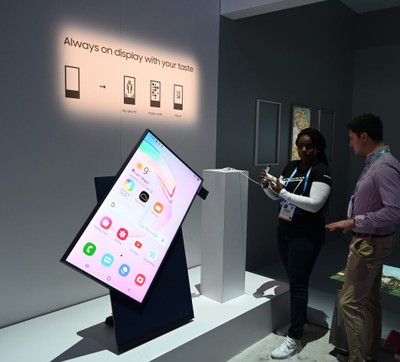 Following its initial rollout in South Korea last year, Samsung is set to expand The Sero's availability to several global markets in 2020. The Sero's display orientation technology connects your mobile devices to smoothly and naturally display content in traditional horizontal formats, as well as vertical formats designed for mobile consumption. This unique concept allows you to enjoy a variety of content, including social media, YouTube and other personal videos, in whatever display orientation mirrors their mobile device.
"Consumers today expect TVs that can fully integrate into their lifestyles. Samsung is redefining the role of the screen delivering new digital services and creating new designs to enhance your life."
-- Grace Dolan, Vice President, Home Entertainment Integrated Marketing at Samsung Electronics America
Geared toward millennial and Gen Z consumers, The Sero features a modern design that stands out in any space and includes a range of different display features that extend functionality when it is not in use.
What we think

Businesses with extravagant tastes and the money to back them will like "The Wall", a massive 150" 8K MicroLED display priced at around $100,000!
Like OLEDs and 4K before, the price and availability of content might be out of reach of most people or even unavailable, but at least we're already seeing some YouTube videos at 8K resolution so the technology is becoming available now.
Samsung has some amazing displays available to both consumers and businesses with unique features that push the boundaries of what a TV is meant to do. This forward thinking like spinning TVs for a YouTube, Instagram, and Snapchat generation may be just what consumers are looking for...or maybe not. 
15 years ago I attended an event on technology of the future. The keynote speaker said that within a few years everyone in the audience would have a PDA (personal desktop assistant) in their hand that would keep your whole life in order.  We all laughed and quietly dismissed him. Two years later the iPhone was released and changed the world.
Confused about what AV Gear to buy or how to set it up? Join our Exclusive Audioholics E-Book Membership Program!