Microsoft Shows Off Striking Design With Their Surface Studio 2
Microsoft Surface Studio 2
Summary
Product Name:

Surface Studio 2 Computer

Manufacturer:

Microsoft

Review Date:

November 18, 2019 01:00

MSRP: $3,499 - 1 TB, Intel Core i7, 16 GB RAM
First Impression:

Pretty Cool
Executive Overview
With a huge and growing portfolio of consumer software, personal computers, and lifestyle products, Microsoft is a company that needs no introduction. Their huge glass-paneled headquarters in Redmond, Washington, which in itself is a remarkable feat of architectural design, constitutes the birthplace of their visions and commitment to achieve something out of the ordinary. With this line of thinking, it is no surprise that the company has garnered multiple awards for a variety of their already well-established product range.
The Surface Studio 2 is the latest in their Surface division of touchscreen-based personal computers. Released at the end of 2018, the Studio 2 is an all-in-one desktop experience that features a striking 28-inch 4800 x 3000 touchscreen display on top of Microsoft's extremely well-engineered 'zero-gravity' hinge mechanism. This allows the whole 28-inch canvas to be adjusted to near-flat surface with the force of a single fingertip. With the canvas in the full upright position, the hinge disappears giving the illusion of a floating monitor display. This can quickly be adjusted to a futuristic-looking digital drafting table in the flat-most position.
Coupled with the thin chassis of the monitor, the Surface Studio offers a breath-taking design which is quite unlike anything seen in the current marketplace. Practicality is further heightened with the addition of Microsoft's magnetic stylus which boasts 4096 levels of sensitivity in addition to the implemented 10-point multitouch support. At a starting price of $3,499, the Studio 2 represents a significant investment for creatives, media professionals and general consumers alike wishing for a luxurious tech experience.
The Packaging

The Microsoft Surface Studio 2 arrives in a grand classy white box which substitutes the original Surface's owl graphics for a dynamic color burst display. As with Apple products, the packaging exudes a premium feel which fits in line with a flagship product.
Inside the box, the desktop rests in plastic cut out with foam inserts for protection. Also included within a wedge-shaped box is the owner's manual and in separate boxes are the surface keyboard, mouse, stylus and power cord. 
One point to note is that Microsoft does not include the Surface dial as part of the accessories which is a shame seeing as it already is an expensive item. Nevertheless, the keyboard and mouse tie quite nicely in with the Surface's overall aesthetic with the grey on silver design.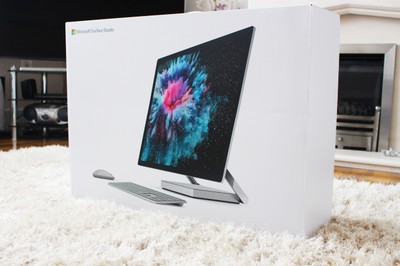 The Display

Microsoft has pulled out all the stops in their flagship Surface product to produce a magnificent display that their very own engineers have touted as a 'floating sheet of pixels'. The mammoth 4800 x 3000 canvas features 13.5 million pixels in a 3:2 aspect ratio which is said to boost productivity and provide tonnes of space in photo-editing applications, online magazines, and word processors. The only potential drawback would be the 16:9 standard of videos and films giving a black bar appearance. However, with the amount of real estate already provided, this becomes a non-issue when watching movies or videos for a longer duration.
Akin to its predecessor which also features the same resolution display and 4K support, the Surface Studio 2 goes one step further by increasing brightness (by 38%) and contrast performance (by 22%). Often at times, the Studio 2 felt glaringly bright at higher settings but this can easily be adjusted in either settings mode or a single tap of the F7/F8 keys. There are three color profiles to choose from: sRGB (standard), DCI-P3 (cinema) and Vivid (P3-D65). For those whose work revolves around serious photography and requires accurate color reproduction, the sRGB is the de facto standard whereas the other two can be chosen to better suit preferential media consumption tastes.
Subjectively, the screen looked glorious in all dimensions with a bright and vivid screen that is both crisp and uniform. Online magazines looked immersive and websites such as Google Earth appeared captivating.
Testing was also done objectively on the SpyderX Elite monitor which is a fantastic device for calibrating monitors to professional standards as well as offering powerful display analysis.
In the analysis, the Surface Studio 2 produced a striking 531.9 nits of brightness at the maximum setting with a contrast ratio of 930:1. This was supported by subjective deep blacks and bright whites.

Screen uniformity generally tended to be excellent in the areas of color brightness and luminance. The only problem areas tended to be at maximum brightness setting where the bottom left and top right quadrants demonstrated delta E levels of >4. Luminance uniformity was also marginally affected at all brightness levels in the bottom right and left quadrant (with variations of between 5 – 8% difference from maximum). However, subjectively it was hard to discern these differences.
Color accuracy was also a strong suit of the Surface Studio 2 which demonstrated average delta E readings of 1.2 minimizing differences between color inputs and international standards. For those who are serious about color reproduction, data color has a brilliant device named 'ColorReader' which allows users to obtain industry matched color values from sample materials.
All in all, the Surface Studio tested great in both subjective and objective domains.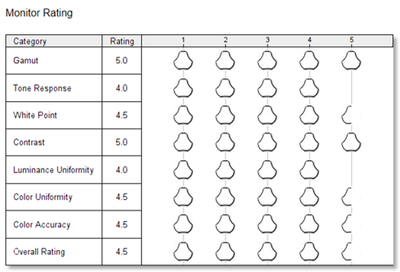 The Audio

The Surface Studio 2 has frontloaded eight speakers in the display of the monitor and two more in the base. They have cleverly engineered it so that no speaker grills can be seen and the speakers are hidden seamlessly within the display and base. This allows the Studio 2 to look like a uniform device which reinforces its minimalist feel.
Overall, audio quality is decent for an inbuilt setup; the system can easily reach high volumes, albeit with some distortion towards the maximum. Stereo separation is also good with the ability to discern instruments and vocals from either the front right or left pans. For most tracks, the perceived volume seems to emanate from the center of the screen.
In 'The Best Thing' by Mark Wilkinson, vocals possess a rich quality with little to no sibilance to allow for an extended listening period. Perhaps there is an element of grit and macrodynamic impact that is missing compared to more expensive setups. Similarly, in 'And Then She Was Gone' by Alex Hutchings, the riffs of the electric guitar soar with greatness with little to no coloration.
Despite being a '2.1 Stereo Setup', sub-bass does leave something to be desired as the extension is just not there. Perhaps this is something Microsoft can address in their next iteration. However, it does leave one wondering where an appropriate subwoofer should be placed seeing as the base is already compact and filled with all the desktop's internals.
All in all, despite being adequate for casual listening the Surface Studio 2 definitely benefits from a proper speaker surround sound system. The Ferguson Hill FH007 is one example of a Bluetooth operated bookshelf system that provides the body, height, and depth necessary to upheave the Studio into a more compelling audio experience. The transparent acoustic horn shape of the speakers along with the spherical mid-bass ones also adds to the futuristic and avant-garde vibe that the all-in-one PC is going for.
The Design & Build

As aforementioned, the design and build quality of the Studio 2 are second to none. It has become the standard to expect such craftsmanship from Microsoft as seen in the rest of the Surface family of products.
In the back of the monitor, the Surface supports a single slab of uniform aluminum which is the same color as the base beneath it. In between, is a chrome-colored mirrored hinge that has been engineered to prevent strong light reflections and glare. The hinge mechanism has also been the forefront of research efforts to design a smooth adjustable monitor from the full upright position to the near flat drafting table experience. At each angle, the display is very sturdy and does not move even with firm pressure applied from the included stylus. Along with the thin chassis of the display, the monitor would stand proud on any desk.
In front of the display, the 3:2 aspect ratio is reminiscent of the rest of Microsoft's tablet-like products. This is convenient as the Studio 2 can quickly be converted from the normal desktop to the tablet experience with the click of a button. Aside from that, there is also a 5-megapixel front-facing webcam with infra-red sensors supporting a very convenient facial recognition login system. Perhaps the next step for Microsoft would be to incorporate a near bezel-less display which is a trend companies seem to be adopting lately to provide even more immersion.
The company has decided to place all the ports and connections on the back of the device which represents an inconvenience for some but does rest in line with their design philosophy. Included are 4 USB connections, a 3.5 mm headphone jack, 1 Gigabit Ethernet port, a full-sized SD card reader and an all-new USB-C port allowing consumers to connect other peripherals including 4K displays and docks.
The Hardware & Performance

The Microsoft Surface Studio 2 comes in 3 configurations: a 1 TB SSD, with Intel Core i7 and 16 GB of RAM. The remaining are 32 GB of RAM and Intel Core i7 with either 1 TB or 2 TB space. The 16GB of RAM option comes with a NVIDIA GeForce GTX 1060 6 GB graphics card whereas the 32GB system opts for the higher NVIDIA GeForce GTX 1080 8 GB model. This allows users to play content-heavy games including all the modern titles. However, with the 4500 x 3000 PixelSense display (more than 4K Ultra HD), frames per second (FPS) rates would be compromised at native resolution for the latest titles and thus users are recommended to lower resolution for perfectly smooth performance at 60 FPS. This unit is the mid-tier 1 TB SSD with 31 GB of RAM model and features the GTX 1070 card.
Compared to the original's sixth-gen specs, the Surface Studio 2 opts for a seventh-generation Core i7 7820HQ processor. While its predecessor received lukewarm reception for their use of dated hardware, the Studio 2 has also achieved some of the same criticism for not utilizing intel's eighth-generation CPUs. Although there is not a night and day difference in performance, consumers may be left feeling frustrated with the use of slightly outdated components for such an expensive product. This along with the lack of upgradable internals may also be a deal-breaker for media professionals who require the best of the best specs for CPU intensive rendering software.
In benchmark testing with Passmark's PerformanceTest, the Studio 2 scored a Passmark of 4814, CPU mark of 8420, 2D mark: 637, 3D mark: 4307, memory mark of 2739 and disk mark of 14899. This places it in the upper mid to high-range tier of offerings compared to other CPUs.
In Cinebench R20 benchmarks, which measures both single and multi-core performance under different workloads, the Surface Studio 2 scored 1829 points. This is leaps ahead compared to other all-in-one CPUs such as the HP Envy All-in-One 27 (665 points) and Asus Zen AIO Pro z240ic (675 points). However, the Studio 2 trails behind Apple's latest 5K iMac which boasts 4108 points on Cinebench R20 and incorporates the latest 8-core i9 processor.
The average consumer and those who do not require such intense software requirements would be left satisfied with the speeds that the 7th generation i7 processor offers. The device felt blazingly fast with smooth performance despite 15+ tabs open, Photoshop, YouTube and even gaming on modern titles open on another window. 4K videos also streamed very fast owing to the changeover from Skylake to Kaby Lake processors which boasts better handling and faster clock speeds.
The Peripherals

The Studio 2 comes with a fully wireless keyboard and Bluetooth-operated mouse. Both devices complete the aesthetics of the desktop and fit in nicely on a minimalist desk.
The keyboard provides a fast and accurate typing experience with the neatly laid out chiclet-style keys and the mouse provides precision pointing. One feature that could have been added to the keyboard is backlight support to allow users to operate in low light environments. Similarly, the included mouse while nice and smooth to the touch could have been substituted for Microsoft's more expensive precision pointer.
Other than that, the devices were a joy to use and allowed a smooth workflow from word processing to effective clicking and dragging. The products both feel robust and well made. Even the battery cover located on the underside of each device has magnets that neatly click into place.
Creativity

Despite the Surface Studio 2 being catered towards artists and creative personnel, its flexibility and wealth of multimedia applications can see light photo-editors and even novice users benefiting from it.
An example of its application range from work in paint 3D and annotations in Microsoft Word/Adobe PDF to more advanced modeling and rendering in CAD software. The included surface pen is a real delight to use with its 4096 levels of pressure sensitivity and minimal latency (21 ms). With the display adjusted to the drafting position, users are easily able to draw free flow diagrams and annotations on the appropriate software. This is made even more convenient with Microsoft's palm rejection as well as the eraser tool located on the back of the pen.
Media suite applications such as Photoshop are also incredibly intuitive to use with the pen allowing easy selection and editing of photos. Once finished, the pen neatly stores on either the right or left sides of the device with a magnetic system.
Gaming

With the equipped Nvidia GeForce GTX 1070 8GB graphics card as well as Xbox Wireless controller support, the Studio 2 allows smooth frame rates (above 60 FPS) for modern gaming titles such as Gears of War 4 or Forza Street.
Coupled with the stunning display and the native haptic feedback for Xbox One controller, the Surface Studio 2 provides very smooth playback as well as an immersive experience. Online team-playing is also great with little to no lag (dependent on connection) and fluid animation motions. Of course, die-hard gamers could easily achieve better internals for far less but it is unlikely they would find it in a system that offers as much as the Studio 2 does.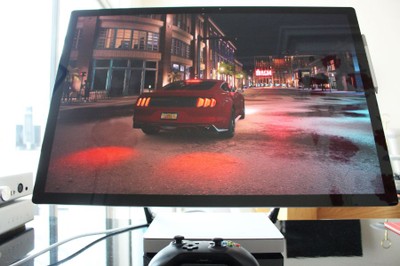 Conclusion

Overall then, the Surface Studio 2 improves upon its predecessor with a faster processor, better gaming card and brighter monitor. Yet it still retains that same stunning design which is a breath of fresh air among the scene of all-in-one (AiO) CPUs. In addition, the touchscreen and adaptive stylus offer creatives endless opportunities for multimedia content production. However, those whose work revolves around 3D modeling and rendering may be left feeling slightly short-changed with the amount of processing power for their intense CPU requirements. Microsoft's decision to implement last-gen processors has not gone unnoticed and is a bit of shame for a $3,499 plus product. Despite this, for all other requirements, the Studio 2 feels incredibly snappy and responsive and gaming is a pure delight. 4K videos look fantastic and the extra screen real estate makes multitasking a breeze. Yes, there are better value-for-money propositions but the Surface Studio 2 offers it all in a neat, multi-touch capable, visually striking package. For what it is worth, Microsoft's latest flagship AiO is certainly one where form follows function…
Confused about what AV Gear to buy or how to set it up? Join our Exclusive Audioholics E-Book Membership Program!