Vizio Readies Its New 2019 TV Lineup
Summary
Executive Overview
Since the company was founded in 2002, Vizio has risen from obscurity to become one of the top three TV manufacturers (based on US sales), initially making a name for itself by offering affordable TVs with decent performance for the highly competitive entry-level space in the market. But as Theo found in his recent review of the PQ65-F1 — the flagship model in the company's 2018 TV lineup — Vizio's higher-end TVs are now capable of performance that can challenge the best offerings from its rivals, while their relatively lower prices might make many shoppers think twice about dropping big bucks on a Samsung or Sony. Vizio is currently preparing to launch its new 2019 collection of 4K HDR smart TVs at an upcoming event in New York, where we'll learn details about pricing and availability for the latest models, which the company claims will offer "its most captivating assortment of premium picture quality technologies ever." The entire lineup will also feature VIZIO's next-generation smart TV experience, called SmartCast 3.0, with built-in support for both Chromecast and Apple AirPlay 2. This will allow users to stream or share content directly to Vizio TVs from an iOS or Android mobile device, or from a Mac computer. SmartCast 3.0 will also be the first smart TV system to work with all three of the major voice-activated virtual assistants — Alexa, Google Assistant, and Siri — allowing for easy integration with various smart-home platforms, including Apple's HomeKit. Vizio's 2019 TV offerings are divided up into three tiers; the P-Series, the M-Series, and the V-Series.
P-Series

Like last year, Vizio is further dividing up its high-end P-Series range into two collections. For 2019, the top-of-the-line sets are designated "P-Series Quantum X," and the not-quite-top-of-the-line models fall under the "P-Series Quantum" Last year, only the flagship model had "Quantum" in its name. Why Vizio opts for such potentially confusing nomenclature remains a mystery.
All P-Series Quantum X and P-Series Quantum TVs are available in 65" and 75" sizes, and all include Vizio's quantum dot technology called Quantum Color, which the company claims helps these displays set "a new standard for discerning videophiles and home theater enthusiasts." All P-Series TVs also use Vizio's "Clear Action 960" technology and a 240Hz effective refresh rate to reduce motion blur and stabilize imagery. The P-Series Quantum X has the most advanced backlighting system that Vizio has ever used, with up to 480 local dimming zones. That's more than twice the number used in previous P-Series models. The P-Series Quantum X "dynamically adjusts the powerful Active Full Array backlight to precisely mimic on-screen content, delivering black levels that rival OLED," according to Vizio. The Quantum X is capable of up to 2,900 nits of peak brightness (an increase from the already-impressive 2,000 nits seen on last-year's flagship PQ65-F1) and utilizes more than one billion colors. The physical design of the P-Series Quantum X is a minimalist affair. "Precision-crafted aluminum with elegant diamond cut accents" complement the TV's four-sided bezel-less design, so there's little to distract the viewer from the images on screen. The step-down P-Series Quantum models feature up to 240 local dimming zones, and up to 1,000 nits of peak brightness. These sets have three bezel-less sides, also tooled from precision-crafted aluminum.
M-Series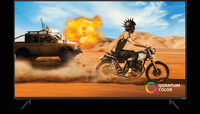 Vizio's M-Series has long been a highly recommendable middle-of-the-road TV offering a good mix of performance and value. But for 2019, Vizio is upping its game by building its next-gen quantum dot technology into the M-Series. Vizio claims that the new M-Series is the first in its class to feature the cutting-edge technology, making it an unprecedented value for consumers. Trickled down from the costlier P-Series, Quantum Color technology enables a wider spectrum of colors and gives potential buyers another compelling reason (beyond the bump in resolution and dynamic range) to upgrade from their old 1080p TVs. The new M-Series, which will range from 43" to 65" in size, will offer precise contrast control thanks to Active Full Array backlighting with up to 90 zones of local dimming (last year's biggest M-Series had just 48). Though not as bright as the P-Series, the M-Series still produces up to 600 nits of peak brightness to give impact to HDR content and specular highlights. Vizio's "Clear Action 360" technology uses powerful image processing to reduce motion blur, and the M-Series TVs achieve a 120Hz effective refresh rate using backlight scanning, "enabling a smoother, more natural picture," according to Vizio.
V-Series
The new V-Series will replace the popular E-Series and entry-level D-Series TVs for 2019. Vizio describes the V-Series as a reimagining of the former E-Series collection, designed to deliver exceptional value as the least expensive way to put a Vizio 4K HDR Smart TV in your home. Like its more expensive siblings, the V-Series offers an Active Full Array backlight (with up to 16 zones of local dimming), Dolby Vision support (in addition to HDR10 and HLG), and an intuitive smart TV interface. The V-Series will be available in a wide range of sizes, from 40" to 75", and will deliver up to 400 nits of peak brightness. Sports fans and action-movie devotees will enjoy on-screen image stability and smooth imagery, thanks to Vizio's Clear Action image processing and a 120Hz effective refresh rate, achieved with backlight scanning.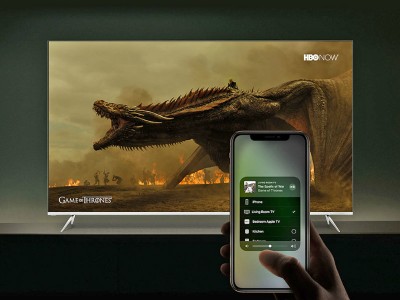 Conclusion

The 2019 lineup sounds impressive, but pricing will be a major factor in its success. Vizio faces fierce competition, both from prestige brands like Samsung, Sony, and LG, and from value-focused brands like TCL. When the 2019 offerings were first announced at CES, Vizio's Chief Technology Officer, Bill Baxter, sounded confident about the year ahead.
"Vizio has always been synonymous with value and our 2019 smart TV collection is no exception,"

"We've combined an ideal blend of brightness, contrast, and color to create a best-in-class picture across all price points. Layer on our intuitive, feature-rich smart TV platform, Vizio SmartCast 3.0, and customers receive an entertainment experience that is unmatched in the marketplace."
Do you agree? Share your thoughts in the related forum thread below.
Confused about what AV Gear to buy or how to set it up? Join our Exclusive Audioholics E-Book Membership Program!
Recent Forum Posts:
bradymartin posts on May 03, 2019 09:06
how much will the 2019 quantum x be?
Phase 2 posts on May 01, 2019 09:52
Samsung just released vertical TVs! For all you millennials.
John Sully posts on April 30, 2019 18:36
I feel another case of upgraditis coming on.
Phase 2 posts on April 23, 2019 04:47
Well just saw Sony's new 8K TV's will be available in May.
TheoN posts on April 22, 2019 16:52
Thanks for posting that. And the 75-inch has over 400 FALD zones. I can't wait to check out the Quantum X In person when it's released.
Post Reply