Sony's 2019 4K UHD TV Lineup How Do They Compare?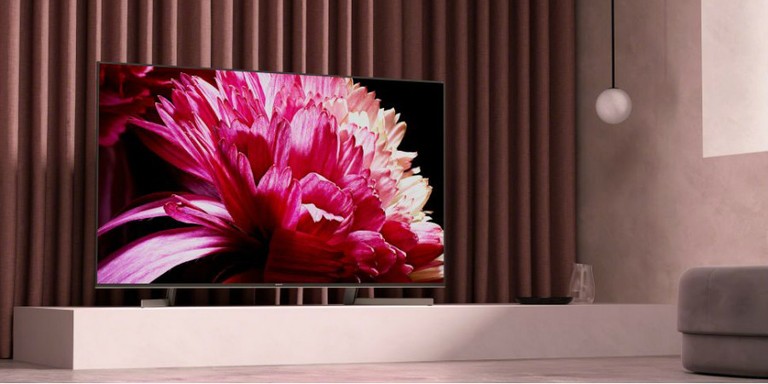 Sony's 2019 Lineup
Summary
Executive Overview
Just a few months after unveiling the first generation of its high-end Master Series TVs, which we previewed in October 2018, Sony announced new versions of its flagship OLED and LCD TVs at CES, along with a long list of more affordable 2019 TV models. Now the full details of the lineup are in, and it appears that Sony is not pulling any punches as it takes on Samsung and LG, the current leaders in LCD and OLED, respectively. The biggest news, quite literally, is the Z9G Master Series TV, Sony's first 8K set, which maxes out at a colossal 98 inches, with a $70,000 price tag to match. The Z9G, along with its Master Series stablemate, the 4K OLED A9G, will be the first Sony TVs to support Apple's AirPlay 2 and HomeKit technologies, after a firmware update expected this summer. Like the 2019 sets from Vizio and LG, the Sony Z9G and A9G TVs will be able to stream content from iPhones, iPads, and Mac computers. Apple devices will be able to control on-screen playback and send photos, videos, and other content from iTunes and a variety of other compatible apps. The TVs will be able to mirror a phone or computer screen, or be used as part of a multi-room audio setup with other AirPlay 2 compatible speakers, including several models from Sonos. HomeKit compatibility means that the TVs can be controlled by Siri, and included in home automation "scenes," in which a single command controls lighting, AV gear, and other HomeKit accessories. Sony is continuing to use Android TV as the operating system for its smart TV experience, but the 2019 sets will ship with a newer version — Android Oreo — which Sony says is more responsive and less sluggish than previous iterations. Naturally, Google Play Movies & TV will be supported, along with most of the major streaming apps. Netflix and Amazon Prime Video will both offer 4K HDR streaming. Check out the overview below for specific features and pricing information for Sony's 2019 TV lineup.
Z9G Master Series 8K LCD TV

Sitting at the top of Sony's 2019 lineup (in terms of sheer size, price, and resolution) is the Z9G Master Series 8K LCD TV, which will be available in 85-inch ($13,000) and 98-inch ($70,000) sizes when it launches this June. Those prices are not for the faint of heart, but it's worth noting that Samsung's equivalent TVs are even more expensive; the 85-inch Samsung Q900 costs $15,000, while the 98-inch version sells for an astonishing $100,000. At the cutting edge of huge, high-end TVs, Sony has issued a challenge that can't be ignored. The Z9G is, of course, packed with the company's latest tech, starting with the X1 Ultimate chip, which debuted on the first-gen Master Series TVs. The chip runs Sony's X-Motion Clarity motion processing, along with X-Wide Angle image processing. A new 8K version of X-Reality Pro upscales all content, delivering four times the resolution of a 4K TV. Sony's 8K X-tended Dynamic Range Pro works with the Backlight Master Drive feature to boost brightness when necessary and independently control the ultra-dense LED backlighting structure. The Z9G's sound system utilizes two pairs of speakers — one above the screen and one below — to make the sound appear to come from the screen itself. There is also a microphone built into the TV's bezel, allowing the user to deliver voice commands for the integrated Google Assistant. The Z9G is "Works with Alexa" certified, as well. Those who prefer to control their TV the old-fashioned way will enjoy a newly designed remote control which uses RF signals, so it doesn't require line-of-sight. Connectivity for the Z9G includes full-spec HDMI 2.1 inputs, complete with 48Gbps capability. This will allow the sets to handle higher frame rates and resolutions as they become available in the future. Variable refresh rate (VRR), automatic low-latency mode (ALLM), and enhanced audio return channel (eARC) are also included.
A9G Master Series 4K OLED TV
The A9G Master Series 4K OLED TV may not be as big as its LCD sibling, and its pixel count is certainly lower than the 33 million found on the Z9G, but many picture-quality purists will still prefer the inky blacks and wide viewing angles that only an OLED panel can provide. In fact, Sony's press release refers to the A9G as the company's "new flagship" TV for 2019. The 55-inch ($3,500) and 65-inch ($4,500) models will be available later this month, and the 77-inch ($8,000) version will follow in June. The A9G is very similar to last year's A9F — in fact its picture quality is reported to be identical to that of its predecessor — but the physical design has changed. Unlike the A9F, which had a built-in "kickstand" causing it to lean backward slightly, the A9G stands perfectly upright on a more traditional-looking pedestal stand. The A9G continues to use Sony's Acoustic Surface Audio+ technology, which uses actuators located behind the screen to vibrate the OLED panel itself to create the TV's sound. Interestingly, the A9G uses a 2.2-channel system, whereas the A9F had a 3.2-channel system. Despite having fewer drivers, however, the A9G delivers improved sound quality thanks to refinements made to the system, according to Sony. Like the Z9G, the A9G has Netflix Calibrated mode, and both IMAX-Enhanced and Dolby Atmos certifications.
A8G 4K OLED TV
The A8G 4K OLED will be available in 55-inch ($2,500) and 65-inch ($3,500) screen sizes, both expected to hit store shelves later this month. These less expensive models still offer the rich colors, deep blacks, and wide viewing angles that OLED is known for, and they're priced aggressively enough that many would-be LG buyers will consider Sony's sets to be a reasonable alternative, perhaps for the first time. Under the hood, the A8G utilizes Sony's X1 Extreme chip, rather than the more powerful X1 Ultimate found in the flagship TVs. But the X1 Extreme is certainly no slouch, incorporating three of Sony's newest technologies: Object-based HDR remaster, 4K HDR Super Bit Mapping, and dual database processing. Object-based HDR remaster analyzes the color in individual objects on screen, and adjusts contrast in order to "reproduce greater depth, textures, and more real pictures." Sony's 4K HDR Super Bit Mapping "creates a smooth, natural picture as you watch, without the 'banding' that can occur on other TVs," which can struggle to reproduce tones, shades, and gradations of light, according to Sony. Finally, dual database processing improves detail via noise reduction and upscaling.
"One database is used to clean the picture, reducing on-screen noise,"

"The other is used to upscale the resolution, improving clarity. These two powerful image improvement databases work together, dynamically improving pixels in real time. Each database has tens of thousands of references, amassed from our experience creating content for TV and movies over the years."
- Sony explains.

The A8G will no doubt be an impressive TV, and will probably be a big seller for Sony in 2019. But there is one area in which it falls behind the similarly-priced LG C9 OLED TV. Unlike the LG, and unlike most of Sony's other 2019 offerings, the A8G lacks the enhanced audio return channel (eARC) feature. This means that the A8G can't send Dolby Atmos soundtracks to an AV receiver via HDMI. Given that many buyers will want to use the TV's built-in streaming apps, and given that Netflix and Amazon Prime Video both support Atmos audio, this omission is something worth noting when considering the A8G.
X950G 4K LCD TV
The X950G 4K LCD TV is available now in 55-inch ($1,400), 65-inch ($2,200), 75-inch ($3,500), and 85-inch ($5,000) screen sizes. Like the Master Series TVs, the X950G uses Sony's X1 Ultimate processor, making it the least expensive option that offers the company's latest suite of image processing features. It's also the only Sony TV outside of the Master Series collection that will receive Apple AirPlay 2 and HomeKit support via a firmware update this summer. It is certified IMAX Enhanced, supports both Dolby Vision and Dolby Atmos, and features the same Netflix Calibrated mode found on the Master Series TVs. The X950G uses full array LED backlighting and Sony's X-tended Dynamic Range Pro technology to provide six-times the contrast of the company's conventional LED TVs.
X850G 4K LCD TV
The X850G 4K LCD TV uses an edge-lighting system rather than the full array LED backlighting found in Sony's higher-end models. The X850G comes in just one size — 85 inches — and is available now for $3,500. It uses a more basic version of the X1 processor, but does boast the same Acoustic Multi-Audio sound system that the more expensive X950G uses. This system uses what Sony calls "Sound Positioning Tweeters" to anchor the sound to the action on screen.
X800G 4K LCD TV
Sony's most affordable 4K model for 2019, the X800G is an edge-lit LCD TV available in 43-inch ($650), 49-inch ($750), 55-inch ($900), 65-inch ($1,200), and 75-inch ($2,000) screen sizes. Features include Google Assistant with voice search, built-in Chromecast, Google Home support, and "Works with Alexa" certification.
Conclusion
The monstrous 98-inch Z9G attracted a great deal of attention at CES, and by undercutting Samsung's prices by as much as 30%, Sony has positioned itself to steal much of its rival's thunder in the 8K TV market. (LG showed an impressive 88-inch 8K OLED at CES, but pricing and availability have not been announced.) Still, there are only so many people willing to spend north of $10K for an 8K TV. The real stars of the 2019 lineup may be the X950G 4K LCD TV, which brings Sony's most advanced image processing down to more real-world prices, and the A8G 4K OLED TV, which marks the first time that Sony's OLED TVs have been priced aggressively enough to compete with LG's OLEDs on a dollar-for-dollar basis. Which 2019 Sony TV looks most interesting to you? Share your thoughts in the related forum thread below.
Confused about what AV Gear to buy or how to set it up? Join our Exclusive Audioholics E-Book Membership Program!
Recent Forum Posts:
gene posts on May 23, 2019 02:12
Sony has announced pricing and availability information for its entire lineup of 2019 TVs. At the top of the heap is a 98-inch behemoth boasting 8K resolution and a fairly ridiculous $70,000 price tag. But the range also includes 4K OLED TVs at competitive prices, and a number of models that will support Apple's AirPlay 2 and HomeKit protocols. Read on to get all the details and see how it fares against the competition.
29575
Read:
2019 Sony 4K UHD TV Comparison and Product Lineup
Post Reply