AOC Q2963PM Use and Testing
AOC Q2963PM Use and Testing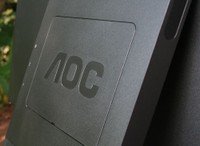 The AOC Q2963PM has LED backlighting making it very bright and quite energy efficient. The colors were brilliant and the blacks were deep (though less so around the edges. One thing that I really liked about the Q2963PM was that there was almost no reflection from the screen. Unlike some more recent LCD panels, AOC has shied away from the glass overlay that has caused many to complain about glare. The Q2963PM has the more traditional matte front which resists glare.
There are tons of setting to play with on the AOC Q2963PM. All the normal ones are there including Brightness, Contrast, Gamma, and more. You won't see the full color calibration setting without getting into some sort of hidden menu (which I'm not sure even exists) though you can adjust Red, Green, and Blue separately to hone in on proper color calibration. The AOC Q2963PM has response time adjustments, dynamic contrast (I disabled this of course), and even a "Movie" preset along with the standards. The AOC gives you far more control than a normal monitor.
The other thing it gives you that many monitors don't is speakers. They fire out the sides of the pivot panel and sound about how you'd expect - like garbage. But, garbage is better than nothing and many monitors don't even bother adding speakers. You can pipe in the audio from the 3.5mm jack or over HDMI (and probably DisplayPort but I didn't have a way of testing that).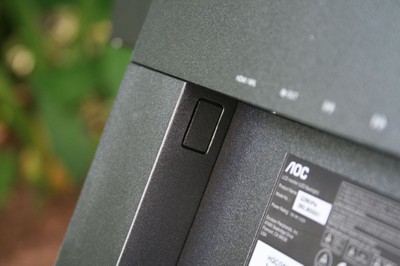 It was very easy to release the display from the base

From a subjective point of view, the AOC Q2963PM looked great. Colors were vivid and there was no apparent artifacts or processing issues. Of course the hardest part of getting a monitor up and running is not the calibration but making it work with you computer. AOC hosts a driver on their site but you'll need to make sure your video card can output the proper (2560 x 1080) resolution. Even with that, if you plan on using DVI, you'll need to make sure you have a true, Dual-link cable. In my situation, I could only output up to 1080p (1920x1080) so I was stuck with black bars on the sides. If this were going to be my main display, I'd be looking at video cards right now.
Testing
After playing around with the Picture-by-Picture and other settings, I got down to some serious testing. Using an Oppo DV-9790HD DVD player connected to the HDMI input on the AOC Q2963PM, I queued up the HQV test disc. The Oppo was set to output 480i at a 4:3 aspect ratio. This forces the AOC Q2963PM to do all the scaling. I set the Q2963PM to 16:9 aspect and ran through the various tests.
HQV SD Tests
AOC Q2963PM Benchmark total score: 60/130
Test

Max
Points

Results

Pass/Fail

Color Bar

10

10

Pass

Jaggies #1

5

5

Pass

Jaggies #2

5

5

Pass

Flag

10

0

Fail

Detail

10

10

Pass

Noise

10

0

Fail

Motion adaptive Noise Reduction

10

0

Fail

Film Detail

10

10

Pass

Cadence 2:2 Video

5

0

Fail

Cadence 2:2:2:4 DV Cam

5

0

Fail

Cadence 2:3:3:2 DV Cam

5

0

Fail

Cadence 3:2:3:2:2 Vari-speed

5

0

Fail

Cadence 5:5 Animation

5

0

Fail

Cadence 6:4 Animation

5

0

Fail

Cadence 8:7 animation

5

0

Fail

Cadence 24fps film

5

5

Pass

Scrolling Horizontal

10

10

Pass

Scrolling Rolling

10

5

Pass

Total

130

60



Comments on HQV Tests:
I wasn't at all surprised at the HQV tests with the AOC Q2963PM. It did fine with the basic jaggies tests and perfectly with 3:2 pulldown. It failed miserably at the noise test (I was shocked how much noise was left in) and didn't even try with the cadence tests. As a monitor and not a TV meant to be used with your home theater, I don't see any problems with these tests. Most of your sources are going to be either some sort of computer or a DVD or Blu-ray player. You're going to want to make sure your sources are good but beyond that, I think these results are fine for a monitor.
In Use
After I finished the tests, I grabbed the DVD on the top of a pile (I'm still unpacking from my move back from Australia). It happened to be a Superbit version of Desperato. I am a huge fan of this movie and I'm glad I got the Superbit version before they stopped making such things. This allows for much cleaner upscaling of the video. The AOC Q2963PM did a great job of rendering the cartoonish violence of the Robert "before his started making Spy Kids" Rodriguez classic.
Notice the black bars on the side

For a comparison, I put in the Dark Knight. I like to use this movie to see how well a display will handle vertical and horizontal lines. The AOC Q2963PM did an acceptable job though there was a bit of judder present.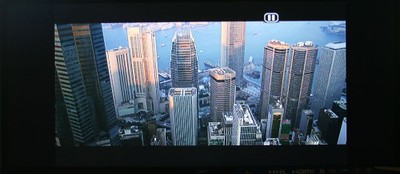 Letterboxed top and bottom. Isn't that fun

Confused about what AV Gear to buy or how to set it up? Join our Exclusive Audioholics E-Book Membership Program!
Recent Forum Posts:
Cos posts on September 17, 2013 22:35
I never got into multi monitor setups, so I just went with a Dell u2713H rev 5 and 2560x1440 is just fine
BoredSysAdmin posts on September 17, 2013 17:21
Post Reply