AOC Q2963PM Connections and Control
AOC Q2963PM Connections and Control
There are two main places on the Q2963PM for connections - the bottom of the pivot plate and the right side. On the right side you have a DVI input, a D-sub input, and a DP input. The bottom has HDMI, DP output, audio line in (3.5mm), and power. When you use the base, these bottom connections will be hidden. If you wall mount, however, they will not as the pivot base is just about flush with the bottom of the display. This could be a source of concern for those that want to get their display off their desk but don't want to see any of the wires.
The D-Sub input is your typical PC input. DP (or DisplayPort) is used to link multiple monitors together. The HDMI input on the bottom is MHL for use with your Android phone. This allows you to stream high definition video to the display over one cable. The MHL connection will even keep your phone charged while you are streaming so you won't have to worry about running out of battery in the middle of a movie.
AOC specifies that not all cables will be shipped to all areas. As they are an international company, this makes sense as not all the connections are standard in all areas. The Q2963PM I was shipped had an HDMI cable and a VGA (D-Sub) cable (plus a 3.5mm analogue audio cable that I didn't use). I have a DVI connection on my computer as well so I was able to try all three of these connections. All worked without incident.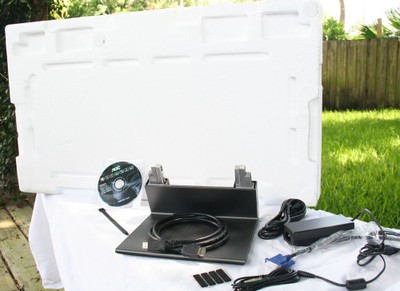 Controls
There are two different ways to interface with the AOC Q2963PM. First, there are the five, unmarked side buttons. At first I found this confusing as I wasn't sure what button did what but it turns out that it is completely unnecessary to label them. To interface with the AOC Q2963PM first you'll need to press any of the buttons. It doesn't matter which. This will bring up the main menu which is represented in symbols. You'll quickly learn that the top button will power the unit on and off, the rest will control Menu, Volume, Aspect, and Source (in that order). Once you drill down, the button functions will change though they will always be clearly labeled.
I found the button interface to be extremely intuitive. It only took a few tries to figure out how it worked. My complaints are that there is no dedicated power button (you need to press any button to access the menu and then the top button to power off the Q2963PM) and that the buttons themselves were hard to press. I often found myself having to hit a button more than once to get it to register.
The second control method is with their i-Menu software which can be downloaded from the included CD. This gives you not only access to the controls but additional power saving options controlling when the monitor will power down. If you don't download this software, the AOC Q2963PM will stay on until your PC goes to sleep.
The software included on the CD will also give you access to AOC's Screen+ options. This allows you to segment your screen into different panes. I didn't really use this part of the software as the Picture-by-Picture pretty much did that for me.

Multiple Sources
The main claim-to-fame of the Q2963PM, other than the large aspect ratio, is that it can accept two different sources and display them at the same time. Since a 21:9 aspect is essentially two 4:3 panels side-by-side, this gives you the ability to access a good amount of content simultaneously. On the website, there are pictures of two computer displays side by side or a spreadsheet on one side and a movie on the other. While I don't know how practical that really is, it is possible. With a few caveats.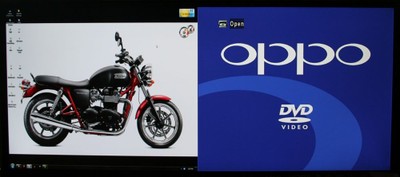 First, you can't use the DVI and the HDMI inputs at the same time. Only one can be active so if your computer is connected by DVI and you want to add a Blu-ray player via HDMI, you won't be able to do Picture-by-Picture (or Picture-in-Picture). This limits you to connecting your computer by the D-Sub input alone. On my computer with a fairly ancient video card, the best resolution I could get out over VGA was 1600 by 1400. That is more than enough for a Picture-by-Picture situation. Since you are only using half the horizontal resolution, it was easy enough to pick a resolution that would work well with the 4:3 aspect ratio.
The problem came when I switched from Picture-by-Picture back to full screen. With a native resolution of 2560 x 1080, the PC image would be stretched and distorted. Even 1600x1400 looked pretty stretched. Over HDMI or DVI, I could get full HD (1080p) resolution but if I wanted to use the entire screen, it would stretch to fit. While many might not mind that, it drove me crazy. Luckily, there is a 1:1 (what you send is what you get and it'll add black bars to the sides) setting. You can also force other settings (see gif below) into 21:9, 16:9, 16:10, and 4:3 aspect ratios.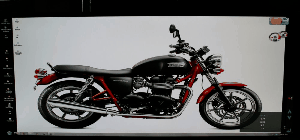 Some of the squashing is because of the original images being slightly different sizes but the overall effect is well represented

When switching from a correctly set resolution for Picture-by-Picture back to full screen, the image is stretched. Likewise, if you go from a correctly set resolution for full screen (2560 x 1080) to Picture-by-Picture, the image is squished (the PbP image at the top of this section is slightly compressed). This means that you'll need to reset the resolution of your PC each time you want to go from Picture-by-Picture to full screen. There is no way to set to the AOC Q2963PM to scale or letterbox the resolutions properly for the different display solutions - something that I think limits the usefulness of the dual source functionality. If you plan on using one solution (full screen or Picture-by-Picture) primarily, then the AOC Q2963PM should be very useful for you. If you plan on switching between them often, you might find yourself irked by having to fumble with settings every time you do.
Confused about what AV Gear to buy or how to set it up? Join our Exclusive Audioholics E-Book Membership Program!
Recent Forum Posts:
Cos posts on September 17, 2013 22:35
I never got into multi monitor setups, so I just went with a Dell u2713H rev 5 and 2560x1440 is just fine
BoredSysAdmin posts on September 17, 2013 17:21
Post Reply