ATSC 3.0: Next-Gen TV to Hit 40 US Markets in 2020
ATSC 3.0: Next-Gen TV to Hit 40 US Markets in 2020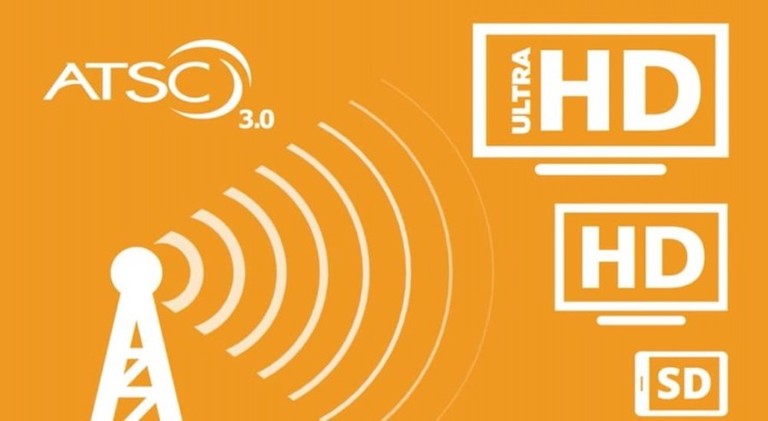 Is ATSC 3.0 Coming to Your Town in 2020?
ATSC 3.0 or "Next-Gen TV" is the next step in the evolution of digital broadcast television, and it's coming to more than 40 US television markets in 2020. In a cord-cutting world, it's great to see the oldest cord of all giving us reasons to spare the scissors. Regions served by the roll-out will have access to interactive digital television being broadcast in a new standard that's capable of 4K/HDR or full UltraHD and multi-channel audio. It's a serious upgrade from ATSC 1.0, the standard that gave us over-air HDTV. Unfortunately Next Gen TV won't be backward compatible, so all that relatively new ATSC 1.0 transmitter and receiver hardware will require an upgrade. But in exchange for the inconvenience of no backward compatibility, ATSC 3.0 will give us a better signal with more efficient, less fragile modulation. Reception is after all, the most important aspect of a broadcast standard, one in which ATSC 1.0 has proved wanting. Advocates for ATSC 3.0 say that new standard is going to provide stronger reception than the current standard for both indoor and outdoor antennas, especially if you're located on the edge of the broadcast's range. ATSC 3.0 uses Orthogonal Frequency Division Multiplex (OFDM) modulation as opposed to the 8VSB modulation used by ATSC 1.0. OFDM is said to be more spectrally efficient and less susceptible to multipath interference, which can cause ATSC 1.0 signals break up, or not be received at all. Next Gen TV also contains updated codecs with H.265, or HVEC (for up to 2160P/4K resolution at 120 frames per-second and "wide color gamut") for video, as well as Dolby AC-4 and MPEG-H 3D for audio. And of course, two-way communication on an IP-backbone, making it a kind-of Internet-lite.
The Advanced Television Systems Committee (ATSC) has a bold vision for its new digital broadcast standard, that maximizes the use of its Internet Protocol backbone. Unlike the very-high frequency of wireless 5G, broadcast television is carried over a more robust 6MHz over-the-air (OTA) frequency that can better-penetrate obstacles in cities to cast a wider net over populated areas. from a single transmitter. The new standard is also designed specifically for high-capacity, one-to-many digital transmissions that the ATSC hopes will be employed to ease the load on conventional Internet services.
This grand vision for ATSC 3.0 would use the new architecture to pick up the slack for certain Over-the-Top (OTT) services and applications in some interesting ways. For instance, it could theoretically lease the digital air-waves to companies like Apple, Google or Microsoft for certain cross-continental transmissions, like software and operating system updates. In theory, ATSC 3.0 could be a cost-saving alternative to quickly distribute redundant transmissions that could choke the "last mile" of today's Internet service. But this will only work for phones with an ATSC 3.0-enabled communications chip. We'll know the standard has really taken off when it makes the leap from TVs to mobile devices. Devices with ATSC 3.0 will do way more than just get over-air software updates and maybe bring back the Sony Watchman. But it remains to be seen how wireless carriers will feel about another standard cutting into user's data plans. If things go the ATSC's way in coming years, it's not too far-fetched to imagine using an iPhone on an AT&T wireless plan to choose or even roam between wireless-data or ATSC 3.0 to watch HBOMax, maybe even on a new-improved Sony Watchman tablet.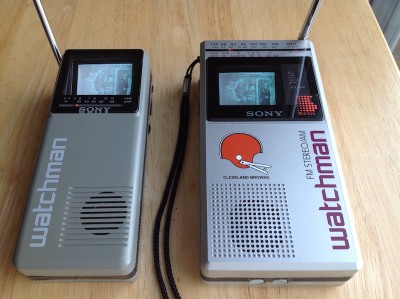 New ATSC 3.0-Enabled Products

It seems like only yesterday that we converted our over-air TVs to receive ATSC 1.0. The current digital broadcast standard was introduced in 1996 but deployment was only finalized in the US by 2009. The switch coincided with wide consumer adoption of HDTV, so most of us weren't troubled by the requirement for digital TV tuners because chances are, your new HDTV already had one. Since ATSC 1.0 caps out at 1080P, today's over-air broadcasts won't exactly bring out the best in your UltraHD TV. But, there's no rush to upgrade your receivers however, because the FCC requires broadcasters to keep running ATSC 1.0 for at least five years after introducing ATSC 3.0. In fact, the FCC has no plans to make the switch mandatory, nor is there a congress-approved subsidy for Next Gen TV receivers, as there was for the switch to ATSC 1.0. So, for better or worse, the push to this much-improved new standard, is really more of a nudge.
A variety of Next Gen TV tuners started to become more widely available last year and can be found in small, inexpensive pen-sized dongles or set-top-boxes that integrate other features. Some new UHD TVs are already being sold with ATSC 3.0 tuners built-in. Korean brands, Samsung and LG have been early adopters, probably because South Korea is way ahead of the digital broadcast game, its television networks began broadcasting ATSC 3.0 back in 2017.
Broadcasting in ATSC 1.0 vs. 3.0
ATSC 1.0, 6MHz TV Channel. 19.4 Mbs total. HDTV costs about 11Mbs, leaving the rest for DTV Subchannels.
ATSC 3.0, 6MHz TV Channel. 25 Mbs, HDTV now costs only 4Mbs due to superior compression, leaving the rest for TV and other data services.

Because the new digital broadcast standard will feature all-new interactive features, thanks to the Internet, we'll see a new breed of consumer products for the home. Gateway receivers will transmit your local ATSC 3.0 broadcast through your household wi-fi, bringing it into the deep recesses of your home that might normally have reception difficulty. And of course... with new tech-standards, come new tech-snake oil, and ATSC 3.0 is no exception. Expect to see antennas being advertised as ATSC 3, 4K or Next-Gen TV, specially optimized with fairy dust to receive the new signals. Marketing material on antennas have been doing this since the advent of color TV. But if you've already got an antenna that works, you can save your money. There is no such thing as a color, HD, ATSC 3 or a UHD antenna. A humble TV antenna has been designed to pick up over-air signals in the VHF and UHF band, and this hasn't changed since the start of the NTSC-era back in the 1950s, and doesn't need to change for ATSC 3.0.
ATSC 3.0 Deployment Near You

Broadcasters in the largest TV markets in the United States will begin rolling out ATSC 3.0 this year. Both public and commercial broadcasters are among the early adopters of the new standard and include familiar media companies like Fox, NBCUniversal, Univision and America's Public Television Stations (APTS). Trials have already been underway in Phoenix AZ, Dallas TX, East Lansing MI, Raleigh NC and Santa Barbara CA.
Your Local Mileage May Vary

Although the new standard supports UHD, HDR and will make possible many of the futuristic, Inernet-TV features we've been hearing about, it will take some time before ATSC 3.0 reaches its potential. So, even in Next Gen TV broadcast areas, exact features are up to the discretion of the broadcaster. Don't expect every broadcast to provide pristine UHD just yet, broadcasters will still be constrained by a lack of available UHD content for some time. But that's no reason for early-adopters to sit on the fence, consumer demand for ATSC 3.0 will do its part to push the standard into wider adoption by broadcasters and adoption of sensible new technologies is never a certainty.
According to the TVTechnology broadcasting trade website, the 40 markets that will begin ATSC 3.0 availability in 2020 includes the following:
Dallas-Ft. Worth, TX
Houston, TX
San Francisco-Oakland-San Jose, CA
Phoenix, AZ
Seattle-Tacoma, WA
Detroit, MI
Orlando-Daytona Beach-Melbourne, FL
Portland, OR
Pittsburgh, PA
Raleigh-Durham, NC
Baltimore, MD
Nashville, TN
Salt Lake City, UT
San Antonio, TX
Kansas City, KS-MO
Columbus, OH
West Palm Beach-Ft. Pierce, FL
Las Vegas, NV
Austin, TX
New York, NY
Los Angeles, CA
Chicago, IL
Philadelphia, PA
Washington, DC
Boston, MA
Atlanta, GA
Tampa-St.Petersburg-Sarasota, FL
Minneapolis - St. Paul, MN
Miami - Ft. Lauderdale, FL
Denver, CO
Cleveland-Akron, OH
Sacramento-Stockton-Modesto, CA
St. Louis, MO
Charlotte, NC
Indianapolis, IN
San Diego, CA
Hartford-New Haven, CT
Cincinnati, OH
Milwaukee, WI
Greenville-Spartanburg, SC - Asheville, NC

TVTechnology also says that these markets are expected to follow close behind, sorted by population:
Norfolk-Portsmouth-Newport News, VA
Oklahoma City, OK
Albuquerque - Santa Fe, N
Grand Rapids - Kalamazoo, MI
Memphis, TN
Buffalo, NY
Providence - New Bedford, RI
Little Rock - Pine Bluff, AR
Mobile, AL - Pensacola, FL
Albany-Schenectady - Troy, NY
Flint-Saginaw - Bay City, MI
Omaha, NE
Charleston - Huntington, WV
Springfield, MO
Rochester, NY
Syracuse, NY
Chattanooga, TN
Charleston, SC
Burlington, VT - Plattsburgh, NY
Davenport, IA - Moline, IL
Santa Barbara - Santa Maria - San Luis Obispo, CA
ATSC 3.0 is an important step in broadcast TV, and the FCC requires that broadcasters must maintain a certain amount of basic, free network television programming. Although, the new standard will almost certainly use its interactive capability for logins, subscriptions and other ways to bring you "premium" (read paid) content over-air. Broadcast TV will look a lot like the Internet with gated content and targeted advertising capabilities. But it's those features that should make ATSC 3.0 a financially sound, long-term investment to broadcasters. Unfortunately, it remains to be seen exactly how widely adopted or how mobile the new standard will eventually become. Smaller, local broadcasters will have the most difficulty getting on-board due to its significant upgrade costs, and these are the businesses that have fallen on difficult times of late, as the value of conventional TV advertising is slowly shriveling away with viewership. But, the are benefits of bringing network television advertising into the targeted and personalized 21st century, along with instant-ecomm at the push of the TV remote. There's definitely long-term gold in them thar' OTA broadcasts.
Confused about what AV Gear to buy or how to set it up? Join our Exclusive Audioholics E-Book Membership Program!
Recent Forum Posts:
JohnBrowning posts on January 20, 2020 11:08
And the broadcasters still send up 720p
Wayde Robson posts on January 13, 2020 10:56
BoredSysAdmin, post: 1361397, member: 28046
@Wayde Robson Much better article second time around. It looks like like did your homework

Thanks!
While researching this one I read my way through a kind-of rabbit hole around ATSC 3.0. Putting on my "conspiracy" hat, I really would like to delve into its chances of the broader success some envision for it.
Advocates for the technology seem to talk about it delicately right now, probably because its future remains uncertain. That some major broadcasters in major markets will make it available for some TVs is all we're sure about at present. But nothing beyond that is a slam dunk. And it's capabilities seem to go way beyond just being another digital broadcast medium.
It's difficult to find anyone close to the technology speaking critically about it in either its capabilities or its chances of success. This makes it difficult to gauge exactly what "successful ATSC3.0" really looks like.
The blue sky vision has it being a second wireless Internet. Or it may never be anything more than what it will be by the end of 2020.
I was tempted to try and diagram the "who benefits" equation. Mass-communications industry is tightly wrapped, with wireless network companies that own or are partnered with TV networks. So, it's difficult to tell who would end up competing with who if ATSC3 tuner-chips found their way into every phone.
I really wish the technology the best, the more competition the better for us consumers. So, I hesitate to seem critical of it. But a lot needs to go right over the next couple of years for it reach its "blue sky" potential.
BoredSysAdmin posts on January 09, 2020 20:09
@Wayde Robson Much better article second time around. It looks like like did your homework
highfigh posts on January 09, 2020 07:22
The prospect of TVs spying is one reason I would prefer that they be but purely as monitors, rather than having functions that won't be used, helpful or as useful/functional as when those features are built into other streaming devices. While those other devices will likely spy on us, I would prefer that my electronics not spy one me, by committee.
ryanosaur posts on January 09, 2020 07:11
Post Reply