Oppo HM-31 Build Quality and Conclusion
Oppo HM-31 Build Quality and Conclusion
The Oppo HM-31 HDMI Switch is exactly what you'd expect - a little black box. The packaging is well done and plenty protection enough for anything but the most egregious shipping abuse. As all Oppo products seem to be these days, the HM-31 arrived wrapped in its own little black cloth (feels like burlap) container. It's actually form fitted so it could be used to protect the switch if you wanted to bring it somewhere (I'm sure someone does this). The edges of the switch are glossy black with a top of brushed aluminum. The bottom has three keyhole mounts for wall mounting. There are four sticky feet that can be affixed if you don't plan on wall mounting the unit. Overall the HM-31 is solidly built and very nice to look at.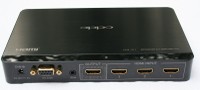 The back of the unit has three HDMI inputs, one output, an IR input, and an RS-232 port. The front of the unit has an IR sensor dead center with a power indicator just to the right. The top of the unit also has an IR sensor for wall mounting. On the far right is a manual selection button which cycles through the different inputs. On the left are three lights, one for each input. The lights will not be illuminated if there is either nothing plugged in or no signal coming from the component that is connected. Red indicates that there is something plugged and transmitting and blue indicates that the input is both selected for output and is transmitting. If it is selected but there is no signal then the blue light will blink.
Setup and Use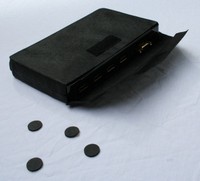 Setting up an HDMI switch is not exactly rocket science. All you need to do is attach the power cable, all the input and the output HDMI cable, and plug in the unit. The unit doesn't have a power button so it is on all the time (this is a good thing). Once you connect a cable, the unit will immediately recognize it (if it is providing a signal) and route it to the output. I never ran into a problem with HDCP handshake issues or any of that nonsense. Oppo's literature says that the HM-31 will pass 12-bit Deep Color so you should be OK no matter what you buy. At least until they change the HDMI spec again. Understand that this "literature" of which I am referring is on their website. As far as I can tell, the manual is of the most basic level and doesn't address the auto sensing or signal boosting functions.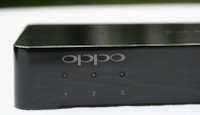 The HM-31 has a nifty little feature that will automatically switch inputs for you depending on which is providing a signal. The idea is that it does two things - first it prioritizes the inputs with Input 1 having the highest priority and Input 3 the lowest. Second, it recognizes when there is an incoming signal. With some careful planning, you can take advantage of this auto sensing ability. What you'll first want to do is to plug in all your HDMI components with their power OFF. Check to see if there is a red light on the front of the unit. If there is, that means that even with the power off the component is putting out a signal over HDMI. This is important to know for later. At the time of the review I had the Sony BDP-S300 Blu-ray player which did this as did my Comcast HD DVR box. The Denon DVD-3910 did not.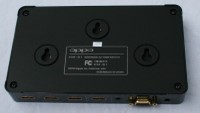 Now the next step is to order your components on the inputs. In a perfect world you'd have no more than one component that is always putting out a signal even when it is powered off. You'll want to plug that component into Input 3. For instance, if you have a DVD player, an HDMI game system, and a HD DVR (which is always putting out a signal) you could plug in the DVR into Input 3 and the other two wherever you want. When the DVD and game system is powered off, the HM-31 will default to Input 3. As soon as you power on one of the other components it will immediately switch to that input. If you power them both on, it will switch to Input 1 (remember, Input 1 has the highest priority). In this scenario you'd never have to use the remote, RS-232 port, or IR input on the back of the unit. You'd just have to remember that if you want to see what is on Input 2, whatever is on Input 1 would have to be turned off and likewise the components on Input 1 and 2 would have to be powered down to view Input 3.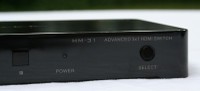 If you have two components that are constantly sending a signal, you'll have to use some method of control over the HM-31 as the unit will constantly default to the lower numbered input. You have a number of options available to you, the least sexy of which is the hand held "made to be lost" IR remote. The back of the unit sports an RS-232 port and an IR input for direct control from an RF receiver. Of course you can always use an IR flasher on the front mounted IR receiver if you want. The RS-232 control is really the most unusual of the control methods and is nearly unheard of at this price point. Of course, RS-232 is useless without the proper protocols, and Oppo indeed provides those on their website in the form of a downloadable PDF. Installers should be rejoicing right now at a $100 switcher with so many options. With the right components, they may not even have to program the thing!
The last claim on the Oppo website about the HM-31 is that it will act as an HDMI extender through its HDMI "signal equalizer". According to the site they "tested the HM-31 successfully with a 50-foot cable between the source and the HM-31's input, and another 50-foot cable between the HM-31's output and the TV.  The total cable length from the source to the TV is 100 feet." This claim seems a bit dubious to me, especially taking 1080p and 12-bit color into account - but I don't have 100 feet of HDMI cable lying around to run my own test so we'll have to take them at their word. My guess is this test was conducted with a 1080i signal at 8-bit color. At the very least, the signal boost shouldn't hurt your connection and may actually help if you've got a poorer performing cable with a run at the end of its usable length.
Manufacturer Note on Extender Testing Methodology
In the test we used 2 pieces of 50-foot 22 AWG HDMI cables. For the visual test we used the 1080p60Hz output from our own DVD player and a Sharp Aquos 1080p TV. There was no HDCP or visual problem. For instrument test we used a Quantum Data 802BT HDMI signal generator and analyzer. We did the HDCP test with the Sharp TV, again at 1080p, and found no error in 200 rounds of test. We also did the loop back test (802BT TX – 50ft HDMI – HM-31 input 1/HM-31 output – 50ft HDMI – 802BT RX) at 1080p60Hz, the 802BT measured 0 pixel error on all three TMDS channels. At this point we do not have in-house equipment to test HDMI 1.3 with Deep Color. All HDMI 1.3 test for this switch were done initially at the Silicon Image Shanghai test lab (an official HDMI.org authorized test center), and then confirmed again at Silicon Image Sunnyvale CA test lab (another HDMI ATC). The HDMI 1.3 tests done at the ATCs do not include long cable test but their eye-diagram test has the same effect and is a more scientific way to measure transmission loss.
Remote

If you've seen one of these remotes, you've seen them all. Smaller than a credit card and only barely thicker, this remote is just the right size to be lost forever in the folds of your couch. What I like about this one over some of the others that I've use is that it has both an input toggle button and individual input selection buttons. A nice feature.
Suggestions for Improvement
Absolutely none.
Conclusion

What's to say about an HDMI switch? It either works or it doesn't. This one works and, with the auto switching feature, it may make it painless for you to set up. Even if you have to control it directly, you have just about every option under the sun to do so. Fully featured? Oh yeah. And at this price point, it's a no-brainer. If you need an HDMI switch, this is the one to buy. You may find an HDMI switch for cheaper, but it'll likely be missing some of the features that this one has. Make sure you really don't need those features before you purchase something else.
About Oppo
Based in the heart of Silicon Valley, award-winning OPPO Digital, Inc., manufactures and markets high quality digital electronics that deliver style, performance, innovation, and value to A/V enthusiasts and savvy consumers alike. The company's attention to core product performance and strong customer focus distinguish it from traditional consumer-electronics brands.
Oppo HM-31 HDMI Selector Switch
$99.99
OPPO Digital, Inc.
2629B Terminal Blvd.
Mountain View, CA 94043
[email protected]
Phone: (650) 961-1118
The Score Card
The scoring below is based on each piece of equipment doing the duty it is designed for. The numbers are weighed heavily with respect to the individual cost of each unit, thus giving a rating roughly equal to:
Performance × Price Factor/Value = Rating
Audioholics.com note: The ratings indicated below are based on subjective listening and objective testing of the product in question. The rating scale is based on performance/value ratio. If you notice better performing products in future reviews that have lower numbers in certain areas, be aware that the value factor is most likely the culprit. Other Audioholics reviewers may rate products solely based on performance, and each reviewer has his/her own system for ratings.
Audioholics Rating Scale
— Excellent
— Very Good
— Good
— Fair
— Poor
| Metric | Rating |
| --- | --- |
| Video Performance | |
| Build Quality | |
| Ergonomics & Usability | |
| Ease of Setup/Programming/Integration | |
| Features | |
| Remote Control | |
| Fit and Finish | |
| Performance | |
| Value | |
See also:
Confused about what AV Gear to buy or how to set it up? Join our Exclusive Audioholics E-Book Membership Program!
Recent Forum Posts:
blacks4 posts on November 08, 2007 09:58
fmw, post: 325398
I was disappointed in the Oppo switcher because it doesn't turn on and off. It stays on constantly. In other words, for me it isn't full featured at all. I had one of the little 2 port switches from Mono price. It was less than half the price of the Oppo and was a better unit all the way around. I could even program it to turn on and off with my universal remote. I got the Oppo when I needed to upgrade to a 3 port unit thinking it would be better than the Monoprice. Not better. I recommend the Monoprice.
Who cares if you can't turn it off? Why would you really want to?
Tom Andry posts on November 08, 2007 09:03
I connected the Toshiba HD-A2 through the HM-31 and verified that I got a picture up on my display. I haven't done any more testing yet but so far it looks like there are no compatibility issues. I can only assume that the XA2 will be the same.
Tom Andry posts on November 02, 2007 14:18
Austin M, post: 325331
Can you plug this into one of the HDMI-switching ports on a Denon receiver (expanding the number of HDMI ports), or does this need to plug straight into the TV? Do HDMI devices work when routed through two switches?
Clint already answered this but again, yes. For the review, the Oppo was used between two transports and a Denon 2307CI receiver. I experienced no problems.
Tom Andry posts on November 02, 2007 14:16
blacks4, post: 325071
I have an HD-XA2 which won't work at all through a 5x1 HDMI switch from Impact Acoustics. Toshiba said it's not meant to work through a switch (only a direct connection or through an HDMI receiver).

I'm just curious if this switch is any different. Thanks.

- Steve
I'll be testing this out as soon as I can. I'll let you know.
j_garcia posts on November 01, 2007 19:05
The one I have works like that with more or less automatic switching, though I don't think it has the same "priority" function. Whichever one is on first gets priority. It also has no power button.
Post Reply