InvisibleSHIELD iPhone Screen Protector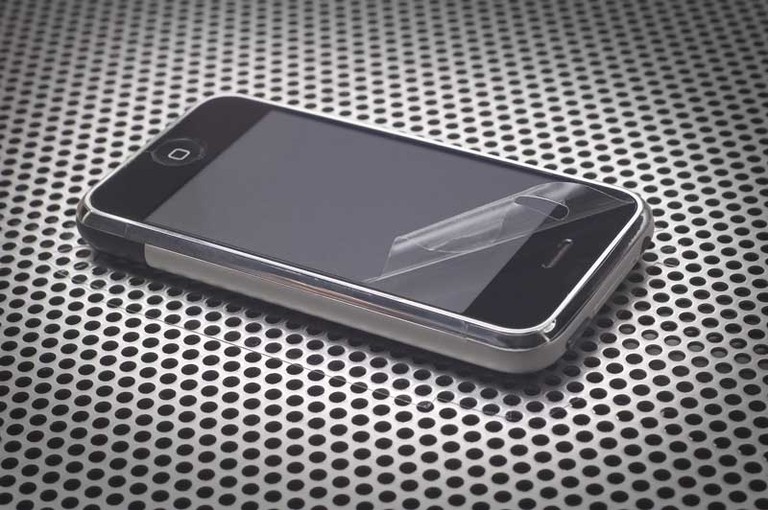 InvisibleSHIELD Protective Covers for iPod
Summary
Lifetime replacement warranty & 30 Day Money-Back Guarantee
Available for over 1000 devices

Executive Overview
Who says the War in Iraq isn't good for anything? The small company, Zagg, Inc created a new product called invisibleSHIELD from material originally developed to protect military helicopter blades from wind, sand and the wear and tear of high-speed travel. They've customized this material and made it available for nearly all handheld electronic devices on the market. The ultra-thin, ultra-tough film is guaranteed to keep the design and structure fully intact without the bulk of other electronic device casings.
Resilient enough to withstand most sharp objects, the scratch-proof and stain-resistant invisibleSHIELD withstands all forms of external damage to electronics while also preserving the "glossiness" of new devices. This allows consumers to enjoy the inherent beauty of their new CE devices without covering up the sleek design of a new iPhone or dulling the sheen of a new laptop. Bulky gel cases and sticky screen protectors are in a different league and don't compare.
We tried the system out on an LG VX8700 cell phone and it covered all of the surfaces beautifully. Not only does it offer screen protection, it also covers all surfaces of the phone, allowing you to pocket it without fear of your keys tearing up the metal or plastic casing.

Zagg is so secure in the protective qualities of their invisibleSHIELD that it is backed by a lifetime warranty. This means that if the invisibleSHIELD is ever scratched or damaged ZAGG will replace it for free. invisibleSHIELD is available in over 1,000 precision cut designs for a multitude of gadgets, including the iPhone, digital cameras and laptops. ZAGG also offers custom cut orders (at a minimal additional fee) for unique models as part of its ongoing effort to provide consumers with a "scratch-free world."
Prices range from $9.95 - $24.95, the invisibleSHIELD is available at retailers including independent Apple retailers and online at www.invisibleSHIELD.com.

Unless otherwise indicated, this is a preview article for the featured product. A formal review may or may not follow in the future.
Confused about what AV Gear to buy or how to set it up? Join our Exclusive Audioholics E-Book Membership Program!