DVIGear High Resolution HDMI Cables Preview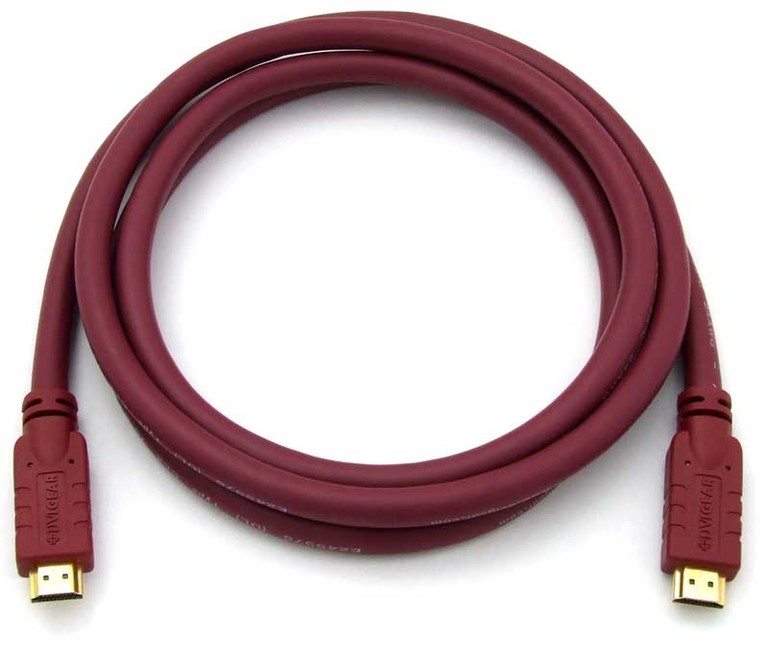 DVIGear High Resoluton HDMI Cables
Summary
Supports HDMI v1.3 with "Deep Color" HDTV resolutions up to 1080p (12-bit)
Supports HDMI v1.3 / Category 2 data rates (3.4 Gbit/sec.) up to 5 meters
Supports HDMI v1.3 data rates up to 2.25 Gbit/sec. all lengths
Supports PC resolutions up to 1920x1200 / 60 Hz
Heavy-duty 24AWG copper wires for minimum insertion loss
Ultra-low Skew guarantees unsurpassed digital fidelity
Triple shielded for superior noise immunity
Dual UL Ratings: UL13 (CL2) and UL758 (AWM20276)
In-Wall Rated
RoHS compliant (green friendly)
Gold plated connectors
Executive Overview
We spent years discussing the fact that, with regard to analogue speaker cables and interconnects, most any cable would do - provided it was well-constructed. Now, with the introduction of HDMI, the situation takes on a different tone and cable integrity is absolutely imperative. DVIGear is one of a few companies who actually get their cables certified - not only with dual UL Ratings: UL13 (CL2) and UL758 (AWM20276), but also through the ATC (Authorized Testing Centers) run by the HDMI Licensing Group.
Why does the quality of an HDMI cable matter? We wrote an extensive article on the topic which goes into a ton of detail, but it's fairly easy to summarize: An HDMI cable made to handle a 720p signal at 8-bit color, is not necessarily equipped to pass a 1080p signal at 12-bit color. The amount of bits needing to travel down the pipe is over twice as much. So what? What's that really mean? Well, since HDMI has gone from version 1.0 to 1.3a in a short period of time, many people have found themselves with installed cables that don't allow them to upgrade their equipment. That's right - Joe Sixpack who bought a Chinese cable that claimed to be HDMI certified and passed 720p over a length of 25 feet now shows a blinking , unstable image when he attempts to use a new 1080p projector and Blu-ray player connected with the same cable.
Oops.
DVIGear has ensured that all of its High Resolution HDMI cables meet the ability to pass 1080p resolution at up to 12-bit color per channel (Deep Color) - and it does it reliably for up to 7.5 meters (around 25 feet). A 1m cable costs only $25 and you can put the money you save towards another upgrade down the road.
The cables are red in color and feature heavy-duty 24AWG copper wires so there is low insertion loss - the bane of HDMI and the main cause of signal loss. They are triple shielded and, as mentioned above, feature both CL2 and AWM20276 UL certifications (so they are guaranteed to not burn down your house when installed within an air space.) The connectors are gold-plated and the cables are built like a tank. The only negative is that you may require some extra strain relief in order to support them on some displays. We found the cables to be solidly built and would highly recommend them over just about any other cable found in the big box stores today. As an example of their value, the cheapest 1m cable at Best Buy sells for around $50. Compared to that, DVIGear is driving a pretty hard bargain!
For more information please visit www.dvigear.com or buy direct at store.audioholics.com.

Unless otherwise indicated, this is a preview article for the featured product. A formal review may or may not follow in the future.
jyavenard posts on February 12, 2008 10:14
Can an article be any more inaccurate ?

It says : "An HDMI cable made to handle a 720p signal at 8-bit color, is not necessarily equipped to pass a 1080p signal at 12-bit color. "

Have you ever heard of a DVI cable not able to display a 1920x1200 pictures from a computer over several metres?

No.

HDMI is carrying the same video signal as a DVI cable. So why would it suddenly make a difference between a 720p and 1080p ; just because they've changed the name to make it more fancy?
720p instead of 1280x720 or 1080p vs 1920x1080 ?

A Cat5e cable is able to carry 10gigabit/s of data over 50 metres, and an HDMI cable because it isn't certified 1.3a wouldn't carry a few hundred megabit/s ?

Give me a break.

A digital cable is just that: it carries a digital signal. The signal itself contains enough redundant information so the equipment at both ends will be able to correct any errors if any (though unlikely) including jitter

An HDMI cable will carry the signal properly or it won't. It won't do the job half-way.

While the shielding of a cable would make a difference over a significantly long distance, it isn't sufficient over short distance (15 metres and less).

So people, enjoy the cheapest HDMI cable you can get and don't you worry.

As for myself, I will enjoy my 20 metres DVI->HDMI cable I bought several years ago to watch 1080p video on my projector
ivseenbetter posts on February 07, 2008 20:34
I never hear anything bad about monoprice. Not sure if theirs are rated for behind the wall installations though…they might be, I just don't feel like going to their website and checking though. Lazy me.
gwlaw99 posts on February 07, 2008 18:14
Monoprice Cables

Gizmodo had absolutely zero problems running 1080p through a 35ft monoprice cable which costs $35.

The 50 foot cable at $53 had some problems, but it was not reproduceable with other 50ft monoprice cables so it may have been one bad cable.

I can't post links yet but just google monoprice and gizmodo.
Audioholics posts on February 06, 2008 18:48
We pretty much say that just about ANY cable will pass 720p/1080i at up to 1-2 meters, but when you get into the long lengths you really need to buy something certified to ensure it works - ESPECIALLY if it's going behind drywall.

DVIGear is a brand we selected specifically when our team launched the store. It just works and this line is not nearly as expensive as Monster or many of the other brands.
Jim Robbins posts on February 06, 2008 17:32
DVI Gear is the HDMIzzle
I personally have been using the SHR version of the 10 meter DVI Gear cable in my wall.
https://store.audioholics.com/product/1223/120/dvigear-10m-hdmi-super-high-resolution-copper-cable
This thing has been rock solid. I recently tried to replace it, as I needed just a couple of extra feet. I bought a 35 foot Blue Jeans HDMI cable (their newest, latest and greatest) thinking it would give me what I needed. Unfortunately, it only worked with my satelite dish box which was outputting 1080i or 720p. Nothing else (PS3, HD DVD player, or Denon receiver) would even sync and I had a blank pic.
Of course, I had already removed the DVI gear cable from behind the wall and put in the BJ cable. *sigh* Well, after finding the problem, I put the the good ol' DVI SHR HDMI cable back in the wall, and just had to cut some corners and move the gear around a bit to make it fit. All is well now, and it all works. I just recently bought several more of the blue SHR cables to replace some cheapo HDMI cables in my system, just to give me some peace of mind for future upgrades. *grin* Well worth the money and it's still cheaper than what you can buy at Best Buy for the the Mon$ter HDMI cables.
Later…
P.S. This is not a paid advertisement from DVI Gear… But if they want to send me some free stuff, I'll use it. *laugh*
Post Reply
Confused about what AV Gear to buy or how to set it up? Join our Exclusive Audioholics E-Book Membership Program!