DVIGear Custom AV Wall Plates Review
DVIGear Custom AV Wall Plates Review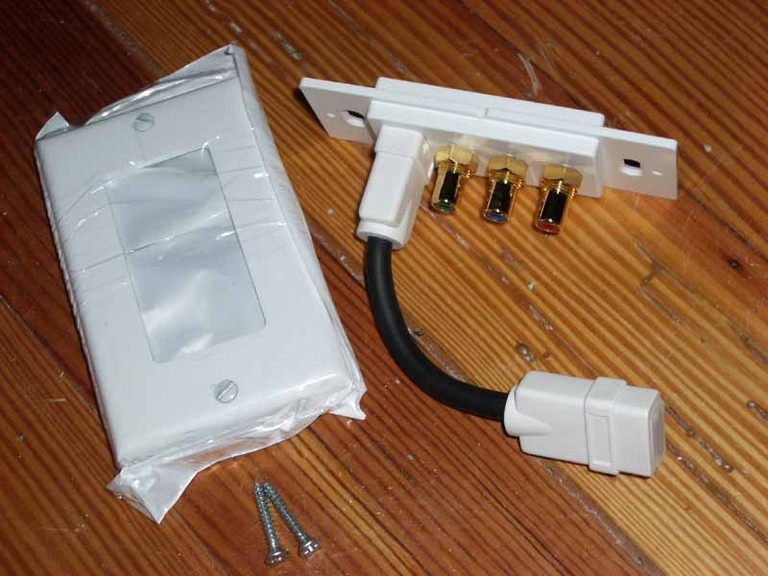 DVIGear HDMI wall plate
60 available connector types
15 different plate colors (Leviton and Lutron color pallets)
Brass and stainless steel covers available
$20 handling charge available to reduce delivery time by up to 2 weeks
$20 rush charge for 48-hour shipping if ordered before 3PM EST (subject to part availability)
Pros
Compatible with Decora-style covers
Common configurations in stock
Custom configurations to order
2-5 day delivery on custom plates if ordering 4 or more units
48-hour delivery possible with Rush option
Custom installers dream come true
Cons
2-3 week lead time for custom orders
Not inexpensive for direct-to-consumer applications
More robust online ordering system or "build application" would be welcome for custom plate orders
DVIGear Custom Wall Plates Introduction
You've been there. Move into a new home and any respectable audioholic will quickly find himself looking around and planning cable runs for whatever room is to be commandeered for home theater. Let's see, kitchen is too small… master bedroom would be obnoxious… kids gotta sleep somewhere… Aha! The oversized formal dining area is perfect! Once you plan the location it's not long until you begin to mentally position the gear and begin planning for the home-run wiring. Well I've been there several times now in the last few years. The difference this time was that I utilized a new resource for cutting back the time and hassle involved in wiring up the new room.
DVIGear is an Atlanta-based company and provides custom configured wall plates for nearly any possible use. While DVIGear specializes in digital and analogue video cables, their wall plates are NOT limited to video only. I tried to trip them up, but they managed to pull through and deliver custom Decora-style wall plates that reduced wall clutter and optimized my cable runs.

Confused about what AV Gear to buy or how to set it up? Join our Exclusive Audioholics E-Book Membership Program!