Atlona AT-HDAiR Wireless HDMI/VGA Adapter Review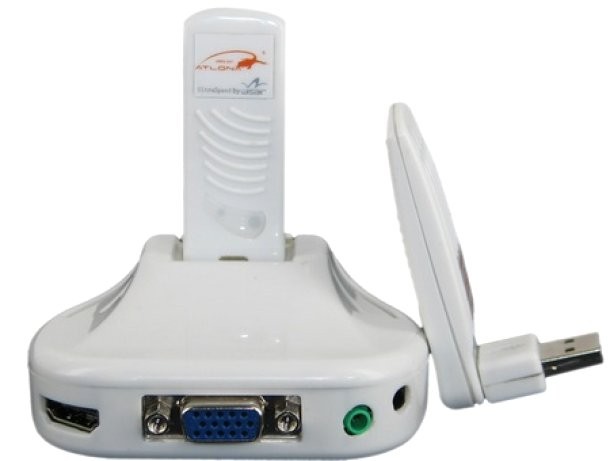 Atlona AT-HDAiR Wireless HDMI System
Summary
HDTV or Projector Compatible
Max Resolutions up to 1440x1050 or 720p
Extend computer from the display up to 30ft (10m)
Capable of Mirroring or Extending Display
HDMI Audio support!
Standard and wide-screen aspect ratios (4:3 or 16:9)
VGA & HDMI connectivity (both outputs active)
32-bit True Color depth
Compatible with Windows Vista and XP
Executive Overview
Wireless seems to be all the rage these days, and why not. HDMI is a pain, and for boardroom presentations to in-home viewing of computer-based streaming content, a wireless connection, like that from the Atlona HDAiR system, is going to save you lots of hassle and make for a very convenient way to turn any television into a home media center.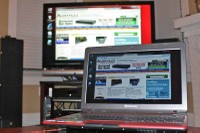 Atlona Technologies released the original HDAiR last year. It was billed as a simple wireless USB to HDMI and VGA converter. This means that it will take signal from any PC and transmit it, wirelessly, through the air and into a projector or HDTV via its HDMI or VGA input... or both, since both outputs are active simultaneously (at the same resolution). The HDAiR is compatible with both Windows XP and Vista and since it is USB-based, it's quite comfortable to install and use. There are two primary components to the HDAiR system: a small USB adaptor connected to your computer, and a receiver unit that is located next to the display. The receiver can be wall-mounted or placed upright on a table. Atlona claims the HDAiR is designed to transmit high-resolution content up to 30ft. And we were able to get a little bit more than that range in our testing. If you're planning on going through walls your distance limit will shrink considerably, but 99.9% of the time you'll be directly in front of the screen, ether watching a program, or giving a presentation.
The system installed very quickly and it takes just a few minutes to place the driver and software on your PC.  Once installed, you simply configure whether you are extending your desktop or mirroring the primary display. For presentations, mirroring is best, and for video playback it's good to use the Extended mode.
Atlona's HDAiR uses chipsets developed by Wisair to transmit USB protocol over Ultra wide band (UWB) frequencies. The HDAiR can handle resolutions up to 720p (video) or 1440x1200 (PC). This is a pretty flexible system that does well in commercial as well as home markets. About the only drawback was that our initial model (black) didn't support audio, either from the receiver base station or via the HDMI output. Were it not for the fact that Atlona quickly re-released the AT-HDAir, this would have been a major oversight that would deserve a thorough spanking. But Atlona did release a revised model (the white AT-HDAiR) which supports audio via HDMI - and they quickly agreed to send us a unit to check it out. It even has an analogue output on the receiver. With audio, this solution is absolutely stunning and turns any laptop into a Home Theater PC media streaming device. The new AT- model raises the price of the original $199 HDAiR by $20 to $219. That's not a bad price to pay for a more complete product, and we've even seen street prices at well under $150.
We used the product to stream content from Netflix, Hulu and YouTube to a 40-inch Samsung flat panel that we had mounted to our wall. The signal made it without any difficulties and we found that we could quickly navigate content and get ourselves streaming media (with audio!) without any real hassles. Since our laptop served as our home theater PC, this meant that we now had a no-hassle way to get streaming PC content to our television without having to run wires or deal with overly complex software configurations. This is quite possibly the dream setup for those looking to keep costs low and still benefit from piping streaming media wirelessly to your display.
Conclusions and Overall Perceptions
Atlona has a brilliant and simple product on its hands. A wireless, USB-based system that can take signal from a laptop or desktop PC and send it to a remote projector or television sounds like genius to us. The only drawback, lack of audio, was remedied by a new revised version of the hardware – it's just too bad that new firmware can't add audio to the HDMI of the existing model. If you need audio (and you do), then be sure your AT-HDAiR comes in white and not black. About the only negative to this system is that it's simply not Mac-compatible, so if you're going to use this on a MacBook, you may want to look at the Imation Wireless Projection Link (VGA only). For most, however, this will give you a renewed interest in keeping around that older PC laptop for use with streaming online content.
Atlona AT-HDAiR Wireless USB to HDMI/VGA
$219

Atlona Technologies
2151 O'toole Ave, Unit D
San Jose, CA 95131
877-536-3976
www.atlona.com
About Atlona Technologies
Atlona Technologies is a dynamic solutions based manufacturer poised on the bleeding edge of Audio Video technology. Their product line has grown to cover almost every conceivable solution in the Audio Video industry with new innovative products in development continuously. Atlona has been consistently first to market without sacrificing quality or using the field to test new products.

Unless otherwise indicated, this is a preview article for the featured product. A formal review may or may not follow in the future.
Confused about what AV Gear to buy or how to set it up? Join our Exclusive Audioholics E-Book Membership Program!