The New Home Theater PC – Part 1
The New Home Theater PC – Part 1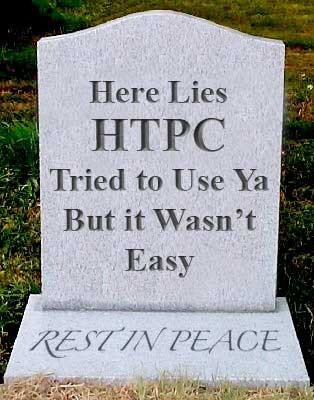 The death of the HTPC
I think it's pretty safe to say that the traditional Home Theater PC is dead... at least it's dead insofar as it has completely failed to reach the mass market in an accessible and easy-to-use way. There are many reasons for this, but let's just touch upon a few before we present some of the solutions for those wishing to get Internet content on their televisions without having to incur a ton of hassle or purchase a brand new set with integrated network features.
Background

Home Theater PCs Offered Too Little Too Late
The entire home theater PC craze peaked during a time when tweakers were filled with glee at the prospect of building PCs and configuring dedicated boxes for their living room. Imagine a single box that handled DVR functions, DVD playback, Internet radio, media streaming, web browsing, and even email. The trouble was, at a time when the DTV transition was happening and cable companies were being forced to transition into using CableCARD technology, HTPCs fell short. The first generation of CableCARDs offered only one-way communication, meaning that you weren't able to make use of Pay-Per-View content or receive any video on demand. Additionally, DVR functionality became a bit messy when you combined both Over The Air (OTA) signals with your CableTV channels. Let's face it, HTPCs were fun for about 5 minutes and then you started encountering the bugs, hassles and glitches that made it, quite simply, not fun to use.
HTPCs Were a Tweaker's Delight and a Consumer's Nightmare
Several software packages came to market which helped streamline the use of an HTPC, not the least of which was Windows Media Center. However, interface snafus, program limitations, and the inherent instability of Windows caused most of these packages to be an endless source of frustration and workarounds for people who used them. HP put out a nice box that initially impressed us, however it too became crippled when faced with the limitations of CableTV program access and the integration of antenna-based channels.
The trouble was, your average consumer had no idea of what was involved in setting up an HTPC and even the most well-intentioned aftermarket products never truly made the HTPC user-friendly and hassle-free. Windows Media Center, as it existed in XP, was just not very well refined or supported, and the studios weren't yet pushing the content it needed to be truly great. If you disagree, you're likely a tweaker – remember we're talking about your average consumer here.
Premier HTPC Manufacturers Had No Market
For those of us who remember companies like 2PartsFusion and others who have closed their doors and have gone to that big Media Center in the sky, it was always a wonder how any home theater PC companies made it in the first place. For one, consumers knew that it was much less expensive to build your own HTPC, despite the hassles and difficulty. As for custom installers, they typically hate home theater PCs. In addition to them being difficult to support, they take the place of many different products which present profit markups for the installer. It's also true that dedicated boxes simply performed so much better than the all-in-one HTPC approach. Higher-end installers who make their money on the complete install and may not care about markup, are typically using much higher end closed-systems (think Escient or Kaleidescape) that respond well to whole house control systems like Control4, AMX and Crestron. The HTPC market has a very narrow market and, as we see today, that market is increasingly being taken up by Dell, HP, Apple and other large-market computer manufacturers.
The New HTPC

The new HTPC is revolutionary in its simplicity. For one, gone are the dreams of a one-box system that does everything imaginable. Our needs are much simpler now. The desire to meld all functionality into one singular box is quickly fading – for the most part. There are a couple reasons for this. One, users would much rather have three boxes which cost $200 each (DVR, DVD player, and Music Streaming System) than a single box that costs $1000 and involves endless hours of configuration to get it right. Two, the HTPC mentality has transitioned into something much more clean and understood by consumers – it's all about the CONTENT.
Getting What You Want
For years, users were perfectly happy with their televisions and cable/satellite access, and some still are, but the recent recession coincided with an interesting phenomena. More and more content was being placed online. In March of 2008 Hulu, launched as an experimental content streaming venture with NBC at the helm, went fully public and online content was forever changed. Hulu dominates the market, carrying content from NBC, ABC, FOX, Comedy Central, PBS, USA Network, Bravo, Fuel TV, FX, Speed, Syfy, Style, Sundance, E!, G4, Versus, A&E, Oxygen and even online sites such as the Onion News Network. This explosion of online content amidst a recession climate caused many people to rethink their need for cableTV or even satellite access. With the DTV transition, compression-free pristine-quality HDTV is available to most people in the United States and Hulu filled in the rest.
In January of 2008, Netflix announced unlimited 'Watch-Now' streaming of its available videos to all customers with an unlimited plan (starting at just $8.99/month). Netflix, Hulu, OTA HDTV... consumers have never had more content available to them – there is a veritable smorgasbord of television and movie content to watch for either free or a low monthly rate.
Getting the Content to Your TV
Now that we have the target in sight – free or inexpensive content to our living rooms... How do we best get it? Well many products are adding network streaming features. Netflix is available on Vizio, LG, Samsung, the Xbox 360 and now Sony flat screen televisions. Additional content is available on several of these manufacturers from sources like CinemaNow, YouTube and others. And if it's not the television, then your Blu-ray player might provide some of these services as well. But many consumers have already bought a new flat panel television, aren't ready to update their DVD or Blu-ray players or quite simply would love to maximize their viewing potential with what they already have. Well, we have an alternative option on how to best get the most possible content to your living room with a minimum amount of investment: your laptop.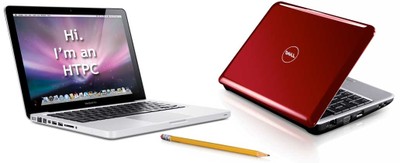 The Laptop is the New HTPC
Your existing PC laptop most likely already has a copy of Windows Media Center. It will if it came with Vista Home Premium. It will when you upgrade to the less buggy and intrusive Windows 7. For Mac users, you have ample direct-view options and your machines also come with Front Row (with at least beta support for both Hulu and Netflix). You can also simply follow the same basic guidelines we'll give you in this series of articles. For now we'll focus on Windows and the Mac users (of which I am one) can hold out until I come back to them. Let's step back a minute, take a breath and get the big picture:
The "Old" HTPC: Single box, CableCARD, DVR, Headaches, Troubleshooting, Cost
The "New" HTPC: Laptop, focus on Internet content, use your TV's tuner

Of course, realize that if you're a tweaker and want to get DVR functionality working, you just go ahead and knock yourself out. For the majority of consumers, however, they will simply be amazed at how much they can accomplish simply by connecting their laptop to their flat screen television. It's an amazing amount of content and it should not be tethered to your computer only. In Part Two of this series, we'll teach you how to untether your laptop and set yourself free.
Confused about what AV Gear to buy or how to set it up? Join our Exclusive Audioholics E-Book Membership Program!