The New Home Theater PC - Part 2
The New Home Theater PC - Part 2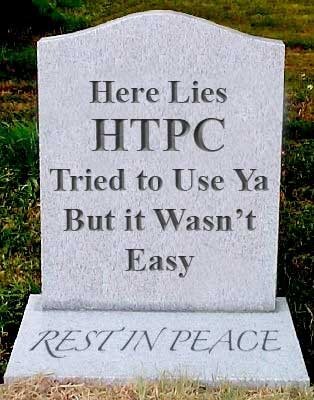 Using the laptop as an HTPC
In our last article The New Home Theater PC – Part 1, we explored the past failures of HTPC to attract consumers en masse, and also discussed the various deficiencies that lead to the decline of the HTPC as a viable consumer product in the CE marketplace. More importantly, however, we touched upon what consumers want and what the NEW Home Theater PC looks like in this day and age of downloadable content. In this final installment, we'll walk through several scenarios and configurations and talk about using the laptop as the New Home Theater PC to enable streaming content and fulfill the promises of the original HTPC – but without the hassle or configuration problems typically associated with the genre.
Mac or PC?
Since we're talking about the Laptop as the new Home Theater PC, the next obvious question is going to be: Mac or PC? The answer, is a resounding: Yes. There is no reason to swing away from what you are used to. If you live in a Mac world, stay with the Mac platform. If PC, then there are plenty of ways to get a PC laptop to function sufficiently to grant you access to the new streaming media available online. The important thing to remember is that you are attempting to easily, and without hassle, stream media content from the Internet to your television. As you'll find out this is no longer rocket science and it doesn't take lots of processing power or even a dedicated machine. In fact, the whole point of this article is to encourage you to use what you likely already have: your laptop.
Let's Talk Hardware
The first question that comes up when I speak about streaming media to your living room television is hardware. The thing is, however, even today's most inexpensive computers have enough hardware to stream what's out there, without glitches, and with suitable speed and quality to make most consumers happy with the results. While the best thing to do is simply to use an existing laptop, I'll go ahead and discuss some hardware choices should you happen to be in the market for picking up a new machine that will serve a dual function as a media streaming device.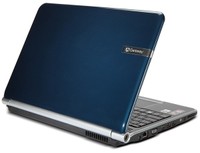 First, let's start with the video. Gateway was kind enough to loan us a NV58 series laptop. This is a laptop that costs only $579 and features, among other things, an Intel Core Duo 2.1GHz processor, 4GB RAM, a 15.6" LED-backlit display, 320GB hard drive and HDMI output. Yes, that's right – an HDMI output. With a machine like this you simply slap it up to your TV's HDMI input and activate the external display. 1080p output won't be more than a possible restart away – and likely not even that. That's right, for under $600 you can have a super fast laptop with an LED-backlit screen and HDMI output. I just love progress.
If you are a Mac user, then any current (or recent-generation) Mac laptop can get a dongle to allow for either DVI-D or VGA output from its DisplayPort adapter. The downside to using a Mac is that its DisplayPort does not provide audio output, though it is supported by the spec (Mac has yet to provide the chipsets needed to incorporate audio into the DisplayPort connector). What you'll need to do is also sling up a stereo audio cable to the audio input of your TV. This is also what will need to happen for anyone using an older PC laptop with just a VGA-style or even DVI video output.
Hardware is a Done Deal. How About Peripherals?
The next thing to consider when using a laptop to stream media to your television is what peripherals you'll want to consider when gathering your system. We can give you a list of some of our favorites. Note that these peripherals will ideally be left near your display, so that you can simply hook up your laptop and then step away to enjoy your streaming media:
The Network
If you're going to connect your laptop up to your television, it's going to need Internet. For that we recommend something robust, like the D-Link DIR-855 Xtreme N Duo Media Router, which can send out 802.11a/b/g and 802.11n independently. That means when you connect with both speeds, you don't bring your 'N' network to a crawl. This is a great router and one that has an easy-to-use setup and lots of configuration options for making sure you have everything the way you like it. We also like the antenna configuration and the OLED screen which does an excellent job delivering the status of the router and vital information - but only when needed, it's off otherwise so as to not be annoying or waste energy. 
External Storage
External storage can come in many flavors, however our favorite is the kind that can be bus-powered. For Mac that means anything that is small, portable and either USB 2.0 or FireWire 800. For PC, just drop the FireWire and go with USB 2.0. There are many options that can do both, though we encourage you to choose so that you can format the drive once and be done with it. The reason you may want external storage is simply to be able to rip your DVD movies to a hard drive, store photos, or even make available your extended music library (or perhaps a version that is uncompressed). Some of our favorite storage options include:
Verbatim Portable FireWire/USB Hard Drive

This product is a FireWire 400 or USB 2.0 bus-powered drive that comes in sizes from 250GB, 320GB, or 500GB. It is small, reliable and extremely portable, meaning you can take it with you if you leave town or even if you just switch rooms for the evening. Since it's bus-powered, you don't need to worry about lugging around a power supply or plugging it into the wall. Just hook it up to your laptop and you're good to go.
Oyen Digital 2.5" FireWire 800, eSATA, USB Portable Hard Drive

This is a one size-fits-all product from Oyen Digital that features USB 2.0, FireWire 800, and even eSATA. It comes in 160GB, 320GB, or 500GB sizes. It's a small drive that uses its enclosure as a heat sink. This makes it almost unbearably hot to the touch, but falls within the set specifications for driver performance and heat dissipation. It's a great little drive that looks good and functions well as a bus-powered solution requiring no external power supply.
EZQuest Phoenix Mini Portable Drive

This drive from EZQuest can be ordered in the following sizes: 120GB, 160GB, 250GB, 320GB, or 500GB. It's a nice quiet drive that stays cool and provides tons of portable storage for those looking to show off tons of photos, movies or music through their televisions. We found this drive to be very reliable and was one of our favorites to simply sling up to a laptop using the USB 2.0 bus to power it.

For those who simply want to go overboard and archive their entire DVD libraries on hard disc, you can't beat a RAID system like the RTX400-QR from WiebeTech. This is the mack-daddy system for those looking for tons of storage and reliability to boot. With RAID you won't have to worry about a bad drive bringing down your movie collection and you can rest assured, knowing that your movie collection is safe and sound. While most hobbyists won't go this far in their endeavors, it's certainly an option we couldn't fail to recognize. The RTX400-QR can be ordered in configurations up to 4TB or even ordered empty with no drives.
Editor's Note on DVD Copying
We don't feel it's our place to make a definitive statement on the legality of DVD ripping and copying, however we do feel that if you own a DVD you most certainly have the inherent (if not legal) right to rip that content and store it on a local hard drive. There are nearly endless ways for this to be made possible, but we will simply point you in the direction of AnyDVD (for PC) and HandBrake and VLC for Mac. With an average DVD taking up 4GB of space, one of the 500GB drives above will allow you to store over 100 of your favorite DVDs and still have plenty of room for your entire music and photo collection.
Remote Keyboards & Mice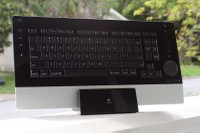 One of our favorite add-ons is a slim, portable keyboard with some sort of pointing device that is included in the mix. If you're a Mac user (and there is a PC option as well) then the $179 Logitech diNovo Edge Mac Edition is hard to beat. This Bluetooth keyboard is both wireless and battery-powered and can be easily recharged by placing it into the included docking station. Pick it up and you can immediately start using your Mac or PC from the comfort of your sofa. It even includes a small thumb-friendly touchpad for handling mouse movements. Now, there are certainly some less expensive ways to remotely-control your laptop, but this is certainly one of the more elegant solutions.
For a simpler, less costly approach, Mac users can simply opt for the $19 Apple Remote, and PC users can nab a USB-based or Bluetooth presentation-style solution which can be had for as little as $20. Or, for $1 you can try out the Rowmote iPhone app that lets you emulate the Apple Remote on your iPhone or iPod Touch. There are almost limitless options here, but get yourself to the couch as quick as you can.
Stylish Accessories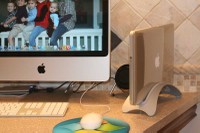 Still other accessories are simply just stylish luxuries that you'll find hard to pass up – at least we did. An up-and-coming company called Twelve South has a great little $49.99 product called the BookArc, which allows you to turn your laptop (preferably a nice aluminum MacBook for best effect) into a svelte desktop-looking product that is a work of art. You simply place this on the top of your nearby furniture or television stand (assuming it's out of the way of the screen) and then set your laptop into the central groove – with the CD slot or tray facing forward. The end result is a beautiful way to place your laptop into your décor with the cables all nicely flying out the back end and out of sight. We leave our BookArc in place and simple "dock" the laptop as needed when we're ready to do some media streaming to the living room television. It's a great looking product. The kit comes with enough insert styles (three, in fact) that will fit most current laptop sizes.
The Big Picture – Connecting Your Laptop
Here's where the big picture comes into play. All you are doing is connecting your laptop to your HDTV and ensuring that you have picture and sound. For those PCs with HDMI, this is a single cable. For those with VGA (HD15) outputs you'll need a VGA cable and a stereo 1/8" mini to dual male RCA cable. For those with a Mac you'll need the same audio cable and a mini DisplayPort dongle that outputs to either VGA or DVI. Then you'll need either a DVI-to-HDMI cable, or a VGA cable. One other, more robust, alternative is to use a Kanex Mini DisplayPort to HDMI w/Digital Audio Adapter. It's a $70 adapter that combines digital audio with the Mini DisplayPort output of your Mac into an HDMI output. The cable/adapter is also USB-powered so it's easy to use.
If you opted for using some of the above peripherals, then connect them as well. Hopefully you are able to sit back with a remote control of some sort and control the laptop. If not, then you can move onto the next section and explore the different software available to procure the latest streaming content from the Internet. Make sure, of course, that your laptop's screen is coming up on your display. On PCs, typically this is done via Function-F8. On a Mac it is automatic if you close the laptop lid during bootup.
Herb posts on May 31, 2011 09:46
Thanks , I have recently been searching for info about this topic for ages and yours is the best I've discovered till now. But, what about the conclusion? Are you sure about the source?
Be listed software
tsunamiguy posts on April 08, 2011 04:57
"This isn't an HTPC, its a streaming appliance. If its going to be a single purpose appliance, you can strip most of the OS out and leave in the few things needed to decode and stream.
To me, that also puts it in a different price category, more like $300, to be of value."
I do agree with you, dude .
____________________
dvd ripping software
filmbug posts on October 19, 2009 02:07
What about upscaling of DVD?

Hi Clint,
Thanks for shedding some light on the HTPC.

I have always wanted to backup my DVDs on a media server. Short of spending loads of money getting the Kaliedascape, this sounds like a workable alternative.
I do have some queries, however. I watch my movies on a 110 inch screen (either blu ray or up scaled DVD) using the Denon 3930. Therefore i am particularly concerned with the output resolution.

Do you know of a graphics card that can upscale a normal DVD? Or do I require some form of hardware/software processing to do this?

I would appreciate it if you could help enlighten me about this.

Thank you very much.
perato posts on October 17, 2009 20:59
There are commercial products available, such as those from
Neuros Technology
, that run Linux for much less than $579.
With a little work you can assemble your HTPC, include capture devices, and install MythTv and keep the cost below $579.
MythTV Cast
podcast does a pretty good job of describing this process.
As noted before, the Audioholics article's HTPC is little more than a streaming device. There are many more features available in
MythTV.
Phillyfan1138 posts on September 30, 2009 14:50
To me, that also puts it in a different price category, more like $300, to be of value.
I bought my htpc for 30 bucks used of ebay, came with new ram, hdd. It works perfectly. added a 750 gb drive for 60 bucks, a graphics card for 30, and linux. Plays everything from dvds to blu ray rips. Admittedly I do my ripping on my main computer and send the movies to my htpc over the network, but still, the price was really low and the functionality awesome.
As for the Mac, the video quality is superb (not sure the last time you ran a Mac, but mine even runs Windows faster than my dedicated Windows box).
I have run even recent macs and I dont like them for htpc….they seem to be slower than other pcs and last I checked lack advanced tools such as forcing frame rates, which is a must for pcs imo. I could be wrong on the last point, and the "slower" is subjective, but that is my view on the matter.
Post Reply
Confused about what AV Gear to buy or how to set it up? Join our Exclusive Audioholics E-Book Membership Program!