Ask Dr. A! Too Many HDMI Outputs
Ask Dr. A! Too Many HDMI Outputs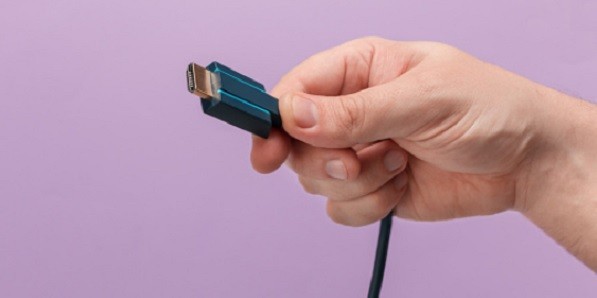 Ask Dr. A!
Jim from Iowa asks us how in the world he's supposed to make use of all the new HDMI-capable components he has when his TV and AV receiver don't have enough inputs. It's a good question, and one that many people are asking as more and more manufacturers place HDMI into their products. We tackle it a couple of ways to give you options for maintaining a great picture and also retaining the ability to get the best audio quality possible.
Q: I'm new to all this and can really use some help. I have an HDTV with two HDMI inputs and an AV receiver with just two HDMI inputs and one output (the receiver can "decode" the audio from the HDMI inputs). For sources I have 4 products that have HDMI outputs: My HD cableTV Box, a PS3, an Xbox 360 and an Oppo DVD player. How do I connect all of these products into my system given that I am flat out of HDMI inputs?
HDMI is a compelling new format. It combines HD video and, in some cases, HD audio into a single connector. What's important is to know when you truly need HDMI and when you can give it a temporary pass (and use component video). In your case, you have everything you need to view and hear all of your sources, but you'll need to decide whether you want to pay a little extra for more convenience. One interesting thing you mentioned is that your AV receiver can decode audio from the HDMI cable - this type of HDMI treatment by an AV receiver is commonly known as a "Repeater" function - as opposed to a simple "Switcher" function.
Let's solve your problem two ways. First, we'll assume you don't want to spend another dime (or at least not much). To hear everything you'll need to decide what to keep on HDMI and what to switch to component video. Our recommendation is to at least keep HDMI on both the PS3 and Xbox 360*. For practicality, we'll assume your Oppo DVD player (click for specs and rear-panel images) has component video outputs. You actually have several options at this point:
Connect the PS3 and Xbox 360 to the AV receiver, allowing it to decode the audio. This is especially important for the PS3 since it can handle th latest HD audio formats and will output those as multi-channel uncompressed PCM tracks.
If your AV receiver, in addition to handling HDMI audio, upconverts component video to its HDMI outputs, then connect the HD CableTV box and the Oppo DVD player to two of the component video inputs of the AV receiver.
If, for example, your DVD player doesn't have component video outputs, realize that your display has an extra HDMI input. Go directly into that and simply select that other HDMI input when you are watching the DVD player. Many displays include the ability to switch inputs automatically on detection of a new signal - this makes using multiple inputs even easier. For audio, just use the optical or digital coax output of the player and run that to the receiver. If your player has analogue outputs, you can also run those into the multi-channel preamplifier inputs of your receiver for listening to DVD-Audio or SACD discs in high resolution.
Now, for those wanting to spend a little extra, you can always purchase an external IR-controlled HDMI switcher which will feed more source components into your AV receiver. If you have a programmable remote (preferably with macro controls) you can include commands to switch the inputs as needed to correctly route the signal to your AV receiver. 3-port HDMI selection switches are available from just $99 from companies like Impact Acoustics.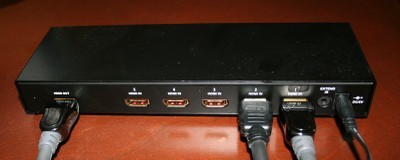 *Note: If you are using your (universal) DVD player to also listen to SACD or DVD-Audio discs, you'll want to use HDMI on the DVD player and make sure you can get optical or coaxial digital audio out of the Xbox 360.
Hi Ho posts on May 07, 2008 19:14
No DVD player upconverts over component due to copy protection. I agree that the Xbox should go to component before the Oppo. Connecting the Oppo with component negates the upconversion function. The Xbox can output 1080p over component.
mike c posts on May 07, 2008 18:31
i don't think my DVD player even upconverts to component … only HDMI
Kurt C. posts on May 07, 2008 15:28
Oppo players have much better image processing when output through HDMI

I've read several reviews saying that although Oppo DVD players are stellar performers on 'video torture' tests when output via HDMI, the same isn't true if they are output via component. I'm not sure if this is true of all Oppo DVD players, but it is for some.
Audioholics posts on May 07, 2008 15:16
dgreenstein55, post: 409681
there is no reason not to connect everything to the inputs of the AVR
I believe the article notes that option… there's a tech note at the bottom.
gstarr posts on May 07, 2008 10:54
Oppo makes a 3 input HDMI device as does Impact Acoustics. I really like the Radiient HDMI switchers that have models with at least 4 HDMI inputs.

Greg
Post Reply
Confused about what AV Gear to buy or how to set it up? Join our Exclusive Audioholics E-Book Membership Program!