Throwing a Memorable Super Bowl XXXIX Party - page 2
Throwing a Memorable Super Bowl XXXIX Party - page 2
Zone 3: The Kitchen
Everybody always ends up in the kitchen, right? Well, while that's OK, it would be inconceivable to miss even a moment of the game while attempting to reload on snacks or drinks. To solve this potential shortfall, Axion (American Action, Inc) provided one of their new AXN7200 20" LCD TV/DVD Combos which fit rather nicely in the kitchen. It is configured to broadcast the standard definition version of the game - and at 20" that is more than acceptable, though I wouldn't recommend this display for serious channel-flippers. In addition to being downright convenient, the Axion TVs are absolutely gorgeous though their video quality is not up there with some better sets we've seen.
Gear List for Zone 3
Axion AXN7200 20" LCD TV/DVD Combo review
Zone 4: Hardcore Fans Only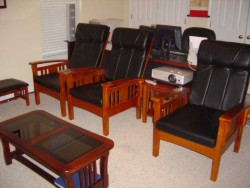 We wanted a place where hardcore football fans could watch the game in HD without fear of such distractions as talking spouses or excessive movement. For this, the newly-revamped Reference System 2 was the solution. Designed as a new gaming and home theater-centric room, Reference System 2 was set aside as the ultimate viewing room for Super Bowl XXXIX.
Gear List for Zone 4
Yamaha LPX-510 3LCD Projector review
Carada H092C 92" Criterion projection screen with Brilliant White fabric review
Canton CD Series loudspeakers (CD300, CD360 F) with AS200 SC subwoofer review
Integra DTC-9.4 A/V Processor review
Rotel RMB-1095 200Wx5 amplifier review
DVIGear 15m HDMI cable
Scientific Atlanta Explorer 3250HD
We were able to wire everything up with an excellent quality HDMI 15 meter SHR cable from DVIGear. DVIGear has been making some incredible cables that break all known barriers for being able to carry video over longer distances. In our viewing tests, we saw no visible degradation from the use of the 15m cable they supplied. While the screen in this room is actually smaller than Reference System 3, the viewing distance is a bit closer. As a result, the perceived size is actually that of a somewhat larger screen. With the Yamaha LPX-510 3LCD projector driving the action, even though guests are sitting at a distance of only 1.5 times the screen width, this system yields outstanding picture resolution. LCD pixel spacing at this distance is just at the threshold of being unnoticeable. The Canton CD Series loudspeakers and powered down-firing AS200 SC subwoofer currently being reviewed in this system should also lend some intense realism to what is sure to be a bone-crunching game.
Zone 5: Alternate Viewing Zone for the Homeless and Age-Impaired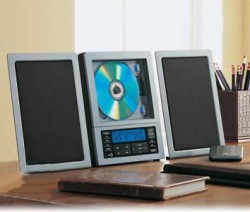 Some guests have indicated that they may bring their children along for the game. We've decided to corral them upstairs and, if Zone 5 isn't in use for playing standard definition game content, this area can double as a DVD-centric entertainment system for the kids. Remember, its not just the game - it's the whole package of making sure everyone is enjoying themselves fully - even if that means giving the kids some fun along the way. This room is far enough away from all of the game play that there will be little, if any bleed from any of the Super Bowl Zones into this area (and vice versa).
Gear List for Zone 5
Denon DVD-3910 DVD player review
Toshiba 32" CRT television
Brookstone Wafer Thin CD System w/MP3 review
So after all of this, what do we have? Well, we have the start of what I hope to be a successful Super Bowl XXXIX event. Five Zones comprised of 3 high definition screens and 3 standard definition viewing areas. Lots of food, good friends... what more can you ask for? We'll follow up with some pics and an addendum after the game and let you know how the actual event panned out. For now, I need to make a few gallons of sweet tea!
Confused about what AV Gear to buy or how to set it up? Join our Exclusive Audioholics E-Book Membership Program!